Opinion
Ft Collins, CO –-(Ammoland.com)- "Only put off tasks until tomorrow when you are willing to die today, because you left them undone" ~ Picasso
The dam finally broke!
The Pentagon has officially announced that US forces, at long last, will be moving away from the 5.56×45 (223). The new military small-arms cartridge is the 6.8, with ballistics similar to the Soviet 7.62×39 This announcement comes twenty-five years late. Some say fifty. Inadequate range and penetration (for military use) has plagued the 5.56×45 from the first day it was issued.
And, a dreary, serial roll-out of dubious "improvements" ("wonder bullets") all fell short of expectations, one after another. With the 6.8mm, we'll have a legitimate 300m rifle, and a 500m LMG, effectively doubling the range we enjoy now. And the 6.8mm will actually shoot through things.
As noted, the 5.56×45 was a poor candidate from the start, and it lingered far too long.
However, as a patrol rifle cartridge for domestic policing, for domestic personal defense, maybe even for rear-area defense, the 5.56×45 is adequate still represents a good choice for these tasks.
The Pentagon's belated move is welcome news. Now, we'll see if NATO falls in line, or becomes hopelessly Balkanized.
Comment on the Pentagon's recent decision to move from the 5.56×45 to the 6.8mm, from a comrade who was in RVN about the same time I was:
"I say fifty years too late.

I dumped my M16 while in-country.

We loved our M14s! The 'new' M16 was forced upon us. We didn't want it, and we surely did not give-up our M14s voluntarily.

During one of our first active contacts, I 'appropriated' a Chinese-made AK47, along with a supply of magazines and 7.62x.39mm ammunition.

My AK always ran well, never failing to feed nor otherwise function normally.

By western standards, my AK was 'primitive,' 'rough,' and not nearly as accurate as the M16.

But, all that I could live with.

It was the 7.62×39 cartridge that was so conspicuously superior to the 5.56×45.

My AK out-ranged the M16, and easily penetrated obstacles that provided genuine protection from 5.56×45 rounds.

Between then and recently, DOD has never honestly confronted deficiencies of the 5.56×45 round as a front-line, battle cartridge. As noted above, these deficiencies has been well known, and well documented, at least since 1968."
Comment:
It will require the next decade for issues surrounding the new 6.8mm round, and rifles and LMGs that will be chambered for it, to be identified, addressed and refined.
Issues always develop when new military equipment enters the System (no matter how much "computer simulation" you do), most of which are unforeseeable and will not become visible until millions of weapons have been manufactured and billions of rounds produced and consumed in active training/testing/combat.
Only then will we know, beyond doubt, that we have adequate and reliable weapons that will serve our soldiers, and our mission, satisfactorily.
And, that is precisely why it is such a bad idea to "introduce" a new weapon in the middle of a war, absent adequate testing, nor the "break-in period" mentioned above.
The preceding was the unhappy fate of the M16, whose various problems were "discovered," and belatedly "addressed," during the active fighting, and at the expense of lives of our Marines and Soldiers who were doing their best to make the new rifle work.
Let's now pray that this long-delayed update will go forward with all deliberate speed and that we don't find ourselves embroiled in a major, world conflagration before it's complete.
"The Tzar's police had Lenin, but released him!

Bavarian police had Hitler, but released him!

Rhodesia had Mugabe, but released him!

We had Bin Laden, but released him!

We repeatedly fail to learn from history, and we'll continue to pay for it.

Just ask a Romanov

… if you can find one!" ~ Anon
/John
---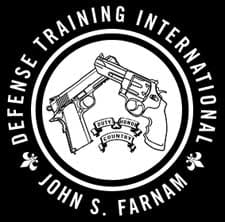 About John Farnam & Defense Training International, Inc
As a defensive weapons and tactics instructor John Farnam will urge you, based on your own beliefs, to make up your mind in advance as to what you would do when faced with an imminent lethal threat. You should, of course, also decide what preparations you should make in advance if any. Defense Training International wants to make sure that their students fully understand the physical, legal, psychological, and societal consequences of their actions or in-actions.
It is our duty to make you aware of certain unpleasant physical realities intrinsic to the Planet Earth. Mr. Farnam is happy to be your counselor and advisor. Visit: www.defense-training.com