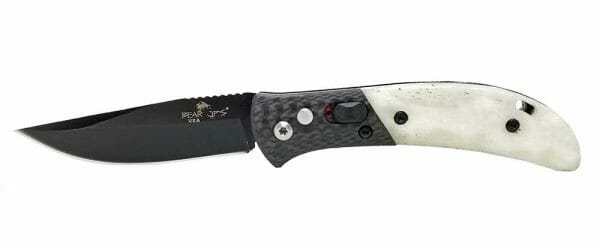 Jacksonville, Alabama –-(Ammoland.com)- Bear OPS, the tactical brand of Bear & Son Cutlery specializing in military and law enforcement knives, has expanded its popular Bold Action series of automatic knives with the recent introduction of the Bold Action IX (model AC-900-WSB6-B). Developed as a serious-duty pocket-carry tactical knife, the Bold Action IX comes with a stylish White Smooth Bone and carbon fiber handle for a comfortable in-hand feel and balance.
The heart of the Bold Action IX is the Sandvik 14C28N blade, measuring 2.75 inches. This is a martensitic stainless chromium steel blade developed for maximum edge sharpness and high resistance to microchipping and edge rolling. It is also extremely corrosion-resistant, making it suitable for a wide variety of applications.
Weighing a scant 2.4 ounces, the Bold Action IX is an automatic-open design that includes a sliding safety lock to prevent accidental opening. Simply push the sliding lock forward and depress the release button to allow the blade to engage in its open and locked operating position. Total open length is 6.5 inches, with a carry length of 3.75 inches—suitable for carrying in any pocket for quick access.
Every Bear OPS knife is proudly made in the U.S. and is backed by a lifetime warranty. For more info about this knife, go here or call 1-800-844-3034.
Bear Ops Bold Action IX
Model: AC-900-WSB6-B
Blade Material: Sandvik 14C28N stainless steel
Handle Material: White Smooth Bone and Carbon Fiber
Open Length: 6-1/2"
Closed Length: 3-3/4″
Blade Length: 2-3/4″
Weight: 2.4 oz.
MSRP: $231.99
Extras: Automatic opening and safety lock
Learn more about this and other Bear OPS knives by visiting www.bearandsoncutlery.com
---
About Bear OPS:
Bear OPS is a division of Bear & Son Cutlery with the goal to manufacture the best tactical knives. Every knife is made with (OPS) Operational Precision for Superior use and can be relied on for any situation. Bear OPS only uses USA manufactured parts, materials and a dedicated workforce that's proud to build knives for our nation's first responders and military members.
About Bear & Son Cutlery:
Bear & Son Cutlery is equipped with a rich family tradition in knife making and employs a skilled and experienced work force that is capable of performing many of the extra hand operations that go into the making of their products. The Bear & Son Cutlery factory is unique. It is full self-contained. While some companies only assemble parts brought from various suppliers and put their names on the product, Bear & Son Cutlery does everything in-house from building their own blanking dies to heat treating, grinding and assembly, and hand finishing products. These steps ensure that Bear & Son Cutlery is of excellent quality and a real value for both the dealer and consumer. Their ongoing commitment is to make them in America and make them affordable.