GRINNELL, Iowa –-(Ammoland.com)- Brownells, in partnership with Ed Brown, has added the first handgun to its Retro line of firearms, releasing the BRN-1911, a 45 ACP semi-automatic pistol.
Handcrafted by legendary 1911 maker Ed Brown exclusively for Brownells, the BRN-1911 is a two-tone handgun intended to replicate the look, feel and performance of custom 1911 pistols made in the 1980s through early 1990s.
The BRN-1911 retails for $2,499.99.
The full-sized Government Model has a stainless steel frame and a blued slide with standard Colt-style slide serrations, adjustable BoMar sights and cocobolo wood grips. All internal parts are fully CNC-machined with no MIM and no cast parts used.
"The BRN-1911 is inspired by the custom builds produced by gunsmiths for years, which Brownells has been proud to support," said Brownells Director of Product Management Paul Levy. "In particular, Brownells and Ed Brown referenced features found on classic builds from the 1980s, such as the two tones, Bo-Mar sights, 25 lpi front strap and above all a clean appearance."
The BRN-1911 comes with a Brownells Signature Series pistol case and a pair of Ed Brown 7-round magazines. The package offers the customer the tight lockup and hand fitting of a high-quality custom 1911 at an attractive price.
The BRN-1911 is listed as is #100-030-996 on the Brownells website.
416 stainless steel frame
4140 carbon steel slide, blued finish
416 stainless steel match-grade barrel & bushing
Adjustable Bo-Mar rear sight
Adjustable target trigger
Internal parts: all Ed Brown, all the time!
Includes:

Two 7-rd magazines included
Brownells Signature Series pistol case
Inspired by the Classic Custom 1911 of the '80s – Built by Ed Brown & Available ONLY from Brownells
---
About Brownells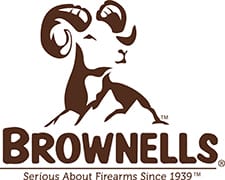 Serious About Firearms Since 1939™, Brownells is the world's leading source for guns, gun parts and accessories, ammunition, gunsmithing tools and survival gear. With a large selection of both common and hard-to-find items, and an extensive collection of videos, articles, and gun schematics, Brownells is the expert for everything shooting-related. Committed to maintaining our great traditions, Brownells has more, does more and knows more – and guarantees it all, Forever. For more information or to place an order, call 800-741-0015 or visit Brownells.com. Stay up-to-date with Brownells on YouTube, Facebook, Twitter and Instagram.