YouTube personality, Graham Baates, gives us a video review of the DoubleStar ARP7 5.56 AR Pistol.
USA – -(Ammoland.com)- AR Pistols are nothing new.  They generally create a lot of lot of noise and a giant fireball while spewing only marginally-stabilized bullets.  AR Pistols are loads of fun when fun is the goal but I hadn't been impressed much with one until I handled the DoubleStar ARP7 at a writer event.  I was fortunate to get one in for testing and review, so let's take a look at what makes the DoubleStar ARP7 5.56 AR Pistol so cool.
DoubleStar ARP7 5.56 AR Pistol
The ARP7 has the quality we've come to expect from DoubleStar after reviewing rifles like the Midnight Dragon and 10B.  What dumbfounds me is that hand guard, brake, and brace aside (all made by DoubleStar) nothing on the exterior of the ARP7 looks like anything magical, but running the gun proves this to not be just another AR pistol.  Shooting impressions were gathered after conducting a multi-mag test and accuracy test along with some casual/fun shooting.
The multi-mag test is important with ARs as there are dozens of magazine makers and as demonstrated in our AR Magazine Test Article not all magazines are created equal.  The location and size of their catch slot can vary, as does the width of the feed lips.  For our test the DoubleStar ARP7 5.56 AR Pistol was fed from 16 different kinds of magazines.  The accuracy testing was conducted with five different loads ranging from 34gr to 77gr for five-shot groups at 50 yards.  Although some might prefer 100-yard groups for AR platforms I see pistols as a closer-range firearm.  See the range results in the video below
Specifications of the DoubleStar ARP7 5.56 AR Pistol are taken directly from the product web page:
| | |
| --- | --- |
| Product Weight | 5.4 lb. |
| Caliber | 5.56x45mm NATO |
| Modes of Fire | Semi – Automatic |
| Over All Length | 24.5″ |
| Barrel Length | 7.5″ |
| Barrel Type | Heavy Barrel |
| Twist Rate | 1:9 |
| Barrel Material | 4140 Chrome Moly |
| Barrel Features | M4 Feed Ramps, Free Floating |
| Sight / Gas Block | Low Profile Gas Block |
| Muzzle Device | Big Timber Brake |
| Handguard | DoubleStar 7″ Cloak MLOK |
| Upper Receiver Type | Flattop |
| Upper Receiver Material | Forged Aircraft 7075 T6 Aluminum |
| Upper Receiver Coating | Anodized to Mil-Spec |
| Upper Receiver Features | Brass Deflector, Ejection Port Door Assembly, M4 Feedramps, "T"-Marks, Forward Assist, Dust Cover |
| Lower Receiver Material | Forged Aircraft 7075 T6 Aluminum |
| Lower Receiver Coating | Anodized to Mil-Spec |
| Lower Receiver Features | N/A |
| Charging Handle | Billet Backbone Charging Handle |
| Fire Control Group | Standard Trigger Group |
| Magazine Capacity | 30 rd. |
| Buttstock | No |
| Pistol Grip | Ergo Grip® |
| Other Features | Enhanced Extraction System |
| Action | Direct Gas Impingement |
| Brand | DoubleStar Corp. |
| Manufacturer | DoubleStar Corp. |
| Country of Manufacture | United States |
| Warranty | Yes |
MSRP at the time this article was written is $1,299.99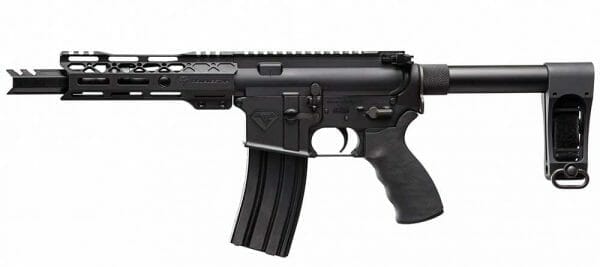 So why own an DoubleStar ARP7 5.56 AR Pistol?  As a truck gun or handy defense option it makes a lot of sense.  Yes there are less expensive AR pistols out there if you don't mind a huger percussion, lots of gas in the face, and questionable accuracy.  The ARP7 was built to be a true compact AR that could be relied upon just as much as a rifle but stashed away in just over two feet's worth of space.
Thumbnail image depicts rifle as modeled by Kyndra Burdette for an upcoming print article.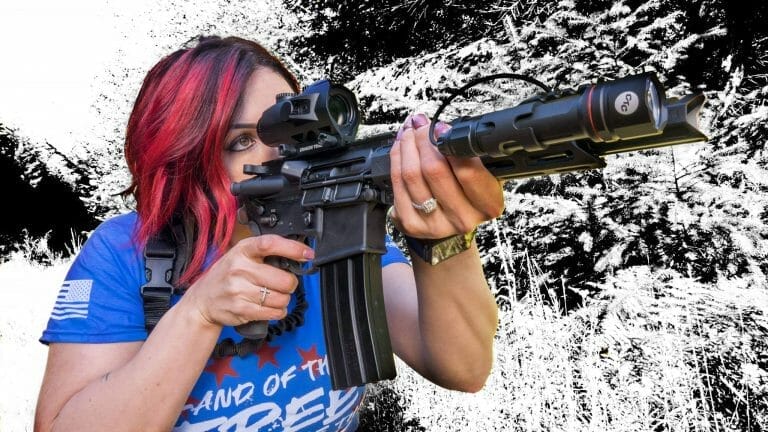 ---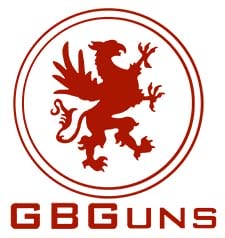 About Graham Baates "Graham Baates" is a pen name used by a 15-year active Army veteran who spent most of his time in the tactical side of the Intelligence community including tours in Afghanistan and Iraq. Post-Army Graham spent some time in the local 3-Gun circuit before becoming a full-time NRA Certified defensive handgun instructor and now works as an industry writer while curating a YouTube channel on the side. Visit Graham on Youtube .