Opinion by Michael Stripling
USA – -(AmmoLand.com)- Why does anyone need an AR-15? This question came to me, for the second time in recent history, while I was teaching a concealed carry firearms course at a private range surrounded by woods in Central Florida.
To be honest, even though I had heard this question recently, I still stumbled over my answer. I hesitated slightly and half heartily blurted out something about home defense, but why was this question so hard for me to answer? I mean, the first time I was asked, I have to admit I got a little defensive, and it was my own mother who had asked me. I had fumbled my words, became quite frustrated and told her "I would go find my copy of the Constitution for her to read".
I later realized that I owed my mother an apology, she had genuinely meant no harm, she was merely ignorant of the subject, and asked in curiosity. It was myself I should have been upset with because, in times like these where our guns and rights are always under attack, I just was not prepared with an intelligent response.
You see, I'm a "gun guy." I'm a proud NRA member, a firearms instructor, a chief range safety officer, and a veteran. I'm registered to vote Republican, and I have been collecting guns since I was a kid. So how is such a little, simple question presenting me with so much frustration? Well after some careful thought, I realized what the problem was. It was the question; it was not so little or straightforward after all. The question itself is misleading, often unbeknown to the asker.
Why do I have to find a reason to justify my need for it?
The truth is my need doesn't matter. It might be property defense, it might be hunting or competition, but it doesn't matter. I don't NEED to NEED it. I have the RIGHT to WANT it. Why does the average American household need 3 TV's? Why does my wife need 15 pairs of boots? Why do people need to put rims on their vehicles, or what is the need for a microwave oven? Wouldn't the cars still drive with factory tires? Don't most kitchens have conventional ovens? So why does anyone need any of these things? The answer to all of these questions is the same! It's because I WANT them and it's my RIGHT as an American!
You see, we have this thing called a Constitution, the American Heritage Dictionary defines Constitution as "The system of fundamental laws and principles that prescribes the nature, functions, and limits of a government or another institution. The supreme law of the United States, consisting of the document ratified by the original 13 states and Amendments."
The question in itself leaves the tart taste of communism in one's mouth. The fact is, the Second Amendment protects us, the law-abiding American citizen, and it protects the other Amendments of the Constitution, and it is now under blatant attack.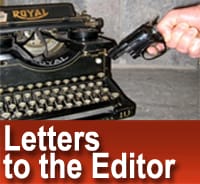 The left tells us they just want to ban the "dangerous assault rifles," high capacity magazines, and bump stocks, but that is just the beginning. They only say this to win over those, who wander on the middle ground. What comes next are "permanent protective orders" like the House Bill 2060 that's making its way to the Pennsylvania state Senate right now. Which would require certain individuals to relinquish all firearms and ammunition within 24 hours. You can be sure it won't stop there, if the Liberals get their dirty claws in the American people, they will undoubtedly pull us in for the kill, sinking their infecting teeth in the whole Constitution, shredding and destroying all of our freedoms and liberties.
This is it folks, this is a Civil War and we must fight, not yet with violence, but with our voices and our votes. We must resist in any way possible before it's too late. I urge you to call, or write your Senators, remind your friends to register and to vote. Let the snowflake Liberals know that, "we will not stand for our freedoms to be stripped away." The time is now upon us, our Constitution was written to protect the people of this great nation, and it is under attack. "We the People" must return the favor and protect the Constitution.