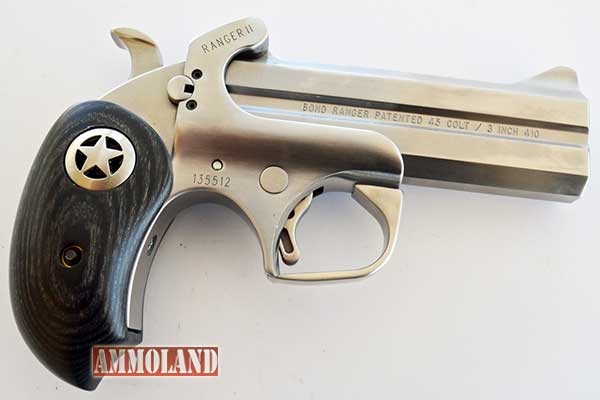 Granbury, TX –-(Ammoland.com)- Having difficulty finding that perfect gift for the person in your life who has everything? Look no further than a Bond Arms handgun, something any gun enthusiast will appreciate.
Bond Arms is the leading manufacturer of double-barrel style handguns, thanks in large part to their uncompromising approach to using only the most top-grade materials put through the most modern manufacturing processes. Their double-barrel pistols have become a favorite on the cowboy action shooting circuit, while the compact size and portability of their handguns has won countless fans among concealed carry practitioners. A Bond Arms handgun under the tree is sure to bring a smile and years of appreciation to that special person in your life.
Some of the most popular models offered by Bond Arms include:
Texas Defender – This is a compact, but powerful double-barrel pistol with a 3-inch barrel chambered for .45 Colt or 2.5-inch .410 shotshells. Made of a stainless-steel double-barrel and frame, and a rosewood handle with hand checkering and a carved Texas star.
Cowboy Defender – The Cowboy Defender is even trimmer than the Texas Defender, made without a trigger guard to snag on clothing but with the same safety features such as a cross-bolt safety. Chambered for .45 Colt or 2.5-inch .410 shotshells.
Snake Slayer – This is Bond Arms' most popular model-an ideal choice for hikers, campers or other outdoor enthusiasts looking for basic protection in the elements. The Snake Slayer is chambered for both .357 and .38 special rounds and is also available in .45 Colt/.410.
Snake Slayer IV – This model boasts a longer 4.25-inch. barrel over the standard 3.5-inch. barrel of the Snake Slayer for tighter shot patterns, higher velocity from the muzzle, easier aiming, and more manageable recoil. Comes equipped with custom-made extended rosewood grips for added comfort.
Ranger II – The Ranger II boasts a longer 4.25-inch stainless steel double-barrel capable of handling .45 Colt rounds or 3-inch .410 shotshells. The extended grip featuring a metal lone star badge insert offers better grip and comfort as well as aids in managing recoil.
Mini 45 – This popular Bond Arms model features classic double-barrel handgun styling and modern-era performance and is chambered exclusively to handle .45 Colt loads from the ultra-compact 2.5-inch barrel.
Girl Mini – Women are the fastest growing segment in the shooting industry, and the Bond Arms Girl Mini is made for smaller female hands and aesthetics. Chambered for either .357 or .38 Special, the Girl Mini boasts classic double-barrel styling with an open trigger and trim profile but is accented with a pink engraved grip with "Bond Girl" edged into the wood surface.
Those are just a handful of the complete Bond Arms offerings available. Bond Arms not only makes the top double-barrel handguns available today, but they also make and offer a full line of accessories for their handguns, including holsters, carry cases and extended grips, all of which make for the perfect stocking stuffer for the Bond Arms gun owner.
---
About Bond Arms, Inc.

BOND ARMS, INC. is located in Granbury, Texas and manufactures the award-winning Bond Arms Derringer – the finest in double barrel protection. Originally organized under the name Texas Armory, the company became incorporated as Bond Arms in 1995 with the idea that the Remington Model 95 over-under, single-action derringer could be converted from an Old West anachronism into a modern & reliable handgun. The barrel and frame were redesigned to safely fire modern calibers & the entire handgun is constructed entirely from stainless steel. This makes for a pistol that's both strong and durable.
For more information, please visit www.bondarms.com