DoubleStar will have the new ARP7, ZERO Carbine, Chico and Pathseeker on display in Booths 20061 and 20063 during SHOT Show 2019, held at the Sands Convention Center in Las Vegas, Nevada, Jan. 22 – 25, 2019.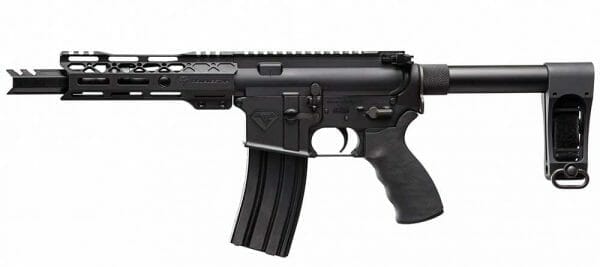 Winchester, Ky. (Ammoland.com) – DoubleStar Corp, manufacturers of high-quality, US-made AR components, rifles, pistols and edged weapons, will have several new and exciting products on display during SHOT Show 2019, held at the Sands Expo Center in Las Vegas, NV, Jan. 22 – 25, 2019. DoubleStar will have on display the new ARP7 semi-automatic pistol, ZERO Carbine Rifle, Chico knife and Pathseeker knife at Booths 20061 and 20063.
DoubleStar will be featuring their newest take on the AR-style pistol with the ARP7 semi-automatic pistol chambered in 5.56 NATO, 9mm and .300 Blackout. This lightweight, compact AR pistol loaded with upgrades makes it a versatile platform and perfect truck or trunk gun. The rock-solid billet Strongarm Pistol Brace and Big Timber Brake keeps this beast under control when sending rounds downrange on target. The Cloak MLOK handguard allows for accessories to be mounted and profiled to fit the shooter's hand beautifully. MSRP: 9mm – $1,599.99; 5.56 NATO – $1,299.99; .300 Blackout – $1,319.99.
ARP7 Specifications:
| | |
| --- | --- |
| Calibers: | 5.56 NATO, 9mm, .300 Blackout |
| Weight: | 5.4 lbs. |
| Overall Length: | 24.5" |
| Barrel Length: | 7.5" |
| Barrel Type: | Heavy Barrel |
| Twist Rate: | 1:9 |
| Barrel Material: | 4140 Chrome Moly |
| Barrel Features: | M4 Feed Ramps, Free Floating |
| Sight / Gas Block: | Low Profile Gas Block |
| Muzzle Device: | Big Timber Brake |
| Handguard: | DoubleStar 7" Cloak MLOK |
| Trigger Guard: | Billet Winter Trigger Guard |
| Upper Receiver Type: | Flattop |
| Upper and Lower Receiver Material: | Forged Aircraft 7075 T6 Aluminum |
| Upper and Lower Receiver Coating: | Anodized to Mil-Spec |
| Upper Receiver Features: | Brass Deflector, Ejection Port Door Assembly, M4 Feedramps, "T"-Marks, Forward Assist, Dust Cover |
| Lower Receiver Features: | N/A |
| Charging Handle: | Billet Backbone Charging Handle |
| Fire Control Group: | Standard Trigger Group |
| Magazine Capacity: | 30 rd. |
| Buttstock: | No |
| Pistol Grip: | Ergo Grip® |
| Other Features: | Enhanced Extraction System |
| Action: | Direct Gas Impingement |
The DoubleStar ZERO Carbine Rifle is the perfect combination of accuracy, weight and durability, creating the ideal AR-15 for any situation. What's different about the ZERO? It's not just another 16" barrel under an MLOK handguard. The ZERO delivers lead through a premium 16" 1:8 twist Wilson Air Gauged heavy barrel, providing the perfect mix of superb accuracy and maneuverability. The Alpha Compensator keeps the muzzle flat and fast, while the new Cloak handguard keeps the barrel cool and ventilated, all while providing a slim profile aluminum handguard that will accept all the necessary accessories. The rubber over-molded Ergo Grip provides a comfortable grip with or without gloves. The ZERO Carbine Rifle is finished out with the rugged SOCOM stock. MSRP $1,479.99.
The Chico Diablo is a utilitarian / EDC design made in collaboration with Kim Breed, BLADE® Magazine's Field Editor, and features a long swedge design for use on small game. From small game to working around the yard, the Chico Diablo is the knife you will teach your son how to field dress with and the one you will give your grandson. It comes equipped with a moderate trailing point for fine work and easy penetration, making it ideal for field dressing and cleaning game. The Chico Diablo has a smooth up swept bevel for skinning and the end of the swedge provides a positive stop location. Made from Nitro-V Stainless Steel with a blade thickness of 0.187," the Chico Diablo measures 8" L x 1.25" W with a 3.75" cutting edge length. It weighs in at 62 oz. and comes with a Boltaron with Safe Lock sheath. The handle is made from course textured G10 material. MSRP is $149.99.
The Pathseeker, DoubleStar's first installment in the world of Bushcraft knives, was made in collaboration with published author, television star and Iraqi War veterans, Hakim Isler. The goal of the Pathseeker is to reach out to the experienced trailblazer with features that even the novice can depend on. One such feature is a forward leading profile, ideal for chopping. The knife is designed at a 0.25" thickness to provide durability and for wedging, comes with baton area on spine at head of blade and includes a ferrocerium rod scraper on the back to preserve edge retention. It comes equipped with lanyard holes for fastening. Made from 80CRV2 steel, the Pathseeker weighs in at 14.56 oz. and measures at 11.25" L x 2" W. It has a 6" cutting edge length and is parkerized and tumbled. The handle is made from course textured G10 and comes with a 0.08" black Boltaron sheath. MSRP is $199.99.
The National Shooting Sports Foundation's SHOT Show is the largest trade show of its kind in the world. Each year, the industry's latest and greatest products are on full display at the show, attracting industry professionals from around the world to Las Vegas. SHOT Show generates millions of dollars in revenue that funds NSSF programs and services that help promote, protect and preserve hunting and the shooting sports.
For more information about DoubleStar, visit www.star15.com.
---
About DoubleStar Corp.:
DoubleStar Corp., located in Winchester, Kentucky, was formed when customers of J&T Distributing, a leading manufacturer and supplier of thousands of AR15 parts and accessories, requested complete rifles and pistols crafted from the same high-quality, U.S.-made components. DoubleStar now manufactures and supplies not only the commercial market but military and law enforcement forces across the world with rugged and dependable firearms. www.star15.com