U.S.A. – -(Ammoland.com)- An out of state concealed carry permit does not establish sufficient cause to warrant a car search for firearms, a New York judge's Decision and Order decided Wednesday. Further, the opinion concludes the sworn testimony of the officers involved is not borne out by police video camera and microphone evidence, and a recording from a defendant's cell phone.
"The Court does not find that the search of the Defendant's car was justified in any manner and accordingly grants the Defendant's motion and suppresses any evidence obtained from the search of the Defendant's car," George E. Fufidio, Judge of the Westchester County Court wrote. That's a significant opinion benefiting not just the defendant in the case of THE PEOPLE OF THE STATE OF NEW YORK -against- JONATHAN ROSE, Defendant, but for gun owners who find themselves in a similar situation.
Rose was charged with "class C violent felonies of Criminal Possession of a Weapon in the Second Degree (two counts), Criminal Possession of a Weapon in the Third Degree (three counts), Criminal Possession of a Weapon in the Fourth Degree (four counts) and a violation of New York State Vehicle and Traffic Law Section 402."
"It is alleged that the defendant possessed two loaded and operable semi-automatic pistols, three large capacity ammunition feeding devices, and various Kung Fu stars and metal knuckles," the court document recounts. "These items were found pursuant to a search of the defendant's motor vehicle by the Rye City Police after a traffic stop on May 5, 2017.
The search resulted after Rose, who had recently moved to New York, "inadvertently" handed over "a valid Grand County Colorado concealed handgun permit" along with "a valid Colorado driver's license [and] a valid New York identification card" while looking for his vehicle registration after being pulled over for a missing front license plate.
That this is even an issue highlights the need for reciprocity, something principled die-hards are still pushing for while Swamp Republicans do their best to let it (along with dangled but never pushed for hearing protection) die. They (intentionally) blew their chance when they had the power, and once the Democrats take over the House, watch the Establishment GOP join in giving them a "red flag" victory, instead.
Per the opinion, the officer "asked the Defendant if he had a gun in the car [and] the Defendant said that he did not…"
That makes it look like Rose was lying. But that conclusion is not borne out by a transcript of the exchange:
An important distinction needs to be made here: Since no gun was found in the "pat down," Rose gave a truthful answer. He did not have a handgun on him.
Statements that don't line up with the truth are the ones coloring the charges against Rose. It's surprising Judge Fufidio missed this point, but it appears the disinformation came from Westchester County Assistant District Attorney Kevin Jones, who in his Affirmation in Opposition to Rose's motions asserted:
"The officer then asked the defendant if he had any guns in the car…"
Since Jones had all recordings, transcripts, and reports, as well as access to officers both in and out of court, it is difficult to imagine a reason he would misrepresent what happened and not conclude his allegations were deliberate and calculated.
In addition to a prosecutor apparently playing fast and loose, we see sworn statements by officers that are contradicted by video and audio evidence. Regardless of how one feels about guns, these deviations from the whole truth ought to result in unified agreement that this is intolerable and incompatible with rule of law.
What's to be done about that?
It will be interesting to see what happens next in this case now that a judge has ruled that evidence obtained from the car search must be suppressed. Perhaps Second Amendment groups have been keeping their distance because of the "on you" misinterpretation. If so, that's too bad because the judge's opinion can profoundly affect their members. It's in their interest to help, and the following character reference ought to help persuade them not to be put off by official misrepresentations coming out of New York:
REVISION UPDATE: Testimonial letter removed at request of Grand County Sheriff.
In any case, Rose has established a Go Fund Me page to help with legal expenses against a state that has unlimited resources — and his page includes a communication link for those wanting to reach out to him and find out more.
It's important that more gun owners find out about this case and use what influence they can to solicit financial support from Second Amendment groups. That's especially true since Rose tells me "the District Attorney's office has said they will appeal the ruling."
As a side note, if you haven't done so, carve out the time to watch Law Professor James Duane's "Don't Talk to the Police" lecture. The other thing to do is get a copy of the ACLU's "Bust Card." Yes, in spite of their collectivist bent, they nonetheless provide very useful information should you find yourself being confronted by law enforcement.
---
About David Codrea: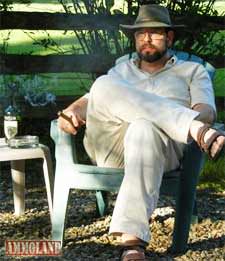 David Codrea is the winner of multiple journalist awards for investigating / defending the RKBA and a long-time gun owner rights advocate who defiantly challenges the folly of citizen disarmament. He blogs at "The War on Guns: Notes from the Resistance," and posts on Twitter: @dcodrea and Facebook.