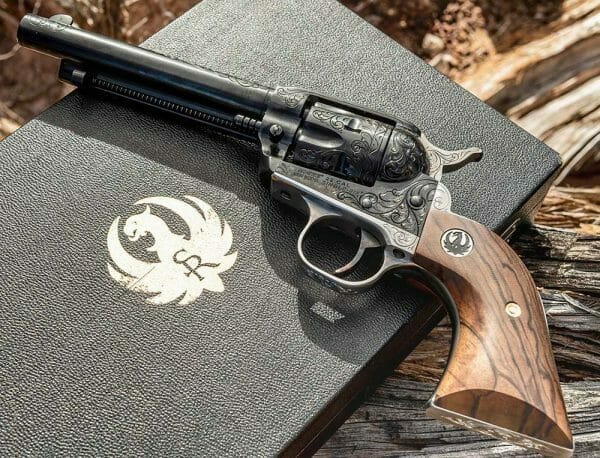 USA – -(AmmoLand.com)- It was 1976 and I was fresh out of undergrad school and working in the retail and wholesale firearms industry. A very positive (and fun) first job just out of college. Learning the sales business, and selling a product that I truly was interested in was a great experience.
One of our retail customers was an elderly gentleman who spent a lot of money in the gun shop but had problems signing the 4473 federal form he needed to fill out for each purchase. Apparently he had some type of neurological medical problem or Parkinson's that caused him to shake all the time.
When he was having a good day he would come in and pre-sign a number of 4473 forms that we kept on file, so when he found something we had in stock he could buy it, regardless of his neurological problems.
Being young and rather immature I thought we went out of our way to accommodate this old guy. He always came into the gun shop dressed like he had just milked the cows.
Well it turned out that was what he was, a farmer. In fact a very successful farmer who collected Ruger handguns. He would buy almost anything in the form of a handgun that had Ruger stamped on it.
I was told years later he had a large walk-in safe built in his home, that was full of Rugers. Ruger produced a unique pistol in the early 1960s called the Hawkeye. It was a single shot pistol that was not a commercial success for Ruger and was eventually discontinued. So they are very rare. It would appear (allegedly, I must add) that our Ruger buying farmer had five of them in consecutive serial numbers.
My contact with the above Ruger collector was in the late 1970s. That was forty plus years ago. I am sure he is long gone. But what, happened to his Ruger collection?
Unlike Colts, Winchesters and Smith & Wessons that have been around for over 150 years, Ruger is a post WWII firearms company. This means Rugers are not nearly as rare and expensive to collect. The early models are however increasing in collector value and this is foreshadowing where Ruger collectability is headed. You can afford to collect Rugers now and leave them to your granddaughters.
What if you don't have granddaughters to leave your Ruger collection to? What if your children don't really care about your collection? Worse yet what if "they" do not understand the value of collectable Ruger firearms and make the drastic mistake of disposing of your collection for pennies on the dollar after you are gone? I guess if you are gone you will not really know what happened to your life time passion of collecting Ruger handguns, but that is not a good reason for failing to plan ahead.
Times have changed since the 1970s and there is now a group of Ruger enthusiasts who have banded together to share their life's passion of collecting Bill Ruger's handiwork.
The Ruger Owners & Collectors Society (www.rugersociety.com) was formed in Nov of 2013 by people who are truly immersed in the collecting but more importantly the preserving of Ruger firearms. Whether it is a first run, low serial number flat top Ruger Blackhawk or a current production Ruger Number One rifle in 35 Whelen, there are men and women who want to own these fine pieces of work, to shoot and to pass on to their loved ones.
However, there is a problem since electronics have become the passion of the latest generation. It gets harder and harder for grandpa to convince his grandson to head out into the woods to go shooting. If you cannot get them interested when they are young and create a desire for your granddaughter to want to shoot and later acquire your Rugers when you are gone–who gets the Rugers at your estate sale?
It makes me wonder whatever happened to the old farmer' s five Ruger Hawkeyes? Did his children get them, and appreciate them, most importantly hang on to them? Or were those Rugers lost at liquidation, at bargain basement prices to people who did not understand what they really had?
Now the holy grail of Ruger collecting is a 1954-1958 production run of approximately 258 special Ruger Single-Six Model RSSE 22LR revolvers that Bill Ruger commissioned. They were custom engraved and twenty of the most rarest of these special Rugers were sent to Spain to be engraved. The original Single-Six Model RSSE Rugers sold for $151.50. As a collector's item they are now commanding $10,000 and more. If you happen to have one of the twenty RSSEs that were sent to Spain you can name your price if you are in the selling mood.
Bobby Tyler of Tyler Gun Works (tylergunworks.com) is trying real hard to entice and excite the Ruger collecting community with a new limited production run of the Single-Six Ruger Model RSSE 22LR revolver. There will only be 100 of these firearms produced.
The following comes directly from Tyler Gun Works.
This is our 2019 Limited Production, Engraved Ruger Single-Six Model RSSE .22LR. This project is honoring the 65th year of the 1954 original Ruger Single–Six engraved RSSE. Our Ruger is hand engraved by Rocky Sharp and features handmade walnut grips by SK grips. It also comes in a felt-lined leather covered box, just as the original did. This model comes equipped with the vintage flat gate, and a 5 1/2 inch barrel. This is our third production series, and to our past customers, we our offering matched numbers to your previous orders. If you do not have a previos number, there will be some available in limited quantity. These guns are offering the special serial number with the prefix RSSE. Floral carved Border Ranger lined holster is available for this project, direct through Barranti Leather (www.barrantileather.com). The revolvers are available on our website for $2575.00 or feel free to mail a check in for the non cc discount of $2499.99 plus $25 shipping. Expected delivery date on this project will be starting early March of 2019. Feel free to give us a call with any questions! Bobby (806) 729-7292 or Paige (806) 729-1943.
Tyler Gun Works is owned and operated by the now world famous custom gunsmith Bobby Tyler (www.ammoland.com/2018/08/gunsmith-bobby-tyler-featured-in-brownells-2018-2019-gun-parts-catalog/#axzz5ZaiER3Ya) with a lot of support from the Tyler family. Mr Tyler provides custom finishing of factory new firearms for over 20 different gun manufacturers worldwide.
I personally own a couple of firearms that Bobby Tyler did factory new finishing on. I also have a very old Ruger Blackhawk that was in sad shape when I sent it to Bobby Tyler to have him refinish the revolver. That Blackhawk now looks like it came right out of the box as a new firearm direct from Ruger.
Besides restoring the beauty of the old Ruger, Mr. Tyler repaired thirty plus years of wear and tear on the venerable single action. Of course now it is too good looking to take into the woods–but it goes to the field anyway.
Bobby Tyler and Tyler Gun Works is about one thing and that is quality. Any of the special engraved and finished firearms he produces are well worth the money but the 100 current production Ruger Single Six Model RSSE in 22 LR revolvers will enhance any Ruger collection. Holding a premier position in that collection.
Investing in a collection of Ruger firearms is well within the reach of the average gun owner. To be honest about collecting firearms, it is about the owning of a well crafted tool and perhaps an occasional rare treasure find, but it is also about the accumulation of wealth.
Firearms almost always go up in value and quality collectable firearms will go up in value at a suggested higher rate. If a $150 dollar handgun that sold in 1955 is now worth in excess of $10,000, what do you think your 1-100 Tyler Ruger Model RSSE will be worth by the time you pass it on to your granddaughter?
When it is time, pass your Ruger firearms on to those who deserve and understand the history and value.
Major Van Harl USAF Ret.
[email protected]
---
About Major Van Harl USAF Ret.:
Major Van E. Harl USAF Ret., a career Police Officer in the U.S. Air Force, was born in Burlington, Iowa, USA, in 1955. He was the Deputy Chief of police at two Air Force Bases and the Commander of Law Enforcement Operations at another. He is a graduate of the U.S. Army Infantry School.  A retired Colorado Ranger and currently is an Auxiliary Police Officer with the Cudahy PD in Milwaukee County, WI.  His efforts now are directed at church campus safely and security training.  He believes "evil hates organization."  [email protected]