Mandeville, LA – -(AmmoLand.com)- An easy way to find out how much your AR-15 is worth, a new company to help you explore the outdoors and the shooting sports, hunting ammunition, and more, this Sunday on Tom Gresham's Gun Talk®, the original nationally-syndicated talk show about guns and the shooting sports.
Tom talks hunting ammo with Black Hill's Ammunition's Jeff Hoffman (http://www.black-hills.com/), and gun values with expert Steve Fjestad. The latest version of his popular Blue Book of Gun Values offers 384 pages of values on AR-15s and variations. Find your copy at https://bit.ly/2SsIAM2.
Also, on this Sunday, Olympian Tracy Barnes' innovative way to share her love of the outdoors and shooting sports with a website and company that rents equipment for hunting, camping, 3Gun competitions, and more outdoor events called Check Outside. All the equipment can be viewed online, and Check Outside will ship the rental order to your home or your destination. When your rental is complete, there is a pre-paid label to ship the order back, OR you can purchase the equipment to keep. Find your next adventure at https://checkoutside.com.
And don't forget to enter to win the Crimson Trace Lights, Sights, and Lasers Prize Pack! Sign up for newsletters from Gun Talk and Crimson Trace at https://guntalk.com/win, and earn two entries, with additional options to earn more entries. One Grand Prize winner will receive the new CTS-1000 Compact Red Dot Sight for rifles and carbines, featuring a 2.0 MOA round aiming dot; a CMR-204 Rail Master Pro Universal Green Laser Sight & Tactical Light, combining two tactical tools in a single compact unit, designed to fit most modern pistols, rifles and shotguns with an M1913 Picatinny or Weaver-style accessory rail. The unit features four operational modes including: Laser/Light Constant On, Laser Constant On, Light Constant On, and Laser w/Light Dazzler; and the CWL-202 Tactical Rail Light for Long Guns, a powerful rail-attached tactical light for Picatinny rail-equipped long guns with up to 900 Lumens of white light. Plus, a Crimson Trace hat, hoodie, and t-shirt. Giveaway ends at 12:00 pm Eastern on December 28th, 2018.
As always, call in to 866-TALK- GUN with your comments, questions, and range reports.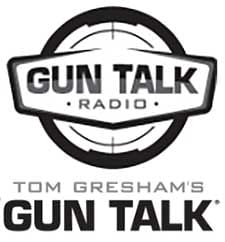 In its 23rd year of national syndication, Tom Gresham's Gun Talk® radio show airs live on Sundays from 2PM-5PM Eastern, and runs on more than 250 stations every week. Listen on a radio station near you (http://bit.ly/GTRstation) or via live streaming (http://bit.ly/GTRstream). All Gun Talk shows can also be downloaded as podcasts at http://bit.ly/GTRpodcast, Apple iTunes, and i-Heart ra dio, or through one of the available Apps: GunDealio on iPhone, GunDealio on Android, and the Gun Talk App on Stitcher. Gun Talk is also available on YouTube, (http://bit.ly/GTRYT), Roku, Apple TV, Amazon Fire TV, and https://guntalk.com.
("Gun Talk" is a registered trademark.)