GREELEY, Colo. –-(Ammoland.com)- In a giant leap forward in binocular design and function Steiner Optics introduces the Predator AF Binocular line featuring autofocus and C.A.T. (Color Adjusted Transmission) lens coating technology. A revolutionary advancement in porro prism design provides the ultimate viewing solution for every hunting scenario from waterfowl to big game.
With Predator AF binoculars everything is always in focus eliminating the need for a center focus wheel and the hassle of chasing focus through thick cover, low light or moving objects. Dual diopter adjustment rings allow precise tuning to user's eyes and advanced porro prims provide clear in focus viewing from 20 yards to infinity.
Color Adjusted Transmission lens coatings make sure deer and other game stand out by increasing contrast between brown fur coats and environmental colors. Ultra-bright Steiner glass ensures exceptional low-light capabilities. Ergonomic eyecups comfortably protect eyes from distracting sidelight, glare and wind.
Predator AFs are coated with nearly indestructible IPx4 rated rubber armor while an open-bridge design and textured surface provides a secure, non-slip grip. Compact and lightweight, the 19-ounce 8×30 bring powerful viewing capabilities to hunters in a small package. The slightly larger 30.3-ounce 10×42 are also easy to pack and offers 10x magnification for increased spotting capabilities at greater distances.
Each model comes with comfortable neck strap, neoprene outdoor carrying case and the popular Steiner Heritage Warranty – good for the life of the binoculars.
Steiner Predator AF binoculars carry a $344.99 MSRP for the 8×30 model and $459.99 for the 10×42.
For more information on Bluhorizon binoculars or other Steiner products contact your nearest Steiner dealer or visit www.steiner-optics.com.
Follow Steiner on social media, including Facebook at www.facebook.com/SteinerOpticsUSA and Instagram at @SteinerOpticsUSA.
---
About Steiner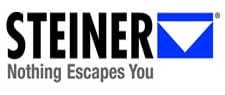 For over 70 years, Steiner has made trusted optics for life's defining moments. The successful pursuit and capture of these moments demands the fast and precise detection, location and identification of a distant objective. Whether the objective is wildlife, a marine bearing, law enforcement suspect or military combatant, Steiner products enhance an individual's most important sense, vision, so that on land or sea –– Nothing Escapes You. For more information, visit the company website at www.steiner-optics.com