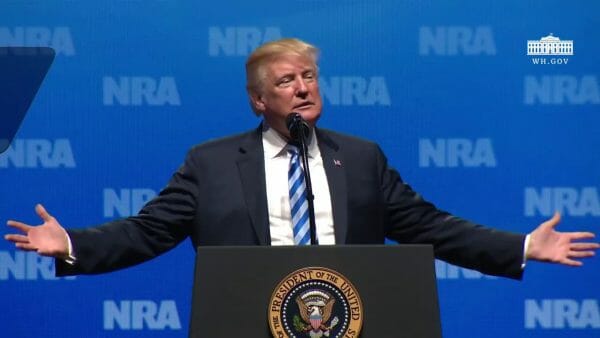 Oregon – -(AmmoLand.com)- Today President Trump unveiled his finalized form of his "bump stock ban." In doing so he created countless new felons out of gun owners who have committed no crime, hurt no one and constituted no danger to anyone.
You can read the entire document here.
Persons who purchased these devices lawfully must now destroy them or turn them into the nearest BATF office. ATF, the same folks who assured buyers that these accessories were legal.
The ruling states the following:
"The Department acknowledges comments on enforcement of and compliance with the rule. As stated in the NPRM, current possessors of bump-stock-type devices will be obligated to dispose of these devices. Acceptable methods of destruction include completely melting, shredding, or crushing the device. If the device is made of metal, an alternative acceptable method of destruction is using an oxy-acetylene torch to make three angled cuts that completely severs design features critical to the functionality of the bump-stock-type device. Each cut should remove at least ¼ inch of metal per cut. Any method of destruction must render the device so that it is not readily restorable to a firing condition or is otherwise reduced to scrap. However, as the majority of bump-stock-type 67 devices are made of plastic material, individuals may use a hammer to break them apart so that the device is not readily restorable to a firing condition or is otherwise reduced to scrap, and throw the pieces away."
The estimated cost for this pointless theft of private property (including the closed businesses and fired employees) is estimated to be about 312 million dollars. That could build a nice stretch of wall.
Acting Attorney General Matthew Whitaker said "We are faithfully following President Trump's leadership by making clear that bump stocks, which turn semi-automatics into machine guns, are illegal, and we will continue to take illegal guns off of our streets,"
This ban, as with all gun control measures, will have no effect on crime or criminals except for creating many more of them. It is state sanctioned theft. Trump's willingness to bypass Congress to put many good Americans, (many who no doubt voted for him) in the cross hairs of zealous law enforcement and prosecutors is frightening.
Legal action against the ban has been filed. See more here.
---

About Oregon Firearms Federation:
The Oregon Firearms Federation has proven itself to be Oregon's only no compromise lobbying group, OFF takes the same tough stands and serves as a vehicle for educating gun owners, promoting their rights and when necessary, fighting the freedom haters in court. Visit: www.oregonfirearms.org