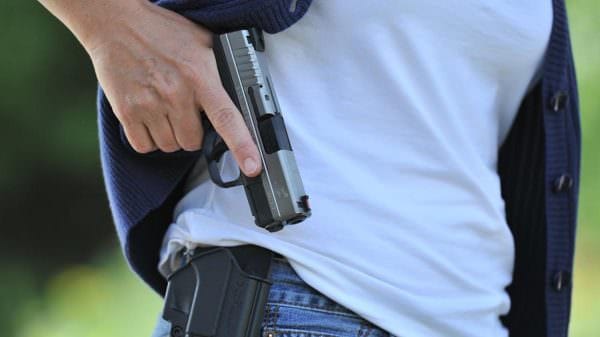 Louisiana –-(Ammoland.com)- Here is the news you won't get from the mainstream media. Again this week, responsible gun owners defend themselves and the people they love.
Self-defense instructor Amanda Suffecool joins the Self Defense Gun Stories Podcast to look at four new examples. Were these gun owners lucky, or did they have a plan and were prepared?  What can we learn from their experience? Listen and find out. (23-minute audio)
These victims survived lethal attacks because they had a gun..and a plan.
Click the title links for more info:
You're on your way to work. It is six in the morning and cold outside. You're in your medical scrubs and a heavy coat. As you wait for a bus, a young man comes up to you. He pulls a gun from his pocket. He tries to knock you down and grab your purse. You have your concealed carry permit. You're armed. You present your firearm and shoot your attacker in the chest. Before you can fire again, he runs away. You grab your purse and run across the street.
There you call police. They find your attacker a block away. He died at the local hospital from a gunshot to the neck. Your attacker had a record of drug arrests and assaulting a police officer.
It is 8:30 at night and you are sitting in your truck. You're searching through your phone and your shopping list before you go into the grocery store. You look up to see a security guard stop a man and a woman coming out of the store. The security guard asks them to go back inside. The man pulls a knife and tries to stab the guard. The guard knocks the knife out of the attackers hand. The two men wrestle to the ground.
You are one of the ten million people in California with your concealed carry permit. You're armed tonight. You step out of your truck and see if anyone needs help. The attacker yells for his girlfriend to pick up the knife and stab the guard. She picks up the knife and walks toward the two men on the ground.
You draw your firearm and tell her to drop the knife. She does. You step forward so the knife is closer to you. Police arrive a few seconds later and you holster your firearm.
The guard was taken to the hospital to treat knife wounds on his hand. The couple was arrested for robbery, conspiracy, and assault with a deadly weapon.
Someone knocks on the door to your home and then comes inside. It is ten at night and the man is yelling that someone is chasing him. You grab your gun and call the police. You go to the center of your home and ask the stranger who is chasing him? The stranger says that there are people outside trying to kill him. You and the strange man look at your front yard but there isn't anyone there. You tell the stranger he is safe. Then you ask him if he needs to call the police? The stranger follows you back inside your home. The strange man starts talking but he doesn't make sense.
You tell him he has to leave. He pushes you backward and then grabs you. You try to push him away but can't get him to let go. You shoot the stranger and retreat once he lets go of you.
The police arrive a minute later in response to your earlier call. The strange man abandoned his truck and stole the vehicle sitting in your driveway. Police think that drugs and alcohol might be involved.
You stepped outside for a few minutes. It is new years eve and there is noise coming from all along the block of brownstone apartments. Two men drive by is a small car. The stop the car, get out, and run toward you with guns in their hands. You're being robbed.
You have your Illinois concealed carry license. You're armed tonight. You back away from your attackers. They say to hand it over, but as they get closer you draw your gun and fire several times. The two men run back to their car and drive away. You go back inside and call police. You're not injured.
The police arrest your two attackers at the hospital.
What would you do in these situations? Podcast and full discussion are at the link.
---
About Rob Morse
Rob writes about gun rights at Ammoland, at Clash Daily, and on his SlowFacts blog. He hosts the Self Defense Gun Stories Podcast and co-hosts the Polite Society Podcast. Rob is an NRA pistol instructor and combat handgun competitor.
Contact Amanda Suffecool at eye on the target radio radio. Listen to her on her nationally syndicated radio show Sunday night from 5 to 7 eastern time.