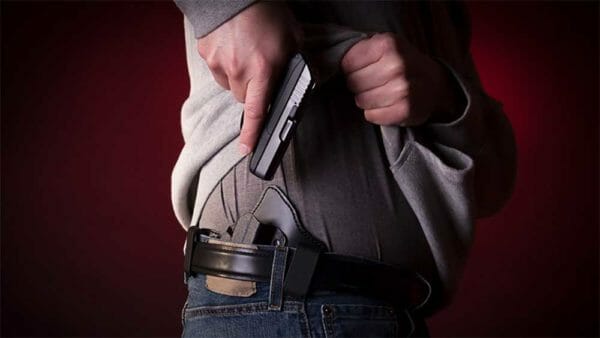 Louisiana –-(Ammoland.com)- Here is the news you won't get from the mainstream media. Again this week, responsible gun owners defend themselves and the people they love.
Self-defense instructor David Cole joins the Self Defense Gun Stories Podcast to look at four new examples. Were these gun owners lucky, or did they have a plan and were prepared?  What can we learn from their experience? Listen and find out. (24-minute audio)
These victims survived lethal attacks because they had a gun..and a plan.
Click the title links for more info:
(Detroit, Michigan) You've walked out of your brother's house. Now, you're sitting in your car, while you check your phone, update the map, and let your car warm up. Suddenly there are three men dressed in black with masks over their faces standing around your car and they demand you give them your wallet. You have your Michigan Concealed Pistol license. You're armed, though both your wallet and your gun are buried deep under your coat.
A minute ago the darkness was working for your attackers when they moved toward your car. Now you're fuddling in your car, pulling off your gloves, grabbing your gun and they can't see what you're doing. You shoot the attacker who's reaching through your car window. All three attackers run away.
You go back into your brother's house and call the police. That gun is really loud.
(Atlanta, Georgia) There are several people in the apartment tonight. You're in your room when you hear shouts from the front door. Someone yells, "They've got guns." That shocks and frightens you. Your apartment is being robbed. You grab your gun, slowly open your bedroom door, and peek down the hall into the front room. Two strangers are pointing guns at your roommates. The robbers demand their money and phones. You slip down the hall and shoot the robber closest to you. Both robbers turn to run. One of them falls as he reaches the front door.
Everyone calls the police.
(Chicago, Illinois) You're walking past the park on your way home to your apartment. You're returning home from work and a man crosses the park towards you. He tells you to stop. The man lunges for you and tries to grab your purse. You push him away, and now he's trying to knock you down onto the icy sidewalk. You draw your gun and shoot at your attacker. Now he runs away. You hear a car door slam and see a dark car drive away. You rush home and call the police.
(Luling, Louisiana) You've handled the usual after work rush of customers who stop in on their way home. It is just after 6pm and you're filling more prescriptions for tomorrow when you hear something unusual from your employee working at the front cash register. A man wearing black clothes, a black mask, and holding a black gun is pushing the cashier towards the pharmacy counter. Put your hands up, the robber says. You do. Give me these drugs. The robber zip-ties the clerk's hands.
You step back into the stocking shelves and get the drugs. You also grab your gun. You hand the robber the drugs and the robber turns away. You follow a few yards behind him so you can lock the door. That is when the robber turns and charges you. You shoot him once. Now the robber runs away and you get to lock the front door. You untie your employee and call the police.
What would you do in these situations? Podcast and full discussion are at the link.
---
About Rob Morse
Rob writes about gun rights at Ammoland, at Clash Daily, and on his SlowFacts blog. He hosts the Self Defense Gun Stories Podcast and co-hosts the Polite Society Podcast. Rob is an NRA pistol instructor and combat handgun competitor.
Contact David Cole at  Aegis Solutions.