USA -(Ammoland.com)- Music defines and inspires us and it plays a big role in the outdoor lifestyle. At hunt camp, on the dock or anywhere else folks gather in the outdoors with friends or family, music just adds a certain something to the experience.
BOHM Realtree wireless speakers belt out your favorite tunes in a durable stylish design that can stand up to the wear and tear of the outdoors.
BÖHM was born out of a love for music, and its No. 1 mission is to improve the quality of sound. BOHM is constantly bringing out the best that sound can offer with products that are uniquely crafted, beautifully designed and are now offered in Realtree Xtra camo.
BÖHM Impact Plus Wireless Bluetooth Speaker in Realtree Xtra Camo is designed for portability, making it perfect for outdoor excursions. Made with IPX4 to repel water and built with a convenient built-in handle, the speaker is easy to carry. The detachable shoulder strap allows you to listen to amazing premium HD sound everywhere you go!
Set this wireless Bluetooth speaker up in your backyard and control it from inside the house! In a matter of seconds, the integrated Bluetooth 4.2 will pair with your iPhone, iPad, Android smartphone, tablet, laptop, or other devices to provide a 100ft range of wireless mobility. The CSR 64210 chipset provides a very stable Bluetooth connection and less power consumption. A built-in microphone allows you to take or make hands-free calls, making this a perfect audio speaker for work, home or the vacation. A 3.5mm audio cord is also included for playing through a wired connection.
Driven by 40 watts of power, this portable Bluetooth speaker delivers the ultimate in sound performance. Dual passive radiators keep the bass thumping with zero distortion, even at max volume.
This indoor/outdoor wireless speaker is powerful enough to fill the largest of rooms, or a large outdoor area, with premium, crystal-clear HD sound. But wait – there's more! Take it a step further by using the TWS feature to connect to another speaker at 80watts (40wx 2) of Total POWER for an even more
robust surround-sound effect or to distribute sound to multiple rooms. Enjoy up to 12hrs of playtime from a single charge.
BÖHM Impact Waterproof Portable Wireless Speaker in Realtree Xtra offers a rich sound, booming bass, indoor and outdoor modes, a cool touchscreen and much more. Whether you are playing for a crowd or for a party of one, rain or shine, hunting or pooling, this tastefully designed wireless speaker provides hours of entertainment while perfectly blending into your habitat. A clever compact construction makes it easily transportable and its curved design emits enormous, multi-directional sound with extra bass.
This speaker is designed to fulfill your desire for bigger, better sound that is distinct and emitted with intention. The speaker plays your music the way the artist created it to sound. The extra base allows these speakers to reverberate loudly while outdoors. Indoor, the bass will boom on indoor setting. On indoor mode, the bass will naturally reflect off the surfaces in the room. On outdoor mode, the speaker compensates for the lack of reflective surfaces by self-reflecting internally. www.bohmaudio.com
---
About BÖHM: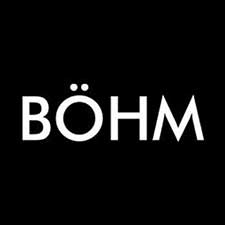 Music defines us, inspires us, make us who we are. BÖHM was born out of our love for music. BÖHM number one mission is to improve the quality of sound. We are constantly bringing out the best that sound can offer. Our products are uniquely-crafted and beautifully designed to express our beliefs.