HARRISBURG, Pa. -(Ammoland.com)- The National Rifle Association is proud to announce that Henry Repeating Arms and Nine Line Apparel will sponsor The NRA Foundation Wall of Guns at the Great American Outdoor Show in Harrisburg, Pennsylvania, Feb. 2-10, 2019.
The NRA Foundation's ever-popular Wall of Guns event returns to the Great American Outdoor Show this year thanks to Henry Repeating Arms and Nine Line Apparel. Located at booth 39 in the complex's main hallway, the event will run each day of the show. Tickets are $10 each, and a winner is drawn for every 100 tickets sold. Winners may choose a firearm from more than 40 different makes and models. There are a number of different ticket packages, ranging from $10 to $1,000. All net proceeds from the Wall of Guns will benefit The NRA Foundation, the country's leading charitable organization in support of the shooting sports.
"When the NRA took over the Great American Show, we knew that it would be in good hands," said President of Henry Repeating Arms Anthony Imperato. "They have turned it into a must visit, and we are proud to support and sponsor it."
The Great American Outdoor Show celebrates the outdoor traditions treasured by millions of Americans and their families in a 650,000 square foot exhibit space featuring more than 1,100 exhibitors, including shooting manufacturers, outfitters, boat and RV dealers, hunting and fishing retailers, and much more.
The Friends of NRA Banquet on Thursday, Feb. 7, will also raise money for national, state and local programs that support America's shooting heritage. Held in the Pennsylvania Farm Show Complex's PA Preferred Ballroom, the night of entertainment begins with doors opening at 6 p.m. and features chances to win custom firearms, unique merchandise and tailored hunts while enjoying dinner with other Second Amendment enthusiasts. Numerous table and sponsorship packages are available for purchase, individual tickets are $65, and couple tickets are $120.
To purchase tickets to the Great American Outdoor Show and see a complete list of events, visit www.greatamericanoutdoorshow.org. For additional information on the Friends of NRA Banquet, visit www.friendsofnra.org.
---
About NRA
Established in 1871, the National Rifle Association is America's oldest civil rights and sportsmen's group. 5.5 million members strong, NRA continues its mission to uphold Second Amendment rights and is the leader in firearm education and training for law-abiding gun owners, law enforcement and the military. Visit www.nra.org.
About The NRA Foundation
Established in 1990, The NRA Foundation, Inc. is a 501(c)(3) tax-exempt organization that raises tax-deductible contributions in support of a wide range of firearm-related public interest activities of the National Rifle Association of America and other organizations that defend and foster the Second Amendment rights of all law-abiding Americans. These activities are designed to promote firearm and hunting safety, to enhance marksmanship skills of those participating in the shootings sports, and to educate the general public about firearms in their historic, technological, and artistic context.  More information about The NRA Foundation can be found at www.nrafoundation.org.
About Henry Repeating Arms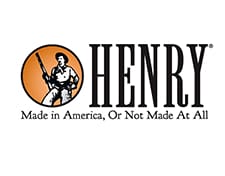 Henry Repeating Arms is one of the country's leading rifle manufacturers. Their legendary name dates back to 1860 when Benjamin Tyler Henry invented and patented the first practical repeating rifle during the Civil War. It became known as the "gun you could load on Sunday and shoot all week long." Henry rifles went on to play a significant role in the frontier days of the American West and soon became one of the most legendary, respected and sought after rifles in the history of firearms. President Lincoln's Henry hangs in The Smithsonian and has become a national treasure. The company's manufacturing facilities are in Bayonne, NJ, and Rice Lake, WI.
About Nine Line Apparel
What initially was conceived as a promotional products company between two brothers, evolved into the brand Nine Line Apparel in 2012. It began in Tyler Merritt's garage, and eventually, the operation moved to a small house. When Tyler was deployed shortly before the holidays in 2013, Daniel and Angela, Tyler's then-pregnant wife, stepped up to manage their first-holiday rush – printing, packaging, and shipping shirts throughout Thanksgiving and Christmas. The house didn't sustain the business long, and they moved the company to a small storefront near downtown Savannah in 2014. With the pressure on to grow the brand, Nine Line focused on hiring Veterans, military spouses, and patriotic Americans to manage the explosive growth. Due to the tenacity and innovation of the Nine Line team, the brand exploded, allowing Nine Line to hire over 140 patriotic Americans and veterans by fall of 2016, and growing a fanbase over 1 million strong in under three years.