USA – -(AmmoLand.com)- Knife Rights' Switchblade Commerce Bill Introduced in Virginia:
At the request of Knife Rights, Virginia State Senator Bryce Reeves introduced SB1251 which, if enacted, would allow a manufacturer, distributor, or retailer to possess or sell switchblade knives, and parts thereof, so long as they are sold or exported outside of the Commonwealth of Virginia.
Enactment of SB1251 would create jobs and provide a much needed revenue boost to the commonwealth.
Repeal of Weapons Ban in Places of Worship Filed in Virginia:
In response to the multiple instances of attacks in churches and other places of worship, Senator Richard Black has introduced SB 1024 that would repeal Virginia's ban on carrying "a gun, pistol, bowie knife, dagger, or other dangerous weapon" to a "place of worship while a meeting for religious purposes is being held."
If enacted, this bill would clearly allow carry of any Virginia legal knife in a place of worship. Last year this bill was passed by the Senate, but was never taken up in the House.
Knife Rights' Knife Owners' Protection Act Re-Introduced in Congress:
Originally conceived and authored by Knife Rights in 2010 and first introduced in 2013, the Knife Owners' Protection Act of 2019, H.R. 88, ("KOPA") was introduced in the U.S. House of Representatives on the first day of Congress by Arizona Representative Andy Biggs. KOPA will remove the irrational restrictions on interstate trade in automatic knives that are legal to one degree or another in 44 states, while also protecting the right of knife owners to travel throughout the U.S. without fear of prosecution under the myriad patchwork of state and local knife laws.
Co-sponsors are: Rep. Mark Meadows (R-NC-11), Rep. Robert E. Latta [R-OH-5], Rep. Jeff Duncan [R-SC-3], Rep. Debbie Lesko [R-AZ-8], Rep. Paul A. Gosar [R-AZ-4] and Rep. Randy K. Weber Sr. [R-TX-14].
The bill has not yet been published, but it is identical to last session's H.R. 84
Getting this bill introduced is only the first step. We need your help to gain additional co-sponsors. Please email your Representative and urge them to co-sponsor this commonsense legislation. You can use Knife Rights' Legislative Action Center to easily email your Representative in Congress at: http://www.congressweb.com/KnifeRights/23
---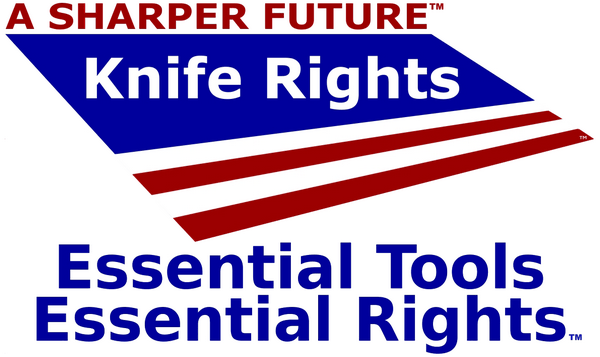 About Knife Rights :
Knife Rights (www.KnifeRights.org) is America's Grassroots Knife Owners Organization, working towards a Sharper Future for all knife owners. Knife Rights is dedicated to providing knife owners an effective voice in public policy. Become a Knife Rights member and make a contribution to support the fight for your knife rights. Visit www.kniferights.org