U.S.A. – -(Ammoland.com)-The American Association of Retired Persons has been relatively silent on guns in recent years. Following exposure in American Rifleman back in 2013 detailing AARP support for disarmament edicts, someone at the top may have decided a low profile will drive away fewer members.
While not exactly buried, it does take a bit of digging on the AARP website to locate the association's Policy Book, and then to narrow it down further to find its position on guns:
"Congress should eliminate gaps in and strengthen enforcement of the Brady Handgun Violence Prevention Act and other federal gun laws. States should enact legislation to eliminate gaps in and strengthen enforcement of federal and state gun laws, particularly with regard to possession by juveniles, convicted domestic abusers, and those under domestic violence restraining orders."
"Other federal gun laws" sure leaves a lot of leeway.  And note assurances of due process are conspicuously absent from the advocacy for prior restraint infringements.
Another factor also merits attention: Support for Democrat vs. Republican political candidates in 2018 and support for Barack Obama  a few years before that.
Gun-owning seniors in the market for an organization that will lobby in their interests and offer affordable choices for products and services like insurance, roadside assistance, travel and restaurant discounts and the like, may feel like they must make a devil's bargain. Is the only choice for saving needed money to bolster fixed incomes one that will provide aid and comfort to a group backing infringements on their rights and the rights of their posterity?
The Association of Mature American Citizens merits their consideration as a viable alternative. Not only does AMAC offer competitive programs, their "Stance on Key Issues" focuses on rights rather than coercive infringements:
"AMAC supports the Constitution of the United States of America and our Bill of Rights, including the Second Amendment. Exercising the right to keep and bear arms demands the utmost responsibility, but we believe the Second Amendment guarantees our inalienable right to keep and bear arms. We urge all gun owners and users to be safe and responsible. Of course, firearms should only be obtained and used legally. We believe that all gun owners and users should attend courses led by certified instructors to learn the safe and proper use of firearms."
Some with "I will not comply" convictions could argue with the "obtained and used legally" caveat, but I'm going to argue back that all who are moral and rational would have no problem with restating that as "Don't steal guns and then victimize people with them." And yeah, I'm all for training with qualified teachers and note the AMAC position is "should," not "must or else."
Here's the deal—I'm not using this space to give a free commercial to anybody, especially since, even though I qualify as a "senior," I have not joined a related advocacy and services group. I can't pretend to being a satisfied member. I also realize most reading this probably won't be in the market for such options for years (if so, you might want to pass this info on to an older relative or friend). So all I'm doing here is saying if you are part of the demographic that could get value in membership with such groups, understand that there is an alternative for you to chose that may align more with your values and your interests.
I can say this—if and when I am ready to join such an organization, AARP has disqualified itself from my consideration. And if more "conservatives" felt the same way, we might see the smaller AMAC grow considerably.
But this is all assuming the status quo maintains itself without disruption and that the collectivist forces bent on disarming us and destroying America haven't pushed us into a whole 'nother set of priorities.
---
About David Codrea: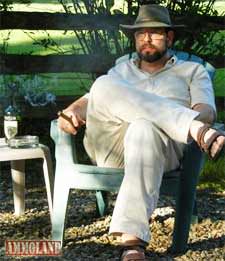 David Codrea is the winner of multiple journalist awards for investigating / defending the RKBA and a long-time gun owner rights advocate who defiantly challenges the folly of citizen disarmament.
He blogs at "The War on Guns: Notes from the Resistance," is a regular featured contributor to Firearms News, and posts on Twitter: @dcodrea and Facebook.