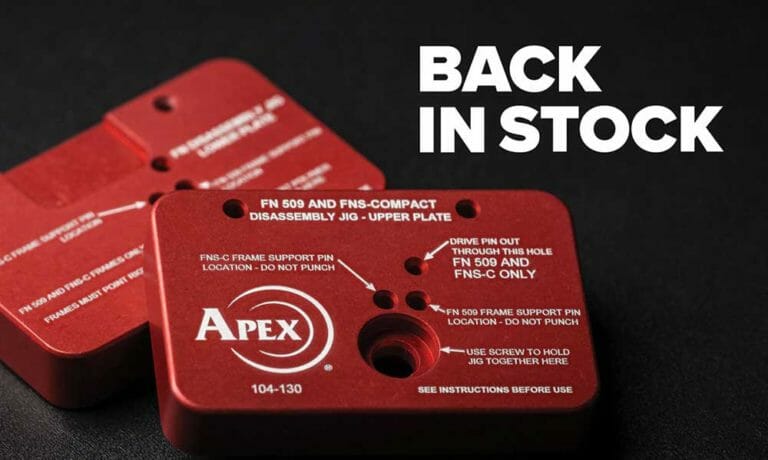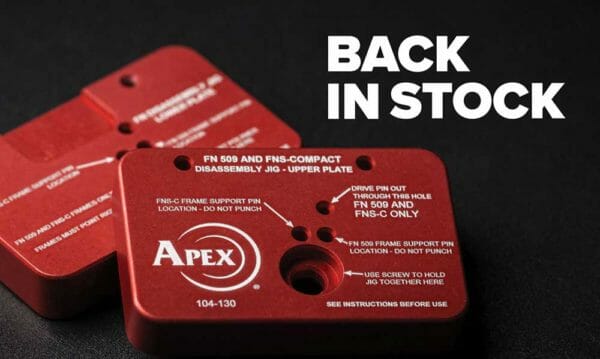 PEORIA, Ariz. –-(Ammoland.com)- Apex Tactical Specialties announces that the popular FN509/FNS-C Disassembly Fixture, part #104-130, is now back in stock and shipping.
Designed by Apex's engineering team, the FN509/FNS-C Disassembly Fixture properly holds the FN 509 or FNS Compact pistol frame to locate a pin punch for removal of the unlocking block pin. This allows FN pistol owners, armorers and gunsmiths to easily and safely remove the factory installed unlocking block pin without damaging the pistol's frame.
"When we first introduced the FN509/FNS-C Disassembly Fixture we underestimated the demand for this tool as we immediately sold out. Even now with a large supply on hand we're seeing a flood of orders coming in from FN pistol owners, as well as armorers and gunsmiths who are accustomed to working on the FN 509 and FNS Compact model pistols," explained Scott Folk, the COO and co-owner of Apex who helped design the new fixture.
The FN509/FNS-C Disassembly Fixture is available for purchase at ApexTactical.com, along with Apex's new Action Enhancement Kits for the FN 509 and FNS Compact model pistols.
For more information on parts from Apex Tactical Specialties, visit www.ApexTactical.com, like Apex Tactical on Facebook or follow @ApexTactical on Instagram or Twitter. Instructional videos on the installation of Apex parts are available on Apex's YouTube, Full30 and GunStreamer channels.
---
ABOUT APEX TACTICAL
Apex Tactical Specialties, Inc. was created to serve Law Enforcement personnel, competition shooters, and individuals who recognize the need for defensive tools to be more than "just adequate" for the job. We are a quality-driven and progressive organization – our product line, services, and expertise are continually evolving. Our mission is simple: superior parts, exceptional performance and craftsmanship, and above all, unparalleled customer service.
ATS, Inc. will not fit, install, or endorse any products that have not been thoroughly tested and evaluated by our staff. Personal experience, extensive field-testing, and follow up failure analysis are the essential methods by which we evaluate components that we recommend and use. It is not sufficient to just know that a part will work: we need to know why it works, and the limits of its operational envelope.