USA – -(AmmoLand.com)- 2019 will be a very exciting year for Daniel Defense. Not only will we be putting our world-class touch on a whole new firearms platform, we'll also continue to make and develop the highest-quality ARs, suppressors, and accessories available.
That's who we are. It's also why we're introducing a new company motto that sums up what we're all about: Freedom. Passion. Precision.
We firmly believe America is great because of the liberties it affords its citizens. No, we may not like the opinions of those with ideas contrary to ours, but we celebrate their right to free speech and to speak their minds even if we don't agree with them. Most importantly, we honor their right to worship as they choose. The First Amendment is sacred to us, and we believe the Second Amendment provides the muscle that makes the First Amendment possible.
That's why we're so proud of the meaningful work we've done here at Daniel Defense over the past 18 years.
We love making high-quality products and, quite simply, care about our customers more than any of our competitors do. That's what got me started in this business in the corner of my garage-door business back in 2000. I like well-made products—products that exceed expectations for accuracy, durability, reliability, style, and value.
We know how much our customers care, and that's what makes working in this business so much fun.
That's also why, in every single thing that we do, we do our very best. We craft our products and hone our processes to give consumers the Best—with a capital "B"—possible product. Our words and actions are truthful; our processes and products, exact.
So, please, enjoy our 2019 catalog, which we've produced with the same attention to quality and detail as our best-in-class products. You'll also find useful information on our company, our philosophy, our products, and more at our website: DanielDefense.com.
Thanks so much to all of our loyal customers, and for those of you new to our brand.
Isn't it time you got a Daniel?
---
About Daniel Defense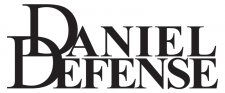 President and CEO, Marty Daniel founded Daniel Defense at the turn of the 21st century. From its humble beginnings as a start-up company, creating rails and accessories for the AR-15 platform in small batches, Daniel Defense has grown exponentially over the last decade, and is now known for its premium line of rifles and firearms accessories. Now with two locations and a combined 137,000 square feet of available manufacturing space, Daniel Defense looks forward to continued growth, as well as the opportunity to better serve their customers. For more information, visit www.danieldefense.com.