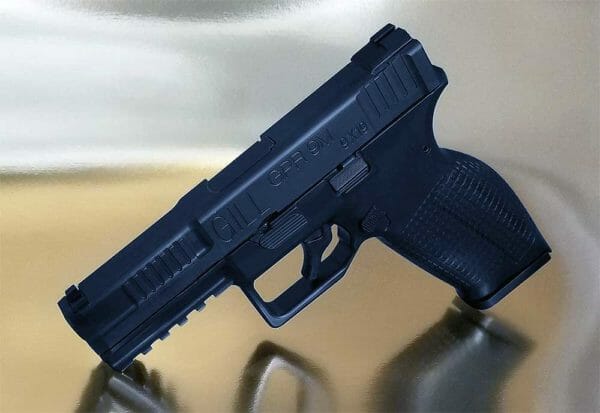 Lakewood, WA. – -(AmmoLand.com)- We are excited to announce the release of our full-size handgun Gill GPR 9M. This is a metal frame limited edition pistol.
After extensive research, analysis, and testing, we are confident that you will be amazed at this simple design handgun. There are just 25 components parts which are 20% reduction in part count compare to other leading firearms and less than half the parts of 1911 pistol. Our SafeSet firing mechanism is second to none in the industry. We are offering this pistol in black color with 17+1 cartridges capacity in 9 mm caliber.
Extensive ergonomic studies have been conducted, and we finalized our grip design into small, medium and large category. These grips straps have consistent and smooth variation in size at the aft end and both sides. Grip straps and grip have a dual texture for a firm hold on the pistol. 4.5 in barrel length is offered in relatively smaller overall dimensions platform with a thinner profile compared to other handguns in a similar category and similar cartridge capacity.
These enhancements and specifications make it ideal sidearm for law enforcement agencies. DLC coating provides low friction and best environment protection along with excellent wear resistance. Our handguns are made here in the USA.
We will announce the release of our upcoming polymer frame handgun shortly. Subscribe to our social media pages in links below to keep up to date with our products and news.
---
About Gill Arms
Gill Arms is American handgun manufacturer. Check out our Gill GPR series pistols with innovative SafeSet trigger mechanism at www.gillarms.com.