Opinion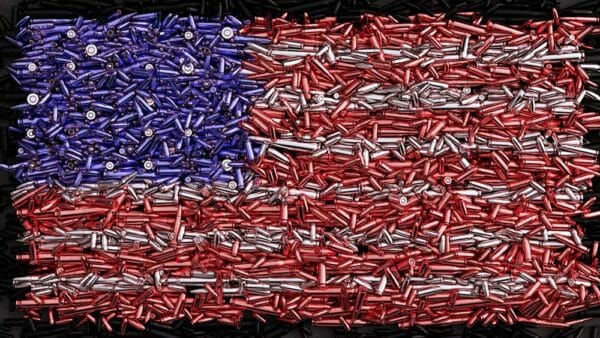 New York – -(AmmoLand.com)-
"What we need to do is change the way in which people think about guns, especially young people, and make it something that's not cool, that it's not acceptable, it's not hip to carry a gun anymore, in the way in which we changed our attitudes about cigarettes. . . . One thing that I think is clear with young people, and with adults as well, is that we just have to be repetitive about this. . . . We need to do this every day of the week, every school, at every level, and just really brainwash people into thinking about guns in a vastly different way." ~ A young Eric Holder, speaking to the Woman's National Democratic Club in 1995, as televised on CSPAN in 1995—fourteen years before President Barack Obama appointed him as Attorney General, in Obama's Administration." (video below)

Among the critical rights codified in the Bill of Rights, the right of the people to keep and bear arms is the only truly tenable check against tyranny in our Nation. That, of course, explains the ferocity of the Collectivist attack on the Second Amendment of the Bill of Rights to the U.S. Constitution. For, after all, it isn't tyranny that concerns them. In fact, the unchecked, unchallenged growth of Government is the clearest manifestation of tyranny; it is something they have designed and are working to accomplish–the enslavement of the American people, much as the populations of the EU are becoming enslaved.
Our Nation, though, is not so easily susceptible to tyranny, unlike the Nations comprising the EU, as our Constitution provides for several "failsafe" mechanisms that serve to preclude, forestall or, at least, to deter the onset of tyranny. And that makes the effort of the Collectivists, both here and abroad, who seek to "soften up" our Nation, and ultimately to destroy it—that it may be subsumed eventually into a massive transnationalist union, which is the Collectivist dream of a new world order, comprising the remains of what had once been distinct, independent, sovereign nation-states—so extraordinarily difficult. The last of the "failsafe" mechanisms that the framers of our free Republic built into our Constitution to preserve its existence and to preserve the existence of a free, autonomous citizenry in whom ultimate authority resides, and was meant to reside, is also the most effective failsafe mechanism:
The Second Amendment of the Bill of Rights.
For proponents of Collectivism, the exercise of the right of the people to keep and bear arms–and the emphatic assertion that this sacred right shall not be infringed–creates a serious problem for the Collectivists in this Nation–those Collectivists like Eric Holder and Barack Obama. And it creates, as well, a problem for the Collectivist overseers–those both here and abroad–who support and who have orchestrated the Collectivist agenda and who are working to implement the items in it. Much more so than even the First Amendment guarantee of Freedom of Speech–which, too, not surprisingly, is also under attack today–the Collectivists cannot and will not abide the Second Amendment to our Nation's Bill of Rights.
Tyranny cannot take root and prevail–indeed it cannot even exist–in the presence of an armed, capable, determined citizenry, poised to resist tyranny.
Thus it is that those who seek to destroy us–the Collectivists both here and abroad–those intent on to breaking the back of our free Republic and on breaking the will of the American citizenry, no longer even pretend to support the Second Amendment. We see this as they call for more gun control laws–gun control laws they refer to, disingenuously, as "sensible."
These Collectivists, who vehemently denounce our Second Amendment, have long considered it an anathema. Of late, these ruthless creatures who have sought to impose ever more restrictive gun laws upon us no longer even keep up the pretense of supporting the Second Amendment, as they once had done so when prefacing their remarks slyly, duplicitously, with the phrase–"but of course we support the Second Amendment"–when really they didn't.
The Collectivists who have always seen the Second Amendment as intolerable, are now making overt claims of their abhorrence of it. They now assert it to be inconsistent with modern Western civilization; archaic; a relic of a bygone age–bizarre remarks to say the least, and remarks all the more disturbing when they emanate from a jurist.
Firearms in the hands of millions of citizens are perceived as senseless to those who espouse the ideology of Collectivism. But then Collectivism demands absolute obedience to subservience to Government and reliance on Government. A person isn't prepared to be obsequious to Government if that person insists on being armed. That fact informs the Government that a person isn't prepared to place his or her trust in Government. But, some people are prepared to do just that. And, for them, firearms are considered unnecessary. In return for forsaking one's firearms, Government promises to fulfill one's basic needs and wants and even happiness. But, for others, that price, is much too high. For, the mere act necessitates that one place blind trust in Government. That is something one should never do, and we, for our part, never will. And, we have history to resort to as proof in support of our reluctance to do so.
---
---
Government's promises are designed merely to soothe and placate the public, who are urged to view the false promises as true and proper and desirable. For the ignorant, for the shallow, for the gullible, and for the weak among us, who readily "buy into" these false promises–and who believe in, who are compelled to feel the need to believe in mere words–that seems to be enough. Like children, such people wish to believe. It is easy to deceive those for whom faith in false prophets comes easy. Those who seek comfort in Government to coddle, protect, and nourish them, the Collectivists' promises are tranquil pipedreams. And for these sorry souls, "the big tall wish"–this seeming pleasant pipedream– is enough. But they will learn too late what they have lost–and what they will have lost is everything of consequence.
They will learn too late, much too late, that happiness–true happiness–can be achieved only if the individual remains "individual"–true to him or herself. Happiness is not something that Government is capable of bestowing on the individual, notwithstanding the Radical Left's suggestion to the contrary.
---
About The Arbalest Quarrel:
Arbalest Group created `The Arbalest Quarrel' website for a special purpose. That purpose is to educate the American public about recent Federal and State firearms control legislation. No other website, to our knowledge, provides a deep analysis or as thorough an analysis. Arbalest Group offers this information free.
For more information, visit: www.arbalestquarrel.com.