U.S.A. –-(Ammoland.com)- Rosco Manufacturing; an American manufacturer of high-quality gun barrels is proud to announce the successful results of their first ever "Self-Critical" quality control event. Rosco who has had OEM manufacturing success for close to a decade had recently turned their focus towards the commercial market in 2017. With the new-found prosperity of Rosco's products in the open consumer market we wanted to be certain that they were on the correct path to achieve consistent production quality.
This lingering challenge is what prompted Rosco to start putting together the plans for an event that would focus on the products themselves and not use the "stereotypical" personalities to create the illusion of a worthy product. After designing the series of tests that would need to be conducted (in order to secure enough field data) a test rifle, proctor, product testers and location were still needed. The Rosco team partnered up with the only company that could meet (and exceed) the level of quality that they were hoping to set; American Defense Manufacturing.
ADM and Rosco set-out to create a standard for their shared vision of "putting their money where their mouth is" and spared no time or expense in putting this plan together. The culmination of this partnership also spawned the perfect test bed for the products that needed to be tested. The rifle had to encompass the average shooters needs and interests; while being intentionally superior to other basic carbines, the result was the #BarrelGang carbine. A 16" Purebred barreled (mid-length) UIC Mod 2 carbine equipped with the most frequently requested parts from both brands. The carbines were built out with a carefully selected list of parts that customers have had the most requests for specified data on. The carbines also had to represent shooters needs from several different demographics (from Hunting, Home Defense, Competition and Law Enforcement capabilities). The team also reached out to partnered brands in order to deliver a "turn-key" rifle that could be un-boxed and ready to roll. Product partners included: Vortex Optics, Surefire, Magpul, Dueck Defense, CMC Triggers, Radian Weapons, Burn Proof Gear, Spartan Village, Sierra Tac slings, Gun-Mag Warehouse, VERTX and Atlanta Arms.
The #BarrelGang team of product testers were then identified and selected for this unique activity. The testers had to be known for their candor on products and standing as staples within their respective demographic/ communities. They were approached to test out products, were not promised compensation for a favorable review, but were promised harsh days in unforgiving environments. The final list of attendees included Law Enforcement professionals, SOF Veterans, Competitive Shooters/ Athletes, Firearms Instructors, Military Contractors, Hunters, Content Creators and Media Representatives. Finally, the proctor that was selected to lead this event was Don Edwards a 20-year veteran of the SOF community (and owner of Greenline Tactical). The team then traveled to the NOLATAC Training Center (Avondale, LA) for 3 days of torture testing and camaraderie. The entire week was recorded and placed on Rosco's YouTube page for review by all that would like to see the outcome of this activity.
The results stemmed from personally observing every carbine hold 1 MOA (or better) as a standard average, first round engagements out to 500 meters and the ability to maintain reliability throughout the course of the weeks testing. The testing is still on-going as the testers were each sent home with the same carbine and extra ammunition that was provided by Atlanta Arms in order to continue independent evaluations in their respective environments.
"It was a unique experience and humbling at the same time to see the living embodiment of your hard work being placed in a testers hands with nothing but positive results coming out the other end. This last year has been a phenomenal year for the brand since we went into the commercial market, but I needed to make sure that we were setting a strong foundation for our company to continue growing on. It is our goal to make this a yearly quality testing event. At the end of the day "hype" can be faked, but results are un-deniable." Said Gabriel Cabrera Marketing/ Sales Director for Rosco Manufacturing.

"American Defense Manufacturing has always prided itself on continued quality and the relentless pursuit of excellence in our products. This event was a great opportunity for us to look at ourselves again from the outside and silently observe our products perform. The results were on par with the feedback that we steadily receive from customers. We respect when another brand wants to "gut check" themselves and we were happy to do this with a strong affiliate of ours like Rosco Mfg." Said William Phebus Sales Director for American Defense Manufacturing, LLC.
To see the #BarrelGang event in full click on one of the links below:
#BarrelGang event Day 1:
#BarrelGang event Day 2:
For more information on Rosco Manufacturing and our products go to www.RoscoManufacturing.com
For inquiries about American Defense Manufacturing e-mail William Phebus | [email protected]
---
About Rosco Manufacturing: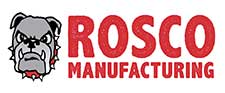 Rosco Manufacturing is an American manufacturer of hard-use & precision rifle barrels. Our production facility in Central Falls, RI has over 50,000 square feet of production space with room for high volume capacity. Rosco supplies major gun manufacturers (the world over) with high quality products. Through superior workmanship and unprecedented engineering, our product line continues to exceed expectations and provides a complete solution for the consumer and OEM.