Tom reviews the Spyderco Junction G-10 FB38GP Plain Edge Fixed Blade Knife.
Idaho – -(AmmoLand.com)- Today I want to do a product review on the Spyderco Junction PLN (the PLN simply stands for Plain edge, which means not serrated). The design birthed out of one of Gayle Bradley's (a popular knife maker) earlier knife designs. I like the shape and think that it should fit fine into the hunters or backpacker's world.
Let's begin with the handle. It's made of black G-10 material and is thin, so it is lighter in weight but I still feel like I have good knife control when I handle it. On their website they state that the handle is thin so it can be strapped to a pole so it can be improvised to act as a spear. It has a finger guard so you can choke down on the blade for more intricate skinning jobs or work in general. I wish that the first 1-inch of the spine had thumb grooves to further stabilize your grip.
This paragraph of the Product Review will be above my pay grade, but I can relay that;
"the blade is made out of PSF27 steel which is a spray formed process in which molten metal is sprayed and rapidly cools so the alloys cannot settle out. This produces a homogenous grain structure which maximizes the alloys in the blend. A unique process to say the least."
There is a spot on bottom of the blade for you to use your pointer finger to choke down on it. To utilize this feature, I wish it had a little flare at the end of the finger groove and as stated above, some thumb grooves on top of the spine to keep you from inadvertently sliding down onto the blade.
It comes with a sheath that appears to be made of Kydex which is popular but is actually a custom-molded Boltaron sheath. It has a super versatile G-Clip attachment so it can be worn vertical, horizontally or at a diagonal canted position.
Around the edge of the sheath are metal re-enforced holes so you can move the clip to various positions and wear it on your belt, inside the waistband or strap it to your backpack or life jacket. In a nutshell, it is a very versatile sheath. I like that the Spyderco Junction PLN Fixed Blade Knife snaps firmly into place in the sheath. I don't see it becoming dislodged in a tumble down the mountain as frequently happens while hunting, fishing and backpacking or even in a horse wreck. I assume in a nuclear explosion it could come loose but anything short of that I think you'll be covered.
The blade has what I'd call a full hollow grind, all the way up to the spine. Or Sypderco classifies it as a Full Grind. And as is true with all of my Spyderco knives, the Sypderco Junction PLN comes from the factory with a razor-sharp edge. I love sharp knives but Sypderco knives always make me a little nervous since they are so sharp! And I'm big on sharp knives. I conducted seven Knife Sharpening seminars in January alone.
Spyderco Junction G-10 FB38GP Plain Edge Fixed Blade Knife SPECS:
The MSRP is $309.95 (less $$ online) and as usual, we will close with the specs:
Overall Length: 8.45″ (215mm)
Blade Length: 4.15″ (105mm)
Steel: PSF27
Edge Length: 3.68″ (93mm)
Weight: 4.1oz (116g)
Blade Thickness: 0.102″ (2.6mm)
Handle: G-10
Grind: Full-Flat
Sheath: Boltaron
Origin: Taiwan
---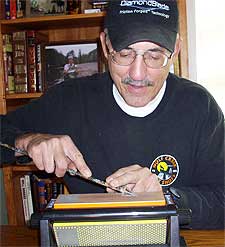 About Tom Claycomb
Tom Claycomb has been an avid hunter/fisherman throughout his life as well as an outdoors writer with outdoor columns in the magazine Hunt Alaska, Bass Pro Shops, Bowhunter.net and freelances for numerous magazines and newspapers. "To properly skin your animal you will need a sharp knife. I have an e-article on Amazon Kindle titled Knife Sharpening for $.99 if you're having trouble."
Disclosure: Some of the links below are affiliate links, meaning at no additional cost to you, Ammoland will earn a commission if you click through and make a purchase.