Mandeville, LA – -(AmmoLand.com)- Getting involved in long range competition shooting, introducing college students to hunting, a look at important lawsuits in Hawaii and D.C., and more, this week on Tom Gresham's Gun Talk Radio, the original nationally-syndicated talk show about guns and the shooting sports.
Are you interested in long range competitive shooting, but don't have any idea where to start? Hear from Tom Fuller of Armageddon Gear with everything you need to know to get started. And call in live with your questions at 2:30 pm Eastern. Find out more at www.armageddongear.com.
Also on this week, Georgia Wildlife Federation's R3 Coordinator, Charles Evans, talks with Tom about the R3 program and initiatives in place at Abraham Baldwin Agricultural College and the University of Georgia, aimed at getting college students out hunting for the first time. Read more here and here. Plus, attorney Stephen Stamboulieh drops by with updates on cases in Hawaii and D.C..
Don't forget to enter to win an AR-15 from Brownells! Now through March 22nd, sign up to receive newsletters from Brownells and Gun Talk and receive two entries, with additional opportunities for more entries. Brownells' XBRN177E2 carbine is modeled after the AR used by Special Ops forces in Vietnam, but made for today's modern sporting rifle owner. Enter now at www.guntalk.com/win.
As always, call in to 866-TALK-GUN with your comments, questions, and range reports.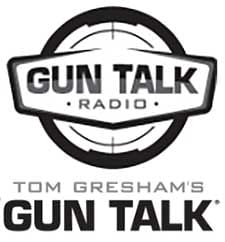 In its 23rd year of national syndication, Tom Gresham's Gun Talk® radio show airs live on Sundays from 2PM-5PM Eastern, and runs on more than 255 stations every week. Listen on a radio station near you (http://bit.ly/GTRstation) or via live streaming (http://bit.ly/GTRstream). All Gun Talk shows can also be downloaded as podcasts at http://bit.ly/GTRpodcast, Apple iTunes, and i-Heart ra dio, or through one of the available Apps: GunDealio on iPhone, GunDealio on Android, and the Gun Talk App on Stitcher. Gun Talk is also available on YouTube, (http://bit.ly/GTRYT), Roku, Apple TV, Amazon Fire TV, and www.guntalk.com
("Gun Talk" is a registered trademark.)