Opinion; Mike reviews the new McMillan Mc3 Tradition Stock on his old Remington 700 SPS Tactical rifle.
USA – -(AmmoLand.com)- I have a bolt gun that I like to test .30 caliber silencers on. It is an AAC/Remington 700 SPS Tactical bolt-action rifle with a short action chambered in 308 Winchester. My only problem with the rifle was the Hogue rubberized over molded stock with which it shipped from the factory. It had a bit of "flex" to it on the forend, this was noticeable when attempting to use it with a bipod that can tilt or scan as the movement would push the forend against the barrel.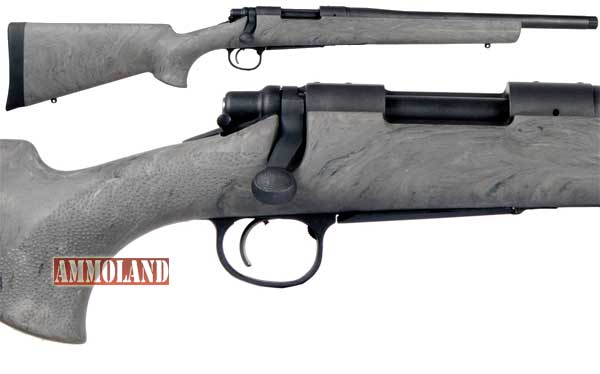 I understand Remington and AAC have recently gone with MagPul's stock offering for the Remington 700 SPS Tactical to address concerns that shooters had with the Hogue stock. I have not had the chance to test the MagPul stock yet.
However, I was made aware of a new stock put out by McMillan rifle stocks that would cure the ailments of the Hogue Overmolded and other hunting stocks of the polymer nature known as the Mc3 Tradition.
Formulated from a proprietary polymer called Zenolite, this hunting-style stock is modeled after McMillan's best-selling hunting stock, the Game Scout and is compatible with most Remington 700 models in short and long actions with a factory hinged floor plate and a molded barrel channel.
This is not a complete slam on the Hogue stocks. I realize that a lot of people like them, especially on 10/22s they keep in the trunks of their cars or the cabs of their pick-up trucks because they can take the abuse. Some hunters like them on their bolt guns in wet and cold weather for the grippiness of the stock and for the most part, these guys do not use bipods at all and are not as concerned with long range accuracy as some of us might be.
It just was not a good fit for me. All things considered, I tend to prefer wood on most of my rifles, but for my precision rifles, I like fiberglass or something equally as rigid.
Right away that eliminates a lot of plastic or other polymer stocks that always have a flimsy feel to me. So, when I heard of this new stock by McMillan, part of me remained skeptical, but in 30 years of shooting rifles with McMillan's amazing fiberglass stocks (I run one on my USMC M40A3 build), I was willing to take a chance.
The Mc3 Tradition Stock weighs in at around 3 lbs. It has a fixed length of pull (LOP) of 13.5 inches a one-inch McMillan recoil pad by Pachmayr and is available in a Standard BDL or Deluxe BDL, includes, two front sling studs, one rear sling stud, and three finish options: Tan, Olive or Carbon Fiber Black. This stock is priced between $269 and $319.
I opted for the tan version and upon opening it was impressed with the shape (which is strongly reminiscent of McMillan's popular A5 model), the weight and just solid overall feel of the stock. If I did not know better, I would swear it is one of their fiberglass models.
Mounting was easy, unscrew the action screws, remove the bottom metal, drop in the rifle and reattach the bottom metal and screws. However, I think it is not a bad idea to bed the rifle's action to the stock with Brownells Acraglass or SteelBed for improved stability and repeatability.
A few areas I checked were around the bolt handle and of course the barrel channel. The barrel channel allowed for plenty of free float and no warping, wrenching, twisting or bipod movement or sandbag mounting caused the stock to flex or move in any way. As far as the bolt handle, the SPS Tactical has an oversized bolt handle, and I wanted to see if the stock would compromise this in any way (years ago a Bell & Carson polymer stock gave me similar grief). Luckily it did not.
Once your rifle is appropriately mounted in the stock, it will have a unique feel like a hybrid hunting/precision stock. That's because this "polymer stock" is not a hollow piece of plastic. It is an injection molded solid polymer stock. The Mc3 Tradition reminds me a lot of my M40A3 stock but at perhaps ½ to 1/3 the price and with a little less weight. I have no problem with the length of pull and do not miss the adjustable cheek piece. After all, you must remove it every time you want to clean the rifle from the chamber.
This rifle will serve not only as a suppressor host for testing but as a hunting rifle in 308 Winchester. Years ago I tried trotting out my M40A3 for that purpose, but the extra weight, fixed 10X scope and lack of a threaded bbl made it less than ideal in that role. The Remington Model 700 SPS Tactical outfitted in this Mc3 Tradition stock will allow the rifle to perform in both roles for my purposes.
For more information see: www.mc3stocks.com/product-category/hunting/short-action-hunting/
---
About Mike Searson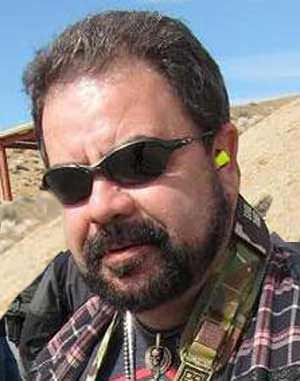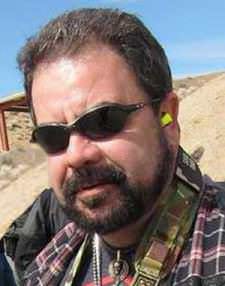 Mike Searson's career as a shooter began as a Marine Rifleman at age 17. He has worked in the firearms industry his entire adult life as a Gunsmith, Ballistician, Consultant, Salesman, Author and was first certified to teach firearms safety in 1989.
Mike has written over 2000 articles for many magazines, websites and newsletters including Blade, RECOIL, OFF-GRID, Tactical Officer, SWAT, Tactical World, Gun Digest, Examiner.com and the US Concealed Carry Association as well as AmmoLand Shooting Sports News.
Homepage: www.mikesearson.com
FB: www.facebook.com/mike.searson
TWITTER: www.twitter.com/mikesearson