U.S.A. –-(Ammoland.com)-Almost all the holsters I have used for concealed carrying handguns have been Kydex or injection molded. The majority of CHP holders use a Kydex holster. I recently switched to using an injection molded holster because they are more pliable than Kydex and therefore more comfortable to me.
My friend Bob refuses to use Kydex. He swears on the advantages of leather. I have always chalked it up to Bob being in his 70s. I figured he was just reluctant to embrace new technology because of his age. For this reason, we love calling him Blue after the character from the movie "Old School."
When JM4 Tactical asked me if I wanted to review a couple of their leather inside the waistband holsters, I was at first hesitant, but then I thought about Bob. Is he afraid of newer technology, or am I fearful of older materials? If I wanted to continue to give Bob a hard time, I have to be open to the idea of trying something I haven't used before, so I said yes.
JM4 Tactical supplied me with two holsters. The first holster was the High-Ride Quick, Click & Carry Holster. I would be using this holster in combination with my ever-present Glock 19. I would be using this holster almost daily. I would be wearing the holster at the five o'clock position
The JM4 Tactical made the High Ride Quick Click & Carry Holster out of high-quality Hermann Oak Leather. One thing that takes a little getting used to with a leather holster is that it takes a few days to break it in. The break-in process can be sped up by using leather conditioners which JM4 Tactical also sells, but I didn't use their brand.
The first thing I noticed with the leather holster is that the holster is much more comfortable than plastics such as Kydex. The rough edges that I hate on Kydex are not there on the leather holster.
The JM4 Tactical holster was very comfortable. The stitched double layer leather felt great against my bare skin. It almost feels as if it was not there. The comfort level of the holster was incredible.
One thing I did notice is JM4 Tactical used double stitching at the weak points. I have heard horror stories about leather holsters coming apart at these weak points. It is one reason I have steered away from using leather holsters in the past.
The High Ride Quick, Click & Carry Holster uses a strong rare earth magnet to hold the holster on the wearer's belt. It does an excellent job of keeping the holster on the belt of the user. One thing that this magnet also does is make it easy to take off and put on the holster when compared to using belt clips on a holster.
The magnet also helps keep retention on the user's gun. When an FBI agent did a backflip, his pistol fell out. The video went viral. In a response JM4 Tactical had a person do the same move using their holster, and the gun stayed in place. I believe it. The magnet is incredibly strong.
The High Ride Quick, Click & Carry Holster gets its name because of the higher ride height of the wearers gun. This higher height gives the user a better grip on the gun when they reach to draw it.
At the range, I was concerned that the strong magnet in the JM4 Tactical holster would interfere with drawing my Glock. It did seem to add a little more retention than I am used to, but nothing too bad. I was able to pull my pistol and reholster it without any issues. I came to like the retention.
The higher ride of the High Ride Quick, Click & Carry Holster made it easier to draw my gun. I was able to get a good grip on the pistol without issue. The reholstering of my Glock 19 was easier than I expected. It slid right in the holster without any issues.
The more I use the holster; the more comfortable the holster became. The leather has become softer and more comfortable. This holster is an excellent choice for jeans and a belt. In the two months I have been using it still maintains the shape even though it has softened up quite a bit.
Sometimes when you go to the gym, you want to carry a gun, but a holster like the High Ride Quick, Click & Carry Holster just doesn't work with workout clothes. That is why JM4 also sent me the original Quick Click & Carry for my Beretta Pico.
I am usually not one for wearing a gun when I work out, but some people do so I decided to take this JM4 Tactical holster for a spin at the gym.
JM4 Tactical made the original Quick Click & Carry holster with the same Hermann Oak Grade A vegetable tanned steer hide leather as their other holsters, but for some reason, it took me longer to break in this holster. A little leather conditioner helped, but I couldn't wear it right out of the box.
The JM4 Tactical holster was comfortable when I was working out, but it was noticeable to me when doing workouts such as Yoga. I wore it at home while doing Yoga because I wanted to make sure it would not fall out. It held onto my sweatpants fine.
Jogging with the holster on was another story. When I went jogging, I didn't notice the original Quick Click & Carry holster at all. The Pico is a pretty lightweight gun, and that might have something to do with it.
I went to the range with sweatpants and my gun to practice drawing from an appendix carry position. It was pretty easy to retrieve my gun and to reholster it. It has the same magnetic retention as other JM4 Tactical holsters, so I was used to the type of retention.
The only way I can describe the retention is a medium retention level until the gun is almost out of the holster then the retention has a break, and it let's go of the pistol. It isn't a gradual release of retention, but it worked fine for me.
I did try to wear the JM4 Tactical original Quick Click & Carry holster with jeans, and it didn't nearly have ease of pull of when I was wearing sweatpants. It was a little harder getting a grip on the gun when wearing jeans and a belt.
Not every holster is perfect for all situations. I would suggest the High Ride Quick, Click & Carry Holster for the times when you are going to be wearing jeans and a belt and the Quick Click & Carry holster when you are workout clothes.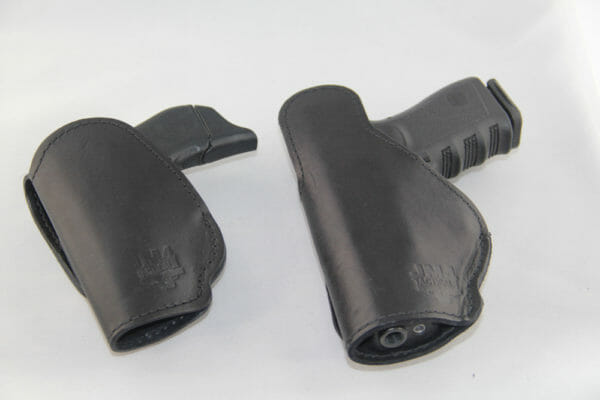 JM4 Tactical sells the High Ride Quick, Click & Carry Holster for $79.95 to $94.95 and the original Quick Click & Carry for 69.95 to $84.95. JM4 Tactical bases their prices on colors and options the consumer chooses for their holster. The holsters are a little more expensive than most Kydex and injection molded holsters, but this is due to leather is more expensive than plastic. Also, it takes more craftsmanship to make a leather holster.
JM4 Tactical does offer a 10-day money back guarantee that lets the users try out the holsters before being locked into the holster.
Readers can read more about JM4 Tactical holsters at https://jm4tactical.com/.
---
About John Crump
John is a NRA instructor and a constitutional activist. He is the former CEO of Veritas Firearms, LLC and is the co-host of The Patriot News Podcast which can be found at www.blogtalkradio.com/patriotnews. John has written extensively on the patriot movement including 3%'ers, Oath Keepers, and Militias. In addition to the Patriot movement, John has written about firearms, interviewed people of all walks of life, and on the Constitution. John lives in Northern Virginia with his wife and sons and is currently working on a book on leftist deplatforming methods and can be followed on Twitter at @crumpyss, on Facebook at realjohncrump, or at www.crumpy.com.