St Cloud, MN –-(Ammoland.com)- Maxim Defense, the premier manufacturer in PDW-stocks, pistol braces, accessories, and weapons, is attending the 2019 NRA Annual meeting in booth #3210. Along with highlights of their new products for 2019, and the newly designed PDX, attendees can get hands-on with a preview of the PDX in 300 Blackout.
"The NRA Annual Meeting has always been a great venue for Maxim to display and introduce our new products" Said Michael Windfeldt, Owner of Maxim Defense. "and this year is no exception, we'll have both the SBR and Pistol Brace version of our newly design PDX™ in 7.62x39mm and 5.56 NATO on hand, as-well-as a preview of the PDX in 300 Blackout".
Maxim Defense PDX
Leading the way in new products for 2019 is the newly-developed PDX™. Part of the MDX Battle Line, the PDX is available in 7.62x39mm and 5.56 NATO calibers, in both SBR and Pistol formats. The NEW Maxim Defense PDX is designed to handle the fierce demands of the Tier-1 community and dominate in close quarter encounters without sacrificing energy on target and accuracy. At just 18.75″ in overall length, 5 lbs. 11oz. in weight and a 5.5" barrel, the PDX is the ultimate choice for when concealment and personal defense are non-negotiable. The PDX will start shipping in the second quarter of 2019 with an MSRP of $2299.00 for either the SBR or Pistol Brace versions.
Calibers: 7.62x39mm and 5.56 NATO
Barrel Length: 5.5"
Colors: Black or Arid
Overall Length: 18.75"
Weight (empty): 5 lbs 11 oz
Muzzle Device: Maxim Defense HATEBRAKE™ Muzzle Booster
Stock: Maxim Defense SCW™ stock system (SBR and Pistol Brace)
Trigger: ALG Combat Trigger (ACT)
Maxim Defense SCW Stock System
The Maxim Defense SCW Stock System is one of the most complete compact SCW stocks on the market. Available in SBR and Pistol formats the Maxim Defense SCW has a collapsed length of only 4". Both the Stock and Pistol Brace feature an integrated proprietary BCG with MILSPEC bolt and interchangeable buffer weights to give you the flexibility to maximize performance and versatility without sacrificing functionality. The Maxim Defense SCW Stock and Pistol Braces are simply the shortest, most thought-out, and durable SCW stock on the marketing. MSRP starting at just $369.95
Caliber: 5.56mm NATO, 7.62x39mm, .300BLK
Buffer-Carrier: H1, H2, H3, 9mm PCC
Material Composition: 7075 Aluminum
Finish: MILSPEC Anodized
Weight: 14.6 oz
Length: 4.0 inches 1st position (closed)

5.25 inches 2nd position
6.5 inches 3rd position
7.75 inches 4th position
8.75 inches 5th position (extended)
Maxim Defense CQB Gen 7 Stock
Like the Gen 6, the Gen 7 is a CQB stock built for comfort and durability for real-world use. No buttons to push, just pull the stock to deploy. At its most collapsed position, this CQB stock only adds 5.35" to your AR15. At full extension, the Maxim CQB stock is the length of an extended carbine stock. And with 4 total positions, you can adjust for maximum comfort and multiple scenarios. Rapid deployment, purpose-driven materials, and the functionality you need, the Maxim Defense CQB Stock is simply the most thought out, versatile, and durable CQB stock on the market. The Gen 7 is for those who want a sleeker profile, eliminating the side sling swivel attachment points from the housing. Instead, the Gen 7 comes with our ambidextrous sling mount already installed. MSRP starting at $369.95.
Caliber: Multi
Buffer: Standard, H1, H2, H3, 9mm PCC, JP Silent, Captured spring system [Proprietary & Exclusive to Maxim CQB stock]
Material Composition: 7075 Aluminum
Finish: MILSPEC Anodized
Weight: 18.5 oz
Length: 5.3 inches closed

6.8 inches 1st position
8.3 inches 2nd position
10 inches fully extended
HATEBRAKE Muzzle Booster
A common problem in short barrel PDW's with low-pressure cartridges is reliable cycling. Maxim Defense HATEBRAKE Muzzle Booster is designed to regulate firearm exhaust gases to ensure PDW's cycle more reliably. The primary design features include the redirection of the sound signature, decreasing the flash signature, significantly reducing recoil, and increasing accuracy.
The HATE BRAKE installs with a 3/8" drive socket from the front, enabling it to be installed under a handguard without removing the handguard. During installation, the HATEBRAKE locks into place with K-Taper, a patent-pending taper locking technology, replacing the need for proprietary tapered barrels. The external shape of the HATEBRAKE is designed to work with M-Slot compatible hand guards. The HATEBRAKE starts at just $199.95.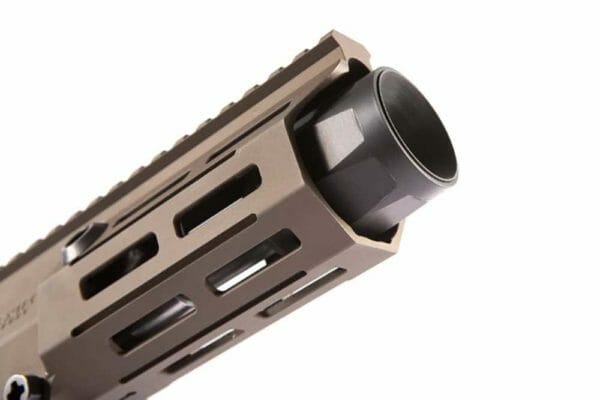 Caliber: 5.56 / 7.62 / 9mm
Thread Pitch: 1/2×28, 1/2×36, 5/8×24
Material Composition: 17-4 H900 Stainless / 6AL-4V Titanium
Finish: Black in color DLC [Diamond-Like Coating]
Weight: 4.6 oz
Length: 2.4 inches
Diameter: 1.620 / 1.75 inches
M-RAX Rapid Attachment System
Unlike the traditional M-Slot mounting systems, M-RAX utilizes the full slot of your rail, maximizing space. This makes the M-RAX system end-to-end stackable, giving you the option to create seamless monolithic rail sections where needed. Installation and removal is a breeze. Thanks to the spring-loaded screws, the M-RAX system removes mounting frustrations. Simply push the screw in with a standard hex tool and rotate 90 degrees. The locking lugs engage that readily. No more fighting or timing screws. Offered in 2, 3, 4, 5 and 6 M-Slot lengths, the M-RAX is shipping today and starts at an MSRP of $39.95.
FITS: Compatible with all M-Slot handguards and forends
LENGTH/WEIGHT: 2 • M-Slot (3.145") / 1.54oz

3 • M-Slot (4.720") / 2.31oz
4 • M-Slot (6.295") / 3.09oz
5 • M-Slot (7.870") / 3.87oz
6 • M-Slot (9.445") / 4.62oz

MATERIAL: 6061-T6 Billet Aluminum
FINISH: Hard Coat Anodize type 3 Class 2
Available in black and FDE
Visit Maxim Defense at booth #3210 to get a first look at the PDX in 300 Blackout and the 2019 line of Maxim products.
To learn more about Maxim Defense, please visit us at www.maximdefense.com.
---
About Maxim Defense:
Maxim Defense is a development company aiming to provide the Military and First Responders the next generation of tools and equipment to succeed in today's most extreme environments. The company primarily engages in small arms manufacturing focusing R&D on producing better, lighter, and more reliable weapons and accessories. As an industrial-design-centered organization, Maxim seeks to improve and enhance existing weapons platforms alongside developing cutting-edge technologies for redefining the future. Maxim Defense is headquartered in St. Cloud, MN. To learn more, please visit www.maximdefense.com and follow us on Instagram, Facebook or Twitter @maximdefense.