U.S.A. –-(Ammoland.com)- I got home from a hog hunt with Texas Outdoor Journal and had received the Sig Sauer 1911 WE THE PEOPLE CO2 BB gun. I think I've tested nearly all of the Sig Sauer CO2 airguns and everyone of them has been a blast to shoot. I do a lot with airguns but it just hit me. Until I started testing airguns for Sig Sauer, I never had owned a CO2 airgun. They are fun to shoot since they are semi autos.
I haven't asked marketing guru Shannon about this one specifically but on all of the others she said that if a holster would fit that particular pistols big brother in the real caliber, that it would fit the CO2 version. That's pretty cool and makes them handy to carry.
Ok, let's get into the Product Review. Like all of the Sig airguns, this one mimics its real cousin. Same weight, same looks, same features. To remove the magazine, you hit the magazine release button which allows it to drop out of the bottom of the grip, just like a normal 1911.
To load the CO2 cannister you use the supplied Allan wrench to loosen the screw on bottom and then slip the CO2 cannister into the middle of the magazine. Tighten the screw which will press against the cannister and press it into place. When it engages you will momentarily hear it hiss out a miniscule amount of CO2.
As we well know, real men don't read instructions but if you err and do so, you will learn that it is a lot easier to load the BB's the way they say as compared how I did the first time. On the front end of the magazine you will notice a small button (Called the magazine follower) that you can push down to the end of the magazine. It will lock into place and expose a hole in which to load BB's. It will hold 17 BB's.
I love it. The Sig Sauer 1911 We The People CO2 BB gun utilizes the same safety system that your real 1911 has. This one has an ambidextrous thumb safety and the thumb grip safety that you're familiar with on your traditional 1911. When you take it off safety a small red dot is exposed.
This is a sweet little airgun. My buddy Bill Gilger and I went out shooting it this afternoon and had a ball. So besides just being flat out fun to shoot, what other applications do I see that it is good for?
It is a great training tool if you own a real Sig 1911. It is the same weight and has all the same features.
I do a lot of pigeon/dove/starling hunting in feedlot and agricultural settings. Pigeons are nearly always roosting in the rafter of barns. The problem is, most of my airguns are powerful enough to punch a hole through the tin roof. Some of them spit out pellets at 1,450 fps. The Sig 1911 only spits them out at 340 fps. Making it a lot more barn friendly.
 It would be a great airgun to run off varmints if you do not want to kill them.
And you get all of this for a MSRP of $99.95. And as is usual, we will close with the specs:
MODEL 1911 BB
OPERATING SYSTEM CO2
CALIBER 4.5mm Steel BB
MUZZLE VELOCITY Up To 340 fps
TRIGGER WEIGHT 4 lb
STOCK TYPE Metal
SIGHTS Fixed
MAGS INCLUDED (1) 17rd BB Mag
OVERALL LENGTH 8.5 in
WEIGHT 2.2 lb
---
About Tom Claycomb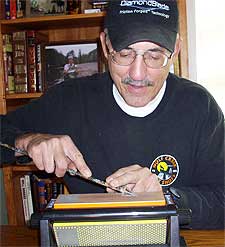 Tom Claycomb has been an avid hunter/fisherman throughout his life as well as an outdoors writer with outdoor columns in the magazine Hunt Alaska, Bass Pro Shops, Bowhunter.net and freelances for numerous magazines and newspapers. "To properly skin your animal you will need a sharp knife. I have an e-article on Amazon Kindle titled Knife Sharpening for $.99 if you're having trouble."
Disclosure: Some of the links below are affiliate links, meaning at no additional cost to you, Ammoland will earn a commission if you click through and make a purchase.