BELLEVUE, WA –-(Ammoland.com)- While the Brady Campaign has expressed sorrow that some anti-gun politicians tried to turn a vigil for victims of the STEM School Highlands Ranch shooting into a gun control event, Brady should apologize to all American gun owners for allowing the attempted exploitation to happen, the Citizens Committee for the Right to Keep and Bear Arms said today.
The event was reportedly organized by a Brady youth group called "Team Enough." But Colorado Sen. Michael Bennet, who is among 23 Democrats now running for president, and Democrat Congressman Jason Crow reportedly tried to make this into a gun control campaign platform, and it backfired, according to published reports.
"The students and parents who attended the vigil didn't deserve that," said CCRKBA Chairman Alan Gottlieb, "and neither do tens of millions of law-abiding gun owners whose rights are under constant attack. No honest gun owner is responsible for the STEM high school incident, and their rights should not be scapegoated by headline-hunting politicians trying to capitalize on tragedy.

"The Brady Campaign was well aware that an anti-gun politician would turn such a somber event into a gun control rally," he added. "Instead, students and their parents were rightly offended and they responded appropriately by walking out.

"Wednesday's vigil was supposed to honor the heroic sacrifice of 18-year-old Kendrick Castillo," Gottlieb observed, "and to support other students who were injured, and give students a chance to speak from their hearts. Instead, it turned into a backdrop for gun control grandstanding. That was both appalling and insulting, not just to those in attendance, but every Second Amendment citizen whose rights are routinely blamed after such a horrific incident.
"The Brady Campaign and the politicians who tried to exploit this tragedy should be ashamed," he concluded. "Every one of them owes the community, and the country, an apology."
---
About CCRKBA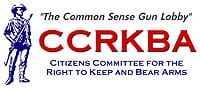 With more than 650,000 members and supporters nationwide, the Citizens Committee for the Right to Keep and Bear Arms (www.ccrkba.org) is one of the nation's premier gun rights organizations. As a non-profit organization, the Citizens Committee is dedicated to preserving firearms freedoms through active lobbying of elected officials and facilitating grass-roots organization of gun rights activists in local communities throughout the United States.