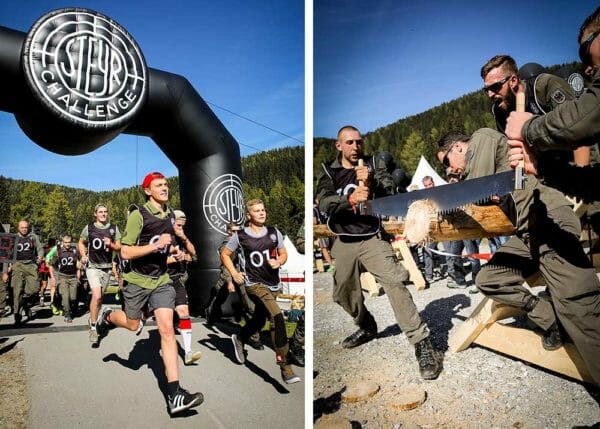 BESSEMER, Ala. —-(Ammoland.com)- Steyr Arms will be hosting the 2nd Annual Steyr Challenge, Oct. 5 in Seetaler Alpe in Austria, with teams from across the globe competing for the title of "Toughest Hunters in the Alps." This competition is a combination of a more than seven kilometer mountain run with about 300 meters of elevation gain, different shooting disciplines, abseiling and sawing. Each four-person team, with one alternate, will need to train together, shoot together and strive for the ultimate goal of winning together.
Steyr Arms is looking for a few good teams to represent the U.S. in this year's competition. If you think you have a team that has what it takes to take on the course and the other competitors, send an audition video of your team explaining why you wish to compete in the challenge before the registration closes on July 15. Click here to register. There is no cost to submit. The $250 registration fee is only charged to teams that are selected and will be participating in the challenge. Teams will be responsible for their own travel arrangements to and from Austria. Lodging and food are covered upon arrival.
This year's Steyr Challenge will host a maximum of 25 teams from around the world. Don't miss this opportunity to represent the U.S., be a part of this ultimate challenge and claim the title of "Toughest Hunters in the Alps."
Teams will need to arrive on Oct. 4 for an overview of the course and preliminary training on the rifles that will be used in the competition. The Steyr Challenge will take place on Oct. 5, followed by an awards ceremony.
---
About Steyr Arms
Established in 1864, Steyr Mannlicher, GmbH, is one of the world's oldest and most prestigious firearms manufacturers. Steyr's comprehensive lines of premium hunting rifles and precision sporting and tactical firearms are technically mature, and their subtle elegance also communicates the harmony between appearance and substance. Steyr's legendary SBS actions and cold-hammer-forged barrels are distinctive and unparalleled. Steyr Arms is the subsidiary headquarters of Steyr Mannlicher in the U.S., and it is also the exclusive importer for Merkel firearms, JAGDHUND and X JAGD apparel. For more information, contact Steyr Arms at 2530 Morgan Rd., Bessemer, AL 35022; call (205) 417-8644; or visit www.steyrarms.com.