U.S.A. –-(Ammoland.com)- The AR-15 has the widest variety of possible configurations of any rifle out there.  From unwieldy "longbow" builds to ultra-short "Han Solo" style single shots, AR builders have long been pushing the platform to extremes.  One direction many have gone is the Ultralight AR-15 route:  there's a 100 page (and counting) thread on AR15.com where some builders have trimmed their rifles down to 2.5 pounds by dropping every ounce possible and counting each gram.
Not everyone's standards and objectives are precisely the same, as some opt for the lightest build using off-the-shelf parts while others custom trip, snip and shave each part.  The general (unofficial) consensus is that ultralight begins under 4 lbs, while lightweight runs between 4 and 6 lbs.  One thing is certain, the AR-15 platform has been pushed much farther than even Eugene Stoner could have imagined at the time it was created.
My journey with Ultralight AR's began back in mid-2017.  I began researching each part on my own for an article series.  I was quickly directed to the AR-15 Parts Weight Database, a crowd-sourced database showing each part and its advertised weight versus user-confirmed weights.  While the standard is to weigh your rifle sans magazine or suppressor (and to some, optic), my goal was different.  I wanted my rifle, suppressor and optic to come in under 5 pounds.  I was able to achieve that, even improving the weight (or lack thereof) of the rifle a little after the article was published.  My (never-ever) finished rifle stands currently at 4.001 lbs (rifle only) and 4.834 lbs with suppressor and optic.  The wild part is I can easily identify another half pound I could drop from the gun, while still using unmodified factory parts.
So while I'm still a pound and change away from the 2.5 lbs record, here are a few tips I've learned along the way that can help cut the fat from your gun.
1.  Use the parts weight database!
Here's the link.  You're welcome.  All jokes aside, this is easily the best cheat sheet you're going to find on the subject of ultralight AR's.  You can plan out your build with this and save yourself the expense of upgrading to a slightly lighter product down the road when you could have been there at the start.
2.  High-tech alloys are awesome, at a cost.
With companies like V Seven Weapon Systems, 2A Armament and Fostech (among others) cranking out parts made from magnesium, titanium and lithium-aluminum, unusual alloys have become far more commonplace.  The upside is incredibly strong parts which weigh significantly less than their standard counterparts.  The downside is they usually come at a much steeper price, causing your "dollars per ounce" to skyrocket.  Fostech (receivers) and V7's sister site Dark Hour Defense (forends) both produce the most economical magnesium parts.
3.  Polymer to the rescue?
Here's the flip side to point #2: polymer parts are also becoming far more prevalent in use.  I didn't want to use any polymer/plastic in my build (save for the Hogue 15 degree grip and the CAR buttstock), but many have made do with synthetic receivers and even the trigger assembly itself.  New Frontier Armory offers these in a lower parts kit, which at $35 for the pack is a fraction of the cost of the titanium variants.
Carbon fiber is tricky as it doesn't fit in the alloy section up there at #2, nor is it solely a polymer.  It is, however, a very efficient way to purge unnecessary heft.  The Andro Corp carbon fiber buffer tube is 33% lighter than a mil-spec tube.  The Tegra Arms carbon fiber lower receiver is about 5 ounces lighter than most mil-spec receivers.  That's a major difference from just one part.
If you've stayed away from polymer and carbon fiber due to concerns over parts longevity, I'd look into them again.  The gun industry has made great strides in the area of metal-alternatives, with some high round count users having many positive things to say.
4.  The usual suspects
The areas where you can drop the most weight in a hurry?  The Bolt Carrier Group (BCG), receivers, barrels, and forends.  The barrel and forend make the biggest difference in "feel", as they have the most leverage against the shooter when the rifle is shouldered.  8 ounces near the stock causes less fatigue while shooting than 8 ounces at the end of the barrel.
With barrels in mind, Faxon Firearms' pencil barrels are almost exclusively used for 14.5″ and 16″ ultralight builds.  Their 14.5″ barrel weighs 1.2 lbs or so, with a mil-spec Daniel Defense 14.5″ M4 cut barrel weighing a half-pound more for reference.
Going from a mil-spec BCG to a DSA low-mass aluminum cuts off right around 7 ounces.  Nearly a half pound, gone.  Side note: reducing the reciprocating mass in the BCG necessitates a change in the gas and/or buffer systems.  It's a subject best covered in more depth that I will here, but know that it's both a necessity and an opportunity to cut more weight if you do it right.  Contrary to popular belief, full-mass BCG's are not an absolute requirement for reliable operation either.
But Why?
The reasons people build light or ultralight AR's are as varied as the shooters themselves.  These builds are often considerably more expensive, so where's the justification?  I've heard many reasons expressed, but here's the most common.
American competitiveness.  Taking something good and pushing it to the absolute extreme is a very (though not solely) American ideal.  Look at this screenshot from Wikipedia showing the world's land speed record holders from 1963 to present.  Prior to that, the UK and France dominated the record.  Pushing any mechanical operation to its limits uncovers design limitations that can be improved upon.  The AR platform has undergone many design changes over the last 50+ years, keeping pace with technological advancements.
Hunting.  Some who hunt with their ultralight AR-15 plan on cover a lot of ground.  If you have to hike a long ways over rough country, it pays to stay light.
Competition.  I've talked with a few professional shooters who didn't have an ultralight AR-15 as their specific goal, rather a byproduct of reducing recoil though reciprocating mass reduction.  Once you start down this path, you find out how incredibly responsive and soft-shooting an ultralight AR-15 can be.
How heavy is your lightest AR?  Hit the comments below.
---
About Rex Nanorum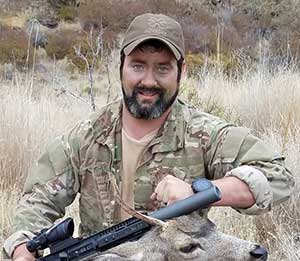 Rex Nanorum is an Alaskan Expatriate living in Oregon with his wife and kids. Growing up on commercial fishing vessels, he found his next adventure with the 2nd Bn, 75th Ranger Regt. After 5 tours to Afghanistan and Iraq, he adventured about the west coast becoming a commercial fisheries and salvage SCUBA diver, rated helicopter pilot instructor (CFII) and personal trainer, before becoming a gear reviewer and writer."