USA – -(AmmoLand.com)- It has finally happened, the Henry Repeating Arms new Model H024 side-gate rifle has been announced to the shooting public. I for one have been waiting for almost two years.
Have you ever been in on a secret so close-hold that you could not talk about it with anyone to include your spouse? This situation is what happened to me back in 2017 when Andy Wickstrom, the Vice President, and general manager of Henry Repeating Arms told me about the future new Model H024 / side loading gate, lever action Cowboy Carbine, that Henry was working on.
If you own a Henry rifle or have shot someone else's Henry you understand that Henrys are loaded through a tube magazine located under the rifle barrel. Unlike almost any other centerfire lever action rifles currently or historically manufactured in the past, there is no side loading gate or a King's gate as the original patent on the old Winchester Model 66 ( an improved Henry designed rifle) was called.
Without the side loading gate, you could not top off a rifle as you shot rounds. You had to disengage from shooting and take the Henry rifle out of action to reload it.
The newest Henry rifle, the Model H024 has shifted the Henry Repeating Arms manufacturing paradigm forever.
The Model H024 will have a side loading gate and will be chambered in 30-30, 38-55 and 35 Remington in its first production run. But, regardless of caliber, all H024s will have that loading gate.
My Model 24 is chambered in 30-30. Tim Sundles at Buffalo Bore ammo has excellent 30-30 rounds in his inventory. His 28B 30-30 is outfitted with a 150gr. TSX lead-free bullet that should be your overall general load. If you want to stop anything in the lower 48 states with a 30-30 rifle inside of 100 yards, Mr. Sundles' 28A 30-30 presents with a 190 gr bullet to chamber in your Henry Model 24.
Buffalo Bore has 38-55 and 35 Remington as well as the 30-30 ammunition. So, no matter what version of the Henry Model 24 you have, you can acquire Mr. Sundles' ammo to enhance your Hunting with a Henry. Mr. Sundles sells a lot of this ammo in Alaska and Canada where big things could eat you in the middle of the night, where one shot may mean the difference in returning home or being bear bait.
If I say, 1911 everyone knows I am talking about a Colt semi-auto pistol in .45 ACP. If I say Model 29, it is understood I am talking about a 44 magnum handgun made by Smith & Wesson. If I mention a Glock 17, everyone envisions a semi-auto, 9mm pistol made in Austria.
I am here to tell you right now, no matter what the official name and model number is, the brand new Henry lever action rifle with a loading gate on the side of the receiver will forever be known as the Model 24.
When my granddaughter inherits that gorgeous and most particular rifle from my estate, the lawyer reading my last will and testimony, will loudly declare she is receiving her grandfather's old Henry Model 24 rifle, well used and still shooting just fine.
As I said, a paradigm has forever shifted at Henry Rifles.
On the lips of almost every Henry rifle owner has been the question, when will there be a side loading lever gun? The short answer is now.
You need to know right up front; Henry Rifles will not be able to keep up with the demand. I know they have tooled up for increased production. They have released photos of senior management standing in front of million-dollar machines that produce Henrys, but it is not going to be enough.
Henry Repeating Arms is the number one selling lever action rifle company in the world, and it is their quality that has caused this sensation. Because of popular demand they cannot keep up with production now on some of the models they currently have in their stable.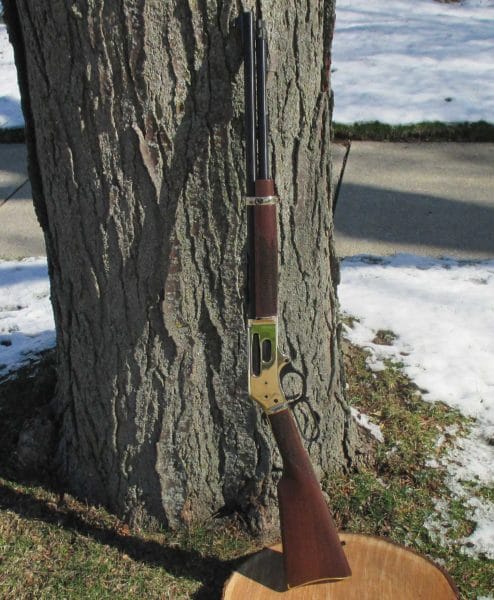 Members of the Henry rifle family tend to want to own more than one Henry rifle.
There is going to be a symbolic log jam made of Wisconsin hardwood trees impeding the flow of new Henry Model 24s. However, this can be a good thing. Anticipation makes the heart grow fonder, and that applies to the gun owning world.
The current gun retail world is full of product. There are little if any firearms or accessories on the market that a potential shooter has to wait to acquire. I think the current person in the White House has something to do with that.
A want, a desire, and some anticipation goes a long way in helping develop positive character. Besides, if you are just now finding out about the new Henry Model 24 your anticipation has only begun. I have been anticipating this for over two years.
The original Henry lever action rifle that was manufactured from 1860 to 1866 was the first rapid-fire, multiple round, magazine fed, battle rifle that used a self-contained metal cartridge. With the one exception early in the opening days of the US Civil War, whenever a Henry rifle was used on the battlefield by Union soldiers, it was never bested in combat.
The original Henry introduced the armies of the world to the military capabilities of a lever action battle rifle. The US Army never picked up on the concept of a lever action rifle after the Civil War, but the armies of Europe did. From the Franco-Prussian War to the battlefields of today's modern conflicts, America's rifle, the lever action rifle, is still found when men are in harm's way.
The politics of many have made the ownership of a "black rifle" that looks like something a soldier might use, restricted or even forbidden in many societies. This of course always comes back to haunt the unarmed and the innocent, but that is another story.
A lever action rifle that you can "top off" as you are hunting in the woods of North America offers an edge to that rifle owner. That same rifle in the hands of a person moving and shooting to defend his family, to delay evil, is an asset that is underappreciated by many. I might suggest foolishly ignored by some.
Of course, the new Model 24 Henry is manufactured with a brass action. It will have the same smooth, slick to operate, and strong to withstand hard use construction, just like any of your other Henry lever action rifles. The Model 24 is different and yet the same as, other Henry centerfire rifles and of course it has that side-loading capability.
We talk about force multipliers in the military. How you take two or more items and by combining them on the battlefield you greatly enhance your combat capability.
If you take nothing away from the announcement of the New Henry Model 24 lever action rifle but one item, let it be the distinction of the force multiplier of the side loading gate. That loading gate will increase your ability to delay evil should it come to your front door.
The side loading gate, of course, will also enhance your ability to "Hunt with a Henry" anywhere in the free world.
The Model H024 is the scion of the Model H010B. The strength, quality, and accuracy of the H024 action and barrel are inherited from the H010B. The H024 has kept the removable magazine tube and added the side loading gate. Of course, a few of the internal parts had to be redesigned in order to work with the side gate.
The H010B is the large frame Henry Brass action that they build their 30-30 and 45-70 rifles on.
The magic of the H024 concept is you get the best of both worlds when it comes to loading, reloading and unloading the Model 24. It is a whole lot easier to load and unload a lever action rifle if you have the removable magazine tube concept that Henry currently uses on their centerfire lever guns.
When you add the new loading gate on the side of the already extremely successful H010B action, you created a new force multiplier that no other lever action rifle on the market has. Load smoothly and quickly during pre-shooting operations and reload as many rounds as fast as you can when the situation dictates.
The traditional Henry (at least for the past twenty years) magazine tube, loading concept, combined with the new loading side gate will project the Henry H024 lever action rifle into the forefront of the lever action hunting and shooting world.
No one else in the gun industry has a rifle like this, and it is an enviable position for Mr. Anthony Imperato and the entire crew at Henry Rifles to be in.
The Henry Model H024 / Side Gate Loading Lever Action Rifle made at the corner of Henry and Quality where paradigms shift and change the world for the better.
The Henry Model 24 is here, and all is right with the world. Did I mention the Model 24 is a gorgeous rifle?
Major Van Harl USAF Ret.
[email protected]
---
About Major Van Harl USAF Ret.:
Major Van E. Harl USAF Ret., a career Police Officer in the U.S. Air Force, was born in Burlington, Iowa, USA, in 1955. He was the Deputy Chief of police at two Air Force Bases and the Commander of Law Enforcement Operations at another. He is a graduate of the U.S. Army Infantry School.  A retired Colorado Ranger and currently is an Auxiliary Police Officer with the Cudahy PD in Milwaukee County, WI.  His efforts now are directed at church campus safely and security training.  He believes "evil hates organization."  [email protected]