Disclosure: Some of the links below are affiliate links, meaning at no additional cost to you, Ammoland will earn a commission if you click through and make a purchase.
Opinion
Idaho – -(AmmoLand.com)- A couple of weeks ago I wrote a product review on the Puma SGB Gentleman's Wood folder. In case you're like me and favor a knife that is just a little bit bigger then you might be interested in the Puma SGB Bear Wood folder. It is almost identical to the previously mentioned knife except that it is a little larger. It has a 2.8" blade as compared to the 2.3" blade on the Gentleman. But it will still fit inconspicuously in a pair of slacks or suit pants.
I think Puma has some well-designed knives. Especially their folders. As you can well imagine between what I get to test and what I see in stores while doing seminars, training and demos, I get to see a lot of knives. I haven't actually set down and done an analysis but I bet that at least 75% of the modern folders are of some dysfunctional Star Wars design. I don't have a clue who designed them or what they are good for.
At the SHOT show years ago, I was invited to the unveiling of a new knife line by one of the biggest outdoor companies in the world.
I was semi new at the time as a writer and naively told them I could help them with their designs. I quickly learned that my role was to oh-and-ah and write glowing articles about their knives and tell everyone to buy three of them at a time.
They didn't want any advice, they just wanted everyone to buy the weird designs that they'd invented. Unfortunately, a majority of the knife companies follow suit with that mentality.
So with that said, I'm happy to say that I like a lot of the Puma designs and that they are actually functional in our outdoor world.
In addition to outdoor duty if you're looking for a pocket knife that will be acceptable in an office setting, then you need to check out the Puma SGB Bear Wood folder. It has a functional design, albeit on a smaller frame.
And if you're trying to think of a good present for someone, I think you'd impress them with this good-looking little knife. If you buy someone a gift that they use every day, then each time they use it they will think of you – everyday. And the good news, the MSRP is only $29.99 and that is cheap. The blade is only 2 ¾-inches long and open the overall length is only 6 ½-inches.
And as is usual, we will close with the specs. Puma SGB Bear Wood Folder Pocket Knife SPECS:

1.4116 German cutlery steel manufactured in Solingen Germany
Overall length of 6.7″, 2.8″ clip point hollow ground satin finished blade weighing 2.9 oz
Jacaranda Wood scale with brass bolsters and lanyard hole
55-57 Rockwell hardness tested and proofmarked with limited lifetime warranty
The Classic Jacaranda Lockback Wood series have been in the Puma line since the 1960's! This series is very versatile as there are four different sizes to choose from ranging from the Gentleman, a small everyday carry, to our largest Warden which is excellent for hunters. The Warden also has an optional saw blade! The Bear has an overall length of 6.7″, a blade length of 2.8″ and a total weight of 2.9 oz. This is an excellent knife for hunting or every day carry. The hollow ground satin finished blades are made of 1.4116 German Cutlery steel with a thickness between 2.5 and 3mm! Each knife also has a Rockwell hardness of 55-57.
---
About Tom Claycomb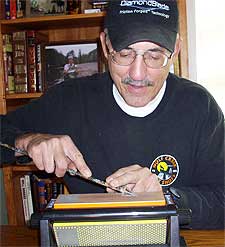 Tom Claycomb has been an avid hunter/fisherman throughout his life as well as an outdoors writer with outdoor columns in the magazine Hunt Alaska, Bass Pro Shops, Bowhunter.net and freelances for numerous magazines and newspapers. "To properly skin your animal you will need a sharp knife. I have an e-article on Amazon Kindle titled Knife Sharpening for $.99 if you're having trouble."