Opinoin
USA – -(AmmoLand.com)- Now and then I do a Product Review on something out of my comfort zone or else I'm always only reaching people with my exact same taste. Today will be such a review since we're covering the Puma SGB Gentleman Wood folder.
Ever since high school I have carried a big folder. A lot of my preference is for self-protection reasons but at least 50% of the reason is because a larger folder can better handle my day to day tasks. Especially in a pinch in case I have to skin an animal. Most of the Puma folders have a thin profile so they are not at all bulky to carry, so why not carry one with a bigger blade is my reasoning.
But for those of you that do favor a small pocket knife (Or as they call them, a gentleman's pocket knife) the Puma SGB Gentleman Wood folder should fit the bill. It looks like a miniature Puma Warden. It has the brass bolsters, wood handle and the sleek look, just smaller. So if you want a classy looking knife to carry in your suit pants this is the one. And yet it has a nice clip point and locking blade.
It is listed as having a 2.3-inch clip point which may not sound too small but in real life, it definitely fits in the small class of folders. Consequently, I have a harder time gripping it but for daily tasks such as cleaning your fingernails, opening letters, chip bags, etc. it will work.
Again, I want to re-iterate, it is a nice-looking knife. So if you want to buy someone a nice gift that will impress them but not break the bank, the Puma SGB Gentleman Wood folder will fit the bill. Especially since it comes in with a MSRP of only $24.99.
And as is usual, we will close with the specs.
SPECS:
1.4116 German cutlery steel manufactured in Solingen Germany
Overall length of 5.2″
2.3″ clip point
Hollow ground satin finished blade
Weighs 1.8 oz
Jacaranda Wood scale with brass bolsters
55-57 Rockwell hardness tested and proof marked with limited lifetime warranty
Puma SGB Gentleman Jacaranda Wood Pocket Knife DESCRIPTION:
The Classic Jacaranda Lockback Wood series have been in the Puma line since the 1960's. This series is very versatile as there are four different sizes to choose from ranging from the Gentleman, a small everyday carry, to our largest Warden which is excellent for hunters. The Warden also has an optional saw blade! The Gentleman has an overall length of 5.2″, a blade length of 2.3″ and a total weight of 1.8 oz. This is an excellent knife for hunting or every day carry. The hollow ground satin finished blades are made of 1.4116 German Cutlery steel with a thickness between 2.5 and 3mm. Each knife has a Rockwell hardness of 55-57.
---
About Tom Claycomb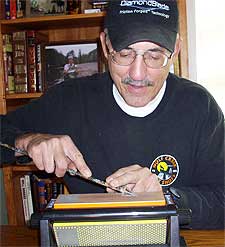 Tom Claycomb has been an avid hunter/fisherman throughout his life as well as an outdoors writer with outdoor columns in the magazine Hunt Alaska, Bass Pro Shops, Bowhunter.net and freelances for numerous magazines and newspapers. "To properly skin your animal you will need a sharp knife. I have an e-article on Amazon Kindle titled Knife Sharpening for $.99 if you're having trouble."
Disclosure: Some of the links below are affiliate links, meaning at no additional cost to you, Ammoland will earn a commission if you click through and make a purchase.