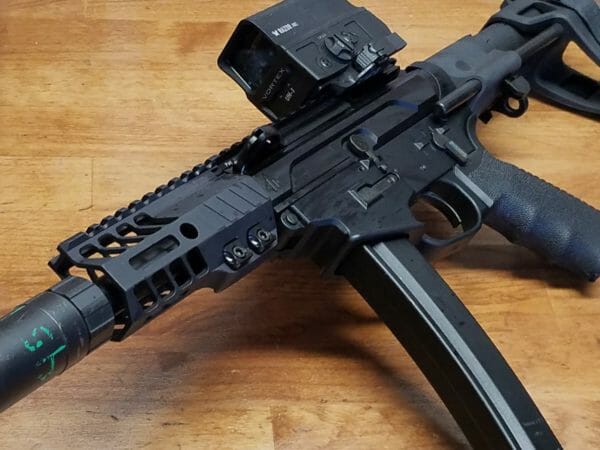 U.S.A. –-(Ammoland.com)- If you're a big fan of AR platform Pistol Caliber Carbines (PCC's), you've likely heard of Quarter Circle 10 before.  If you're like me and have less experience with these diminutive lead-spitters, QC10 might be a bit of a new name in your mental Rolodex.  To put it simply, QC10's intent is to position themselves as the one PCC-well you'll ever need to draw water from.
Quarter Circle 10 specializes only in AR pistol carbines, with chamberings in 9mm, .40SW and .45 ACP.  They have lowers compatible with Glock, Colt, Sig, and Mp5 mags.  There are other options as well (side charging versus rear charging, skeletonized receivers) but the bottom line is you won't find any rifle caliber specific parts here.
QC10 sent me a "QC-5 builder's kit" with an MP5 mag-compatible lower, side-charging upper, 5.5″ 9mm barrel, G9 bolt assembly and adjustable-weight buffer.  Knowing how few and far between short AR handguards are, QC10 even offers M-LOK and Keymod handguards as short as 4.44″, and was kind enough to include one for the article.
Assembly of the QC10 kit is pretty painless.  Starting with the lower receiver, we see it comes with the mag release and bolt stop already installed.  Quite conveniently, the bolt stop is held in place by a threaded pin, not a hammered-in roll pin.  If you want to swap in an oversized paddle, the time and effort needed is dropped significantly.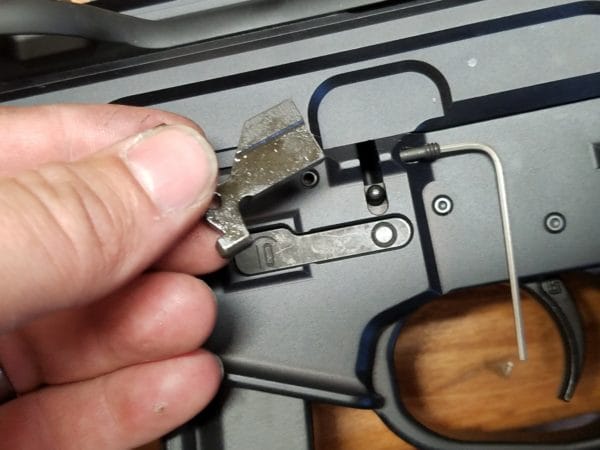 That leaves the trigger assembly, takedown pins, grip and receiver extension.  I used a Geissele Super 3 Gun (S3G) trigger,  SB Tactical PDW brace, Mission First Tactical Engage pistol grip and a few assorted extras to finish the parts list.  Side note: the Geissele S3G wasn't on the "approved trigger" list by QC10, which means it was a known risk going in.  It ended up having reset issues and was swapped for an ALG Defense ACT trigger.
Installing the front takedown pin can be a little frustrating for those who aren't dexterous. I like to use a flathead screwdriver to hold the detent pin in place until the takedown pin can slide over it.  This reduces my pin-launching events by about 99%.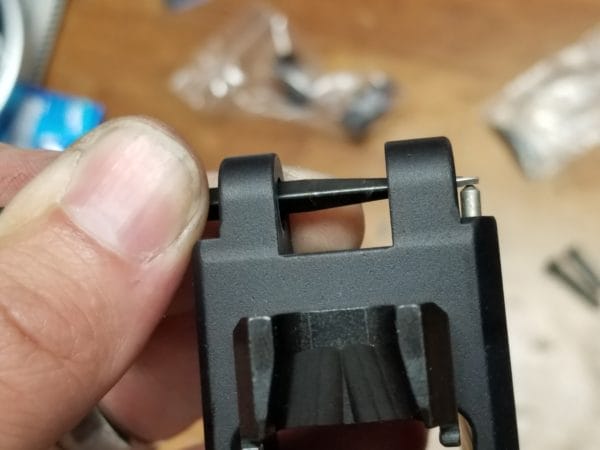 The trigger assembly and grip are pretty "drop-in", especially with the use of Geissele's trigger and hammer pin placeholders.  These shortened pins hold their respective assemblies together and align until you slide the permanent pins in through the receiver holes.  The grip is held by a single screw, while also holding in place the safety selector, detent pin and spring.  Finished, the lower looks great!  We still have the buffer spring and weight to cover in an upcoming section.
The upper receiver of the QC-5 is even easier to put together.  While I used a receiver block, the QC-5's unique interior geometry meant that I couldn't use the block's pins to hold the receiver in place.  Just a small precaution: hold onto it when torquing!  There is no gas block, gas tube or ejection port door to be concerned with on the QC-5.  Simply place the barrel into the upper, apply a little dab of Loctite to the barrel nut threads and torque it down.  I usually go to around 40 foot-pounds.
The handguard supplied by QC10 has an anti-rotation horseshoe, that indexes on the (non-present) gas tube.  I still installed it to prevent an unsightly gap.  I slid the handguard onto the barrel nut, aligned the top rails and used the pair of clamps (with Loctite) to affix the handguard to the nut.
When it came time to choose a muzzle device, I had to go with my favorite.  Flash suppressor?  Muzzle brake?  Nope, a suppressor.  Call it a silencer, can, sonic reducer or whatever you please: just don't catch me at the range without one.  Since I picked up my first in 2005, I keep my guns quiet whenever possible.
Installing a fixed-barrel spacer into my AAC Ti-Rant 45 (with 9mm adapter piston) took only seconds, and means I won't risk damage to the suppressor, which is OEM set up for a tilting barrel handgun (Glock, 1911 etc.).  Slide the modified bolt assembly into the receiver (no charging handle here with a side-charger), and make sure to depress the little proprietary catch at the back of the upper when assembling with the lower.
Finally, let's cover the adjustable-weight recoil buffer.  It comes with 4 tungsten weights (and pads) installed, as well as 4 steel and 4 aluminum weights as extras.  An allen-head screw/pin holds the blue rubber shock pad in place, which in turn holds the weights and pads inside the buffer.  QC10's handy included chart indicated that a suppressed 9mm should have 8-11 oz of weight in the buffer.  To get there, they recommend using all 4 of the steel weights, which brought it just barely to 8 oz.  I changed out one steel for a heavier tungsten weight, as I'm going to be testing this PCC with some hot ammo.  This brought the buffer up to ~9 oz.  Standard carbine spring to go with the buffer and into the receiver extension, and the gun is done.
The QC-5 comes in a 5 lbs 9.1 oz, not counting the suppressor or optic.  A good chunk of that (18.1 oz) is tied up in the SB PDW brace, but the gun balances very well.  Someone wanting a lighter overall package could certainly pick a different brace.
I topped off the PCC with a Vortex AMG UH-1 (as well as the AAC Ti-Rant), and will also bring a Nikon low power variable optic out to the range to see how this think performs!  I have a good bundle of ammo on-hand, so stay tuned for a range day update.  So far, this is looking like an interesting (and more modern) MP-5 alternative.  Price on this builders kit (both receivers, barrel, bolt assembly, buffer assembly) is $949.95.
Use coupon code AMMOLAND for 15% off!
---
About Rex Nanorum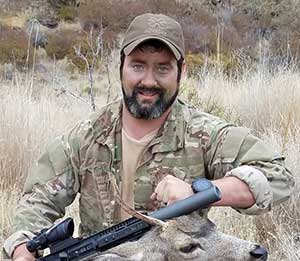 Rex Nanorum is an Alaskan Expatriate living in Oregon with his wife and kids. Growing up on commercial fishing vessels, he found his next adventure with the 2nd Bn, 75th Ranger Regt. After 5 tours to Afghanistan and Iraq, he adventured about the west coast becoming a commercial fisherman and salvage SCUBA diver, rated helicopter pilot instructor (CFII) and personal trainer, before becoming a gear reviewer and writer."