Opinion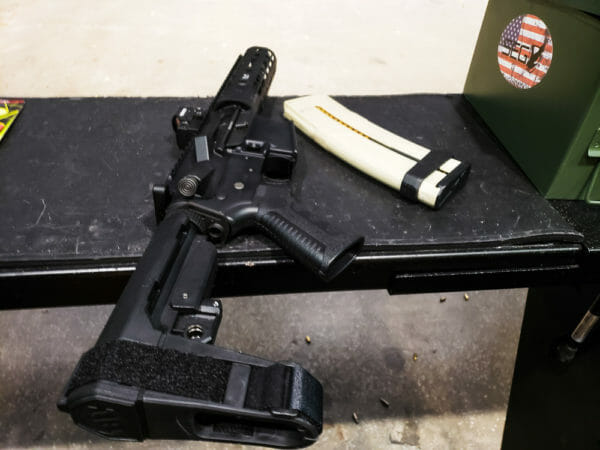 U.S.A. –-(Ammoland.com)- SB Tactical makes stabilizing braces for shooters to use on AR-15 pistols, AK pistol, shotguns, and other types of firearms. Although SB Tactical designed these braces to be strapped the shooter's arm, a lot of people shoulder these braces now that the ATF has given the OK.
The government requires citizens to pay a $200 fee for a tax stamp to own a rifle with a barrel less than 16 inches or a shotgun with a barrel less than 18.5 inches. By installing an SB Tactical brace on your AK or AR pistol and shouldering the pistol with the brace, a shooter can get around this dubious rule that the government included in the National Firearms Act of 1934.
I use an SBTEVO brace on my CZ Scorpion. I was going to make my Scorpion into an SBR, but after adding the brace, it made me realize that it will be a waste of money to pay for a tax stamp because the brace works as well as a traditional stock. I saved myself $200 and just stuck with the SB Tactical Brace.
The second SB Tactical brace I received was an SBL brace that I used on my .458 SOCOM AR pistol. I once again used the brace as a pistol stock. The .458 has one hell of a kick, but the brace made a massive difference in the recoil management. It is well worth the money.
I needed something for my Remington TAC-14 "firearm" (aka not-a-shotgun). SB Tactical makes a brace for that gun as well. I received a TAC14-SBM4 from SB Tactical, and it made the TAC-14 practical. Even when using slugs, the brace held up to the recoil without any issues.
When I started a new 7.5-inch barreled AR-15 pistol build, I knew I wanted to save $200 by not paying the ATF's fun tax, so I wanted to add a brace to my gun. SB Tactical offered me an SBA3 for my new build. I had success with all the other SB Tactical braces, so I decided to try it out.
SB Tactical includes a mil-spec carbine receiver extension (aka buffer tube) with the SBA3. They made the carbine buffer tube out of a tough anodized 7075-T aluminum. This is the same metal that most manufacturers use for their AR-15 receivers.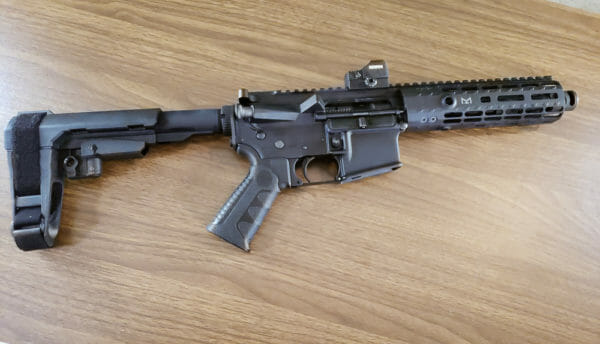 SB Tactical designed the SBA3 to be a five-position adjustable brace. I was able to find a comfortable position when shouldering my pistol like I would a rifle. The brace felt snug in the pocket of my shoulder, I couldn't even tell the difference between the brace and other stocks that I used in the past.
The shooter changes the position of the SBA3 by squeezing the release lever. It is just like most other stocks on the market. There wasn't a learning curve when using the adjustment on the brace. Anyone who has used a collapsible stock on an AR-15 in the past should be able to figure out how to adjust the stock without too much trying.
I like the minimalist design SB Tactical of the SBA3. It reminds me of a Mission First Tactical Battlelink Minimalist Stock. That has been my go-to stock for years on my AR builds, so the SBA3 felt very familiar to me.
SB Tactical designed an ambidextrous QD sling socket in the SBA3. It is quick and easy to connect and disconnect my sling to the brace. The QD sling socket is reinforced with metal. One of my biggest pet peeves with a lot of stocks (or in this case braces) is that do not include QD sling sockets. I wish MFT would take a page of SB Tactical's book and include a QD sling socket.
The SBA3 has a polymer spine. The hard-plastic works well as cheek weld. It is better than most actual stock cheek welds I have used in the past. SB Tactical went out of their way to make it super comfortable against the shooter's cheek. It is almost like they designed it so the shooter could use it as a stock.
SB Tactical designed the brace part of the SBA3 that goes around the shooter's wrist out of soft rubber. It is thick enough so the shooter can't damage it from wear and tear, but thin enough to be comfortable around the shooter's wrist.
I was never planning on using the brace the way SB Tactical designed the brace to be used, but I did want to see how it would function as an actual brace strapped to my arm. I am sure most people will not use the brace this way, but since SB Tactical designed it as a brace, I had to try it out as intended by the manufacturer.
By using the nylon of the SBA3 to stabilize my shot I was able to improve my accuracy. At 25 yards my shot groups were enhanced by about a 1/2 an inch. It isn't life-changing, but it is an improvement.
The SBA3 really flourishes when the shooter shoulders the brace. Although the brace is not designed for the shooter to shoulder it while shooting it still works very well. In fact, a shooter would not be able to tell the difference between the SBA3 and any standard AR-15 stock.
SB Tactical invented the pistol brace and have been perfecting it ever since its original launch. This product has been my favorite SB Tactical Brace to date. The only drawback to actual AR-15 stocks is this is only a five-position stock where most collapsible stocks have six or even seven positions.
SB Tactical sells the SBA3 for $169.99 although it can be found on sale around the internet for cheaper if the shooter is willing to wait for sales.
If you have a pistol AR-15 and need a brace to make it more practical to use, then this brace is a sure bet. For the money, you cannot beat it.
Readers can find SB Tactical on the net at https://www.sb-tactical.com/
---
About John Crump
John is a NRA instructor and a constitutional activist. He is the former CEO of Veritas Firearms, LLC and is the co-host of The Patriot News Podcast which can be found at www.blogtalkradio.com/patriotnews. John has written extensively on the patriot movement including 3%'ers, Oath Keepers, and Militias. In addition to the Patriot movement, John has written about firearms, interviewed people of all walks of life, and on the Constitution. John lives in Northern Virginia with his wife and sons and is currently working on a book on leftist deplatforming methods and can be followed on Twitter at @crumpyss, on Facebook at realjohncrump, or at www.crumpy.com.