Athens, AL – -(AmmoLand.com)- Shoot Like A Girl released their 1st Quarter 2019 Results this week. In it, they credit their Corporate Partners for enabling their capability to introduce women to shooting sports, and be successful in their mission of "Changing Lives One Shot at a Time".
In the 1st quarter of 2019, Shoot Like A Girl traveled over 4,500 miles to 9 venues and afforded nearly 1,000 women the opportunity to shoot a pistol, rifle, and bow in their iconic mobile range. This experience translates to new sales with 73% of the women committing to purchasing guns and 34% committing to purchase bows.
Shoot Like A Girl President and Founder, Karen Butler, states, "Our operational expense is high, but so is the reward. I am proud that Shoot Like A Girl never charges our clients to experience shooting. We could not do this without our generous Corporate Partners, I am forever grateful."
Butler asks that individuals also show gratitude and patronage to these companies, non-profit organizations, and retailers:
Bass Pro Shops, Cabela's, GLOCK, Ruger, Beretta, Tikka, Colt, Magpul, Bushnell, Savage Arms, Springfield Armory, Walther, Peltor Sport, Lyman, Crossbreed Holsters, Thermacell, Beman, Archery 360, Bow Hunting 360, Mossy Oak, Rocky Mountain Elk Foundation, Primos, Gold Tip Arrows, Federal Premium Ammunition, Hoppe's 9, Elite and Scott Archery, Mathews, Hoyt, Neet Archery Products, S & S Outdoors, Loyall Dog Food, Record Rack, Women's Outdoor News, Freedom Hunters and Upper Canyon Outfitters.
For sponsorship information or to learn more about SLG2, visit Shoot Like A Girl online, or visit at Facebook and Twitter.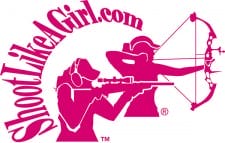 ---
About Shoot Like A Girl:
Shoot Like A Girl is the industry leader in growing the number of women in shooting sports by giving women across the country the experience of shooting a pistol, rifle, and bow in a safe controlled women friendly environment, that empowers them with the confidence they can shoot. Please recognize the following Shoot Like A Girl Corporate Partners who enable them to grow the number of women in shooting sports and change lives, one shot at a time:
GLOCK, Bass Pro Shops, Cabela's, Ruger, Beretta, Tikka, Colt, Magpul, Bushnell, Savage, Springfield Armory, Walther, Peltor Sport, Lyman, Crossbreed Holsters, Thermacell, Archery 360, Bow Hunting 360, Women's Outdoor News, Freedom Hunters, Mossy Oak, Rocky Mountain Elk Foundation, Beman, Primos, Gold Tip Arrows, Federal Premium Ammunition, Hoppes, Elite Archery and Scott Archery, Mathews, Hoyt, Neet Archery Products, S & S Outdoors, Loyal Dog Food, Record Rack,and Upper Canyon Outfitters