Opinion
Idaho – -(AmmoLand.com)- I recently found an EDC folder that I really like, the Smith's Consumer Products Rally knife. I guess as a writer I need to be able to verbalize the list of reasons as to why I like this or that product to convince you to feel the same. Truth be known, a lot of people go about it backwards.
Some people are more scientific and some are more artsy or touchy feely. Not a right or wrong, just how they are. And both sides fight and criticize the other side. So to appeal to the scientific group, here are the reasons I like the knife.
1. I like the flipper that also acts as a finger guard. The blade easily snaps open and into the locked position with the flip of the wrist. I am thumb stud challenged. Thumb studs have to be perfect or I have a hard time properly utilizing them. And it seems like half the time (like right now) I have cuts on the end of my thumb which makes them painful to operate. So in a nutshell, I can open and have the Rally in operation in a hot second.
2. While I demand a clip point designed blade for my EDC and this one doesn't have one, it does have a tapered spine which will suffice for my stabbing movement required jobs.
3. I am slowly changing my preferences to where I do like a pocket clip on my folders. Especially if I am wearing Carhart jeans with a small side pocket that I can carry it in. This carrying position has the knife out of the way when I want to reach into my main pocket. And it is a reversible clip.
4. This is a comfortable knife to use and of the size that I prefer. I do wish that it had 1-inch thumb grooves on the back of the spine but in all actuality even without them, I feel like I have a firm grip on the knife.
5. The Rally utilizes a liner lock. On some liner locks it seems that they barely slide over enough to engage so I'm always worried that the blade could close on my fingers. Not so with the Rally. The lock hits squarely in the middle of the hilt of the blade.
Now to appeal to the touchy-feely readers. The Smith's Consumer Products Rally folder has a definite finger groove for your pointer finger and some placebo grooves for the rest. The knife has a solid, firm feel to it and is stoutly built.
The Rally also gives you a few options as to colors. You can buy it with a Black, Desert Tan or OD Green G10 handle. I like the Desert Tan or OD Green handle. And it has a hole to tie on a lanyard if so desired. I don't usually use a lanyard because I am afraid that it may hang on a bush or snag and get jerked out of my pocket but granted, they are useful once in a while.
The MSRP is $28.99 so if you're looking for an economical EDC for work, camping and bang around uses, check out the Smith's Consumer Products Rally knife. And as usual, we will close with the specs.
Smith's Consumer Products Rally knife FEATURES:
3.4" 420 Stainless satin blade
Ambidextrous thumb studs
Reversible pocket clip
G10 handle
Lanyard hole
Liner lock
Flipper guard
7.87" overall length when open
---
About Tom Claycomb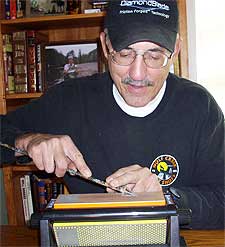 Tom Claycomb has been an avid hunter/fisherman throughout his life as well as an outdoors writer with outdoor columns in the magazine Hunt Alaska, Bass Pro Shops, Bowhunter.net and freelances for numerous magazines and newspapers. "To properly skin your animal you will need a sharp knife. I have an e-article on Amazon Kindle titled Knife Sharpening for $.99 if you're having trouble."
Disclosure: Some of the links below are affiliate links, meaning at no additional cost to you, Ammoland will earn a commission if you click through and make a purchase.