Opinion
Idaho – -(AmmoLand.com)- Everyone, somewhere in the course of their day needs a bang around EDC knife to complete a task, don't they? I know that I do. I had to run out of town for four days and threw the Smith's Consumer Products Trailbreaker Knife in my pocket. I had to do a Product Review on it so now's as good of time as any huh?
I ended up using it to complete all of the daily cutting chores that I normally run into. Cutting strapping tape, opening boxes, opening bags of meat, slicing chunks of fat off of my ribeye before I grilled it and using it to slice my lunch. Same miscellaneous items that all of you do on a daily basis too I imagine?
The Smith's Consumer Product Trailbreaker Knife met my expectations for a good EDC. I found the thumb studs used for opening the blade worked very well for me, and I am thumb stud challenged. I found that the handle really fits my hand, in fact perfectly. I was able to have a firm grip on the Trailbreaker. In fact, probably as good of a grip as I have on any of my knives.
BLADE
The blade is made out of 420 Stainless. I like a clip point on my EDC. While the Trailbreaker has a somewhat drop point design, the spine on the tip is tapered down so that it has the effect of a clip point. So, I can perform my stabbing tasks which is daily required out of my EDC. The liner lock on mine lands squarely in the middle of the blade so it is firmly locked in place. This is a big deal. I've only sharpened it a couple of times but it seems easy enough to sharpen on my Smith's Fine Diamond stone.
I also like that there is a slot between the handles which allows for easy cleaning. Throughout the course of the day I always end up slicing sausage, cheese or something that I am going to eat. I try to always keep my knife surface edible so to speak but when the blade is enclosed you never know if you really do an adequate job at it. With an open top like on the Trailbreaker knife, it is easy to clean and occasionally inspect.
The only slight downside that I see is that the thumb grooves are a little too far back on the handle. I wish they were at the front of the handle and not back. I also wish it had a few thumb grooves on the hilt of the spine.
It is a bright yellow color which for whatever reason, is appealing to me. It also has a reversible pocket clip that is working fine for me.
You get all of the above for a MSRP of only $24.99. And as is usual, we will close with the Specs.
Features & Benefits:
Custom Handle w/over mold
3.5" 420 Stainless blade
8" overall length when open
Liner lock
Ambidextrous thumb studs
Reversible pocket clip
Lanyard hole
---
About Tom Claycomb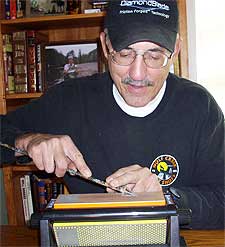 Tom Claycomb has been an avid hunter/fisherman throughout his life as well as an outdoors writer with outdoor columns in the magazine Hunt Alaska, Bass Pro Shops, Bowhunter.net and freelances for numerous magazines and newspapers. "To properly skin your animal you will need a sharp knife. I have an e-article on Amazon Kindle titled Knife Sharpening for $.99 if you're having trouble."
Disclosure: Some of the links below are affiliate links, meaning at no additional cost to you, Ammoland will earn a commission if you click through and make a purchase.