Mandeville, LA – -(AmmoLand.com)- It's an examination of why anti-gun politicians and journalists are the true "mass murderers" in the US. Plus, two decades of a proven gun safety program, California's background check on ammunition, the premiere of self-defense series First Person Defender, and more, this week on Tom Gresham's Gun Talk® Radio, the original nationally-syndicated talk show about guns and the shooting sports.
AmmoLand News writer Rob Morse joins Tom this week to discuss the deadly outcome when citizens are unarmed for various reasons, including lack of access, gun-free-zones, and bureaucracy. Read his take at his site "Slow Facts"or AmmoLand News.
Also on this week, National Shooting Sports Foundation's President Joe Bartozzi discussing National Safety Month, and twenty years of promoting gun safety and safe storage with NSSF's Project Childsafe. Discover more safety ideas at www.nssf.org/project-childsafe-emphasizes-gun-safety-as-summer-kicks-off/. Plus, attorney Matthew Cubeiro discusses updates in the upcoming law requiring a background check on ammunition in California (https://lat.ms/2QXQVI0), and Gun Talk's Kevin "KJ" Jarnagin talks about the new season of First Person Defender, and how you can become a participant this season. Find out more at https://bit.ly/2MLKb1H.
Don't forget to enter to win Gun Talk's June Giveaway Grand Prize – the SAINT Victor AR-10 in .308! From Springfield Armory: "At just 7.8 lbs the all-new SAINT VICTOR .308 hits like a ton of bricks without the weight of a traditional AR-10. Purpose built to offer serious power in a quick handling configuration, the SAINT Victor in .308 features a 16″ lightweight barrel, M-Lok free float handguard and included flip-up sights." Enter at www.guntalk.com/win through Friday, June 28th at 12:00 pm Eastern.
As always, call into 866-TALK-GUN with your comments, questions, and range reports.
---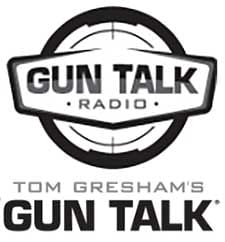 Gun Talk Radio
In its 23rd year of national syndication, Tom Gresham's Gun Talk® radio show airs live on Sundays from 2PM-5PM Eastern and runs on more than 255 stations every week. Listen on a radio station near you (http://bit.ly/GTRstation) or via live streaming (http://bit.ly/GTRstream). All Gun Talk shows can also be downloaded as podcasts at http://bit.ly/GTRpodcast, Apple iTunes, and i-Heart ra dio, or through one of the available Apps: GunDealio on iPhone, GunDealio on Android, and the Gun Talk App on Stitcher. Gun Talk is also available on YouTube, (http://bit.ly/GTRYT), Roku, Apple TV, Amazon Fire TV, and https://guntalk.com.
("Gun Talk" is a registered trademark.)