U.S.A. –-(Ammoland.com)- Only recently has Barnaul 7.62x39mm and 7.62x54R ammunition been available in the U.S. market under the premium Barnaul brand.
These two premium 7.62mm rounds are loaded into steel, high temperature resistant lacquer coated cases with the primer water sealed. This non-corrosive ammunition is top quality in all respects except price.
7.62x39mm:
123 gr FMJ (2,540 fps) — 20 round box or 500 round case
123gr. HP (2,540 fps) — 20 round box or 500 round case
125gr Soft point (2,530 fps) — currently 20 round box only
7.62x54mm Rimmed:
148gr FMJ (2,785 fps) –20 round box or 500 round case
174gr FMJ (2558 fps) — currently 20 round box only
185gr FMJ (2,403 fps) — currently 20 round box only
203 grain Soft Point (2,330 fps) — 20 round box or 500 round case
Testing: Please see our quick and dirty 7.62×39 test below
Barnaul company history: The original government owned Arsenal P started production in the 1880s in St. Petersburg Russia. Due to WWI and later the civil war it was moved to Podolsk. In 1941 the plant was evacuated and relocated to Barnaul Russia where it is today. Barnaul became a privately owned company about 20 years ago and is the manufacturer of high-quality ammunition for Russia's Special Forces.
Quick and dirty testing: Our PR firm is made up of trigger pullers (one a Distinguished Rifleman). We shoot a lot. We purchased (yes really) some Barnaul 7.62×39 HP ammunition locally for use in two nice condition original Russian SKS rifles that were previously zeroed for 300 yards.
We set up two NRA B-27 targets at the 300 yard line. Firing fairly quickly from the bench we sent ten rounds from each rifle down range. We had 3 rounds leak near the bottom edge of the 7 ring. We suspect we got caught when the boiling mirage we held off for went away with a slight breeze. However, the balance of the hits were in the 8, 9 rings with four in the 10 ring. We were not trying for anything real precise, just a quick and dirty rattle battle field test. This demonstrated to us that 7.62x39mm Barnaul ammunition shoots very well out of decent surplus original military rifles.
---
About MKS Supply, LLC: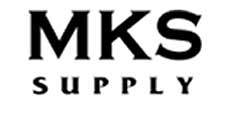 MKS Supply insists on high quality, reliable firearms. We insist on guns that are easy to own and service. Most of all, we insist on value.
For more information, please visit www.MKSSupply.com.