U.S.A. –-(Ammoland.com)- Iconic throughout the world, the AK-47, is also subject to severe import restrictions, meaning it is unlikely that you will be handling a true Russian-made AK any time soon. With that unfortunate news, many American manufacturers are left with the option of assembling rifles from eastern bloc countries or starting from scratch. Palmetto State Armory chose the latter, and they have not failed to deliver a true American-Made AK.
Palmetto State Armory's GF3 AK47s feature upgrades to the internally manufactured parts, specifically the bolt, carrier, and front trunnion are now all hammer forged. PSA's website claims that they have run 10,000 rounds through the Gen 3 version of their AKs to ensure product quality. The Youtube channel, AK Operators Union, recently completed their 5,000 round testing mark and have only encountered one malfunction in that time (view below).
The AK-P or AK-Pistol, also utilizes the same hammer forged manufacturing process as the rifle-length Gen3 counterparts from PSA. The big difference is the AK-P features a 10.5" gas nitride treated 4150 steel barrel that has a 1 in 9.5" twist rate, and a mini krink brake for a muzzle device. On the other end of the pistol, PSA has included an M4 stock adapter with an SB Tactical SBA3 adjustable stabilizing brace. Currently, there are four colors of furniture available for the AK-P, all are Magpul AK kits.
The last feature worth mentioning is the Picatinny rail on the hinged dust cover. Time will tell how well this rail holds zero, but after mounting my Vortex RDS and shooting 600 rounds with it on the AK-P it seems to be holding up well. As a mounting solution, it is always easier to have a rail versus a side mount.
At this time, I have only run 600 rounds through the AK-P I received from PSA. So far it has eaten all the ammo put through it with zero malfunctions. Here is what I've run so far:
Brown Bear – 123 Grain HP Polymer Coated (100 rounds)
Tula – 124 Grain HP (100 rounds)
Privi Partisan – 123 gr FMJ (100 rounds)
Sellier Bellot – 123 Grain FMJ (200 rounds)
Winchester – 120 Grain HP PDX1 Defender (100 rounds)
Accuracy at 50 yards with the AK-P while using Winchester 120 grain HP PDX1 Defender was impressive and worth noting. The image shows a target with two groups of three shots each. The first group is marked in green, the second in blue. Arguably I could push the front sight post to the right a tiny bit to bring both groups further toward the center.
Out of the box, the sights for the AK-P were pretty far off center. I would recommend you invest in an AK sight tool to make adjustments on your first range visit. I ended up pushing my front post pretty far to the right and having to bring up the sight three full turns to get good groups. After those adjustments, the AK-P was smacking steel with ease.
With a 10.5" barrel the AK-P is ideally situated for closer engagements and it would be asking a good deal of this pistol to get hits past 200 yards. Against my predictions, I was able to hit steel on a man size target with repeated success at 300 yards. These were by no means accurate shots, but the AK-P will get the 7.62×39 cartridge out to that distance with enough precision to make multiple shots connect. As a truck gun, this would definitely make a statement, but with the barking flames from the muzzle, it's hard to argue this is the best option for home defense.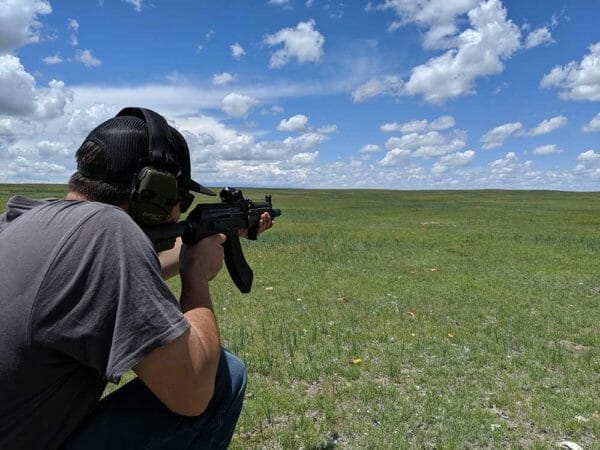 If there were one thing I would like to see Palmetto offer with the AK-P line is more furniture options. Something similar to the railed handguard found on the AK-V, or even standard wood AK furniture. While PSA currently only has the Magpul furniture, the AK-P is an AKM pattern firearm and will accept aftermarket furniture options. Although I'd like to see PSA provide more furniture options for the forend of the AK-P, they have given you the best options when it comes to pistol braces.
PSA has included the SBA3 adjustable pistol brace with an M4 buffer attachment standard with every AK-P. This means every brace that fits a standard AR-15 buffer tube will also work with AK-P. If you choose to fill out your form 2 for this pistol, conversion to a rifle stock would be simple. But before we talk about stocks and the hassle of NFA paperwork, let's go back to considering some more pistol brace options for the AK-P.
Conversion to a different brace is relatively easy and only requires removing 3 set screws from the M4 adapter. Once free you can replace the SBA3 with PSA's AK side-folding brace, which is similar in appearance to the one used on the SIG MPX pistols. With the quality of pistol braces being what they are, the additional cost of a tax stamp, and further state regulations, SBRs have somewhat lost their previous allure. The continued development of braces by companies like SB Tactical has made pistols like the AK-P much easier to control and enjoy shooting.
Versatility is something to be admired in any firearm and the AK-P comes ready for you to kit it out exactly how you want. For myself, keeping it simple was never the plan for the AK-P that PSA sent me. After adding the Vortex Optics Crossfire RDS, BCM angled foregrip, and a QD point for a sling to the handguard, the AK-P was complete.
Not to be forgotten, the feeding source for all the ammunition, the plate to the steak, or the can for the caviar. The magazines for the AK load different than an AR, cost different and fit different. Although your AK-P will ship with a Magpul magazine, you may have a different set of mags on hand.
For testing, I had the Magpul 30 round magazine which fit well and matched the furniture for what that is worth. Next in line, I have two Arsenal Bulgarian waffle magazines, which had a very tight fit in the receiver and were not easy to remove, but still worked fine. Finally and by far my favorite were X-tech Tactical Mag47 magazines which they graciously sent over for review along with their specialty banana mag (Chiquita Banana sticker was a personal touch). Like goldie-locks, these mags fit the AK-P by far the best and were the easiest to load, remove and reload.
After shooting 600 rounds I opened up the AK-P to take a look at the internals and gave it a quick cleaning. The front trunnion did not show any signs of malformation or damage. Cleaning was short, the area with the most build up was the piston which had considerable carbon build up, but everything else was looking good to go.
When it is in stock, I have seen PSA's AK-P on their website for $699.99! It is impossible to argue with that price for an AK pistol that, so-far, performs true to the platform's legendary form. After 600 rounds the AK-P has run without malfunction and has shown the potential for impressive accuracy from its 10.5" barrel. Considering what you get for the price, Palmetto State Armory's AK-P and entire AK line could be considered the best available and affordable AK option. Best of all, they are 100% American Made.
---
About Duncan Johnson: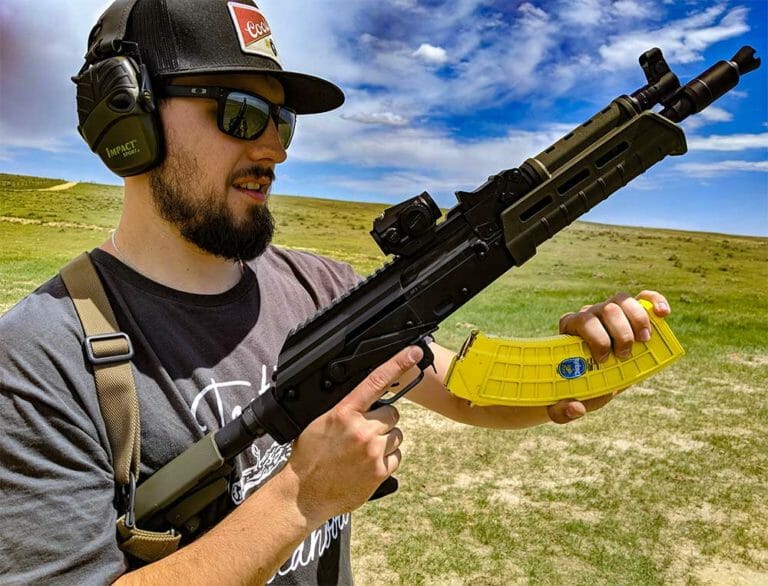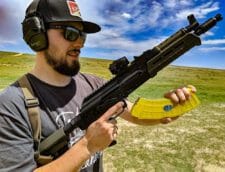 Duncan is a firm believer in the Second Amendment and that "shall not be infringed", means exactly that. A life-long firearms enthusiast and a graduate of George Mason University, now competing regularly in 3 gun competitions, Duncan is always looking to improve his shooting skills. Duncan is a regular contributor to AmmoLand and assists in the everyday gun-news publishing as an assistant editor.
Some of the links on this page are affiliate links, meaning at no additional cost to you, Ammoland will earn a commission if you click through and make a purchase.