Disclosure: Some of the links below are affiliate links, meaning at no additional cost to you, Ammoland will earn a commission if you click through and make a purchase.
Idaho – -(AmmoLand.com)- I've been carrying the Smith's Products X-Trainer Knife this week and testing it while doing my EDC chores such as cutting straps, strapping bands, cardboard, wire ties, and sandwiches, yum. It has performed fine for these tasks.
My personal taste as you know if you've read any of my AmmoLand knife reviews is for a three ½-inch blade, but that is strictly a personal opinion. Many people prefer a slightly smaller blade, so this review is for them.
Some of the features that I like are the finger grooves. They are definite and allow for a firm grip. The back of the handle has thumb groves, which further enhances your grip. I'd suggest also putting some thumb grooves in the first 3/4-inch of the spine of the blade. There are also some grooves on the hilt of the handle, but I'm not quite sure what their purpose is.
The Smith's X-Trainer Knife utilizes a liner lock. As with all of the Smith's Consumer Products knives that I have tested so far, they have good liner locks. The lock lands squarely in the middle of the blade on all of the knives that I have tested.
To flick open the blade it has ambidextrous thumb studs. As I have said before, I am thumb stud challenged, but with a little practice, I had it flipping open easily with the flick of a wrist. Talking of ambidextrous, it also has an ambidextrous pocket clip and a lanyard hole if you prefer one of them.
It has a sturdy looking G10 handle. The one that I'm testing is Desert Tan, but it is also offered in (OD) Green. Even though I guess G10 handles are dull looking to some people, I like their everyday, sturdy, hard-working look.
Like I said above, this Product Review is for people that favor a more compact knife, but sorry, I can't help but default to my likes. So with that said, I like the Smith's X-Trainer Knife for an EDC. I'd like it even better if the handle was also only a ½-inch longer, so it filled my hand more.
It is listed on the Smith website in the Tactical line of knives but I'd recommend it as well as a good EDC knife. The MSRP is $28.99. And as is usual, we will close with the specs.
Smith's Products X-Trainer Knife SPECS:
2.97" 420 Stainless satin blade
Ambidextrous thumb studs
Reversible pocket clip
G10 handle
Lanyard hole
Liner lock
7" overall length when open
---
About Tom Claycomb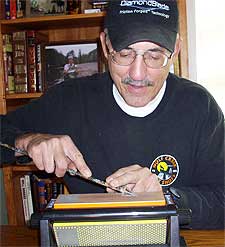 Tom Claycomb has been an avid hunter/fisherman throughout his life as well as an outdoors writer with outdoor columns in the magazine Hunt Alaska, Bass Pro Shops, Bowhunter.net and freelances for numerous magazines and newspapers. "To properly skin your animal you will need a sharp knife. I have an e-article on Amazon Kindle titled Knife Sharpening for $.99 if you're having trouble."