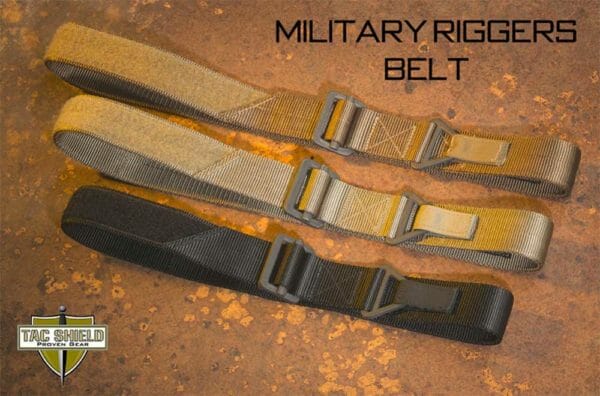 Pinehurst, NC – -(AmmoLand.com)- The world of tactical belts can be confusing and overwhelming, especially when trying to find a belt that works best for you and your application.
In our mind, getting the right belt boils down to three basic needs:
I need a good belt to hold my pants up. If you just need a belt to hold your pants up then we have you covered. We suggest one of our single layered universal belts. For Example: The 1.75" Tactical Garrison Belt offers great strength and support. This belt's single-layered 7,000-pound mil-spec webbing will not only hold your pants up, but it will also provide a strong platform for lighter-weight gear.
I need a belt for my EDC Pistol and extra magazine. So you're looking for a belt that is comfortable and can hold your Everyday Carry Pistol. Whether you carry IWB or OWB, the Tactical Gun Belt is just what you need. Available in both 1.50" and 1.75" widths, the heavy-duty 2,000 lb. Cobra Buckles provide security, accessibility, and comfort. A special poly stiffener system also provides extra support for heavier firearms or additional gear.
I need a survival belt that will carry all my gear. If you're looking for a belt to keep your pants up, carry lots of equipment, and be used in emergency situations, check out our Riggers Belt Line. All belts feature double-walled, 7,000 lb. mil-spec webbing providing the strength you need while offering a comfortable soft edge design that doesn't dig into your sides. The forged Steel V-Ring buckles are load tested at 2,500 lbs. giving the user peace of mind during emergency situations.
Check out these and other rugged, US Made belts on our website.
TAC SHIELD belts are proven in the battlefields around the globe by American Warfighters and are available from many leading Tactical Sport and Military Retailers across the country. All products are backed with a Lifetime Warranty by people you can trust!
---
About TAC SHIELD
Founded in 2009, TAC SHIELD is a proud American-made brand that builds tactical and specialty products for the United States Military. We are Pro-American for Jobs, Pro-American-made and we support our Military and our Military Veterans. We are dedicated to our country and the principles that it is founded upon, and it is our honor to provide the most durable, MILSPEC products not only to the Military but now, also to you—a Proud American citizen.