U.S.A. –-(Ammoland.com)- Tyrant Designs CNC (Chicago Based) has just announced yet another compensator to their line-up, the all new Sig Sauer P320 T-Comp.
Tyrant has had rapid success in their compensators which originally debuted last December. Utilizing a two piece design Tyrant has eliminated the need for set screws or loctite, instead using a housing & stem concept that is self containing. Best of all however is the combination of color contrast options (Black on Black, Black on Nickel, Black on Gold) & the overall P320 compensator performance.
The Tyrant Designs CNC Sig Sauer P320 Compensator, known as the P320 T-Comp, dramatically reduces muzzle rise and sensed recoil, allowing much quicker target re-acquisition. Compatible with ½-28 threaded barrels our compensator requires no modification to your Sig P320, and once assembled fits most open ended holsters. The T-Comp works on all Sig P320 configurations and will function using almost any grain ammunition.
The real ingenuity is in how the T-Comp is installed. Utilizing a two piece design our Sig P320 comp installs securely in seconds WITHOUT the need for set screws or any other faulty attachment methods. Working on a concept focused on uncompromised innovation allowed considerable engineering freedom in developing significant solutions. Once attached, the Tyrant P320 Compensator will not come loose while operating your firearm, or while holstering/unholstering it. Whether you are a range day goer or competitive shooter we are confident our Sig Sauer compensator not only outperforms the competition but sets a new standard for compensator innovation.
Works on standard ½-28 threaded barrels
All P320 configurations compatible
Functions with most grain ammo
Fits most open-ended holsters
Installs using supplied 16mm wrench
Does NOT work on OEM LH metric thread
Tyrant Designs offers their new Sig Sauer P320 compensator in 3 different, two-tone colors: Black on Black, Black on Nickel, Black on Gold. They have stated that there are less than 200 units available for their first production run. To see more head to www.tyrantcnc.com
---
About Tyrant Designs CNC: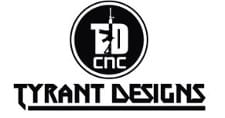 Tyrant Designs CNC has 30 years of machining experience in Defense, Aerospace, and Medical fields. After three decades of perfecting our methods, we decided to branch out to gun accessories. Our mission statement is simple; To design and manufacture only the highest of quality rifle accessories . Why? Because your rifle deserves a better quality accessory, and so do you.
For more information, visit: https://www.tyrantcnc.com/
Disclosure: Some of the links below are affiliate links, meaning at no additional cost to you, Ammoland will earn a commission if you click through and make a purchase.