USA – -(AmmoLand.com)- It's a big win against SAFE Act prosecution in New York, getting ready to celebrate National Shooting Sports Month in August, the latest news, and more, this week on Tom Gresham's Gun Talk® Radio, the original nationally-syndicated talk show about guns and the shooting sports.
This Sunday, Steve Felano, of the Western New York gun rights group 2AWNY, talks with Tom about the latest win against the State of New York and the SAFE Act, with a dismissal of charges without prejudice for defendant Ben Wassel. Read about the case here: bit.ly/2G752GY, and find out more about 2AWNY at www.2awny.com.
Also on this week, Zach Snow of the National Shooting Sports Foundation, with information on National Shooting Sports Month next month, and how you can participate, as a firearms business owner, a shooter, or someone new to the shooting sports! Find ideas at their website at www.shootingsportsmonth.org and www.shootingsportsmonth.org/ways-to-get-involved/#.
Don't forget to enter to win one of two new Sig Sauer handguns! Sign up for newsletters from Gun Talk and Sig Sauer and earn two entries for a chance to win one of two new Sig Sauer firearms, plus access additional entry opportunities for even more chances to win. Two entrants will win one of the following: The SIG P365XL XSeries OR the SIG P320 XFIVE Legion. From SIG: The Sig Sauer P320 XFIVE Legion is the new flagship of the P320 platform, bringing the perfect balance of added weight and features that results in one of the best shooting pistols in the market. The Sig Sauer P365CL XSeries is the perfect balance of micro-compact concealability with full-size shootability. The giveaway ends on Friday, August 2nd, at 12:00 pm Eastern. Find out more details and enter at https://guntalk.com/win.
As always, call in to 866-TALK-GUN with your comments, questions, and range reports.
---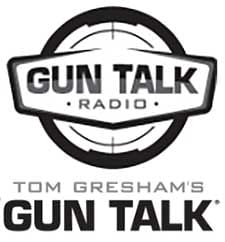 In its 23rd year of national syndication, Tom Gresham's Gun Talk® radio show airs live on Sundays from 2PM-5PM Eastern, and runs on more than 255 stations every week. Listen on a radio station near you (http://bit.ly/GTRstation) or via live streaming (http://bit.ly/GTRstream). All Gun Talk shows can also be downloaded as podcasts at http://bit.ly/GTRpodcast, Apple iTunes, and i-Heart ra dio, or through one of the available Apps: GunDealio on iPhone, GunDealio on Android, and the Gun Talk App on Stitcher. Gun Talk is also available on YouTube, (http://bit.ly/GTRYT), Roku, Apple TV, Amazon Fire TV, and https://guntalk.com.
("Gun Talk" is a registered trademark.)