U.S.A. –-(Ammoland.com)- Apex Tactical Specialties is pleased to announce the introduction and immediate availability of a mounting plate for the FN 509 Tactical model pistols. Designed specifically to fit the FN Low Profile Optics Mounting System, the new Apex Optic Mount allows the user to securely mount the new Aimpoint Acro P-1 optic to the slide of the FN 509 Tactical.
Available now, the new Apex Optic Mount is machined from a billet of heat-treated steel and black Melonite finished for enhanced durability. The low profile design of the mounting plate ensures co-witnessing between the suppressor height sights and the Aimpoint Acro P-1.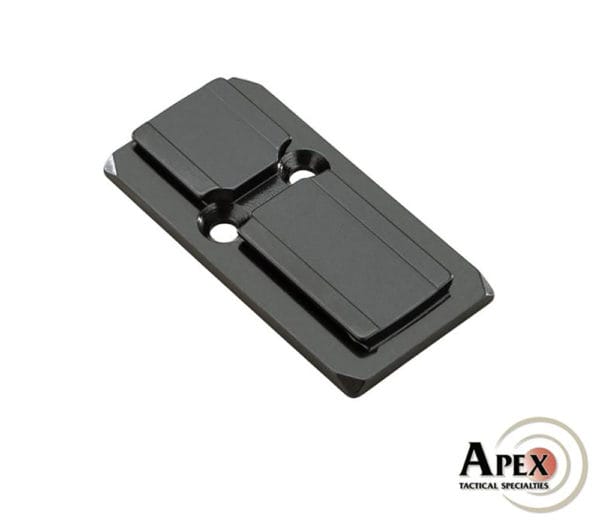 Features and Specifications:
Specifically for use with the FN Low Profile Optics Mounting System™
Securely mount the Aimpoint® Acro P-1 to FN 509 Tactical slide
Apex Part #: 119-109
MSRP: $24.95
For more information on parts from Apex Tactical Specialties, visit www.ApexTactical.com, like Apex Tactical on Facebook or follow @ApexTactical on Instagram or Twitter. Instructional videos on the installation of Apex parts are available on Apex's YouTube, Full30 and GunStreamer channels.
---
ABOUT APEX TACTICAL
Apex Tactical Specialties, Inc. was created to serve Law Enforcement personnel, competition shooters, and individuals who recognize the need for defensive tools to be more than "just adequate" for the job. We are a quality-driven and progressive organization – our product line, services, and expertise are continually evolving. Our mission is simple: superior parts, exceptional performance and craftsmanship, and above all, unparalleled customer service.
ATS, Inc. will not fit, install, or endorse any products that have not been thoroughly tested and evaluated by our staff. Personal experience, extensive field-testing, and follow up failure analysis are the essential methods by which we evaluate components that we recommend and use. It is not sufficient to just know that a part will work: we need to know why it works, and the limits of its operational envelope.