by Dr. Jim and Mary Clary
GAMO Whisper Fusion Mach 1 .22 Caliber Air Rifle ~ Test & Review
United States -(AmmoLand.com)- This is the most robust air rifle that we have ever tested. The weight and balance are perfect, making it easy to get on target for a shot.
The following are some of the unique features of the Gamo Whisper Fusion Mach 1 Air Rifle that we liked:
First up is the Recoil Reducing Rail system (RRR). Most airguns have grooves for mounting the scope rings, similar to a lot of conventional rimfire firearms. A common problem has been the inability to tighten the rings down to prevent slipping due to the intense recoil of high-power airguns. That problem has been eliminated with a very secure 5-screw mounted rail (RRR). This "Picatinny style" rail consists of two pieces which are separated by polymer struts. The unique design of this patent-pending design virtually eliminates the recoil-stress on the internal components of the riflescope.
And, speaking of recoil, the Shock Wave Absorber (SWA) recoil pad is just as effective as the Limbsaver pads on our high power hunting rifles. There are very few airguns that bother putting effective recoil pads on their guns. Most simply use a piece of molded rubber to cover the buttstock and call it a "recoil pad."
GAMO's Whisper Fusion technology was designed to quiet down their spring powered airguns and mitigate the "twang." That technology was also applied in the Gamo Whisper Fusion Mach 1 Air Rifle. Without it, the sound of this airgun would rival .22 caliber rimfire rifles.
The conventional spring power plant found on GAMO (and other) airguns has been replaced with a new 33-millimeter pneumatic cylinder. This is called the Inert Gas Cylinder (Inert Gas Technology – IGT). When cocked, it compresses the air to deliver a consistent pressure which propels a .177 PBA pellet to a velocity up to 1,420 fps and a .22 PBS pellet to a velocity up to 1,020 fps. We confirmed the latter velocity with our Caldwell Premium Chronograph.
And finally, the folks at GAMO have given us what we have been asking for: An adjustable trigger. The Custom Action Trigger (CAT) allows the shooter to independently adjust both the first and second stage of the trigger.
It is great, and out of the box, the trigger pull was set at 2.25 lbs…. incredible for a "standard" airgun.
All that remains for us to do was to shoot the Gamo Whisper Fusion Mach 1 Air Rifle for accuracy. For that, we selected GAMO Red Fire pellets. We have used these pellets before, and they are not only lethal but very accurate.
After "dialing in" the rifle at 25 yards, we shot for accuracy with one of the top gun rests, the Caldwell Lead Sled. To state that this gun is a "tack driver" would be an understatement. We consistently shot groups of ten pellets that measured under one inch in diameter (center to center).
Having hunted squirrels in the deep woods of Alabama, Mary can tell you that when the bushy tails are high in the canopy, it is not uncommon to require two pellets to bring them down. A friend of hers, Fedor Palacios, was at the GAMO Squirrel Master Classic in February and brought down two squirrels with one shot each using Red Fire pellets and his GAMO Mach 1. Ok, we'll admit that Fedor is a good shot…. but, if the Gamo Whisper Fusion Mach 1 Air Rifle and Red Fire hadn't been such a lethal combination, he might still be shooting at those squirrels.
The Features and Specifications of the Gamo Whisper Fusion Mach 1 Air Rifle are:
.22 caliber
Velocity: 1020 feet per second with PBA Platinum
.177 caliber
Velocity: 1420 feet per second with PBA Platinum
33 mm cylinder – IGT Mach 1 power plant (Inert Gas Technology)
Single Shot
Break Barrel – Single Cocking System
Manual Safety
Fluted Polymer Jacketed Rifled Steel Barrel
Whisper Fusion Dual Noise Dampening Technology
Cocking Effort: 32 lbs**
Trigger: Two-stage fully adjustable CAT (Custom Action Trigger)
RRR Recoil Reducing Rail
Fiber optics front sight with hood
Adjustable fiber optic rear sight
Manual Safety
All Weather Molded Synthetic stock
SWA (Shock Wave Absorber) Recoil Pad
Ambidextrous: Cheekpiece – molded on each side
Roughened grip areas on stock – easy to grip under all weather conditions
VF 3-9×40 air rifle scope with rings for rail mounting
Weight: 6.47 lbs.
Length: 43.3 inches
Barrel Length: 17.8 inches
3-9×40
5 Year Warranty
2016 MSRP: $249.99
**Note: Some break barrel action guns may be harder to initially cock then others. It may take added force to break open the barrel for the first few uses. We recommend that you break it open, not fully cock the gun, 10-15 times to loosen the barrel and make it easier for future use.
GAMO ProShot ID System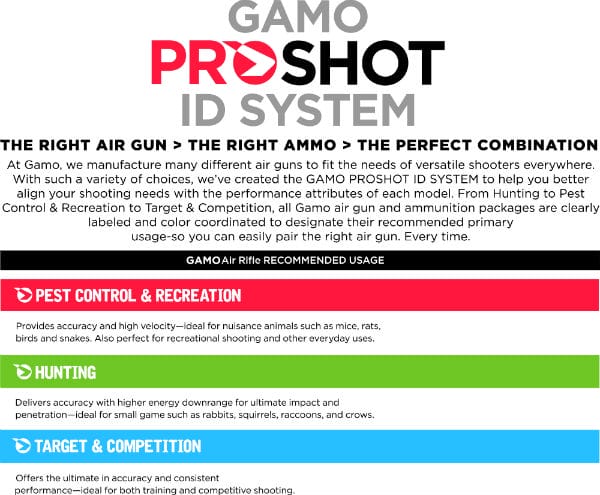 Before we close out this article, we would like to mention the new GAMO ProShot ID System. This reference system was devised by GAMO and is unique to the airgun field. It labels the best application for each rifle in their line, AND it matches the various GAMO pellets to those applications. The system involves three color codings: Red, Green & Blue.
PEST CONTROL & RECREATION:
Provides accuracy and high velocity – ideal for nuisance animals such as mice, rats, birds and snakes. Also perfect for recreational shooting.
HUNTING:
Delivers accuracy with higher energy downrange for ultimate impact and penetration — ideal for small game such as rabbits, squirrels, raccoons and crows.
TARGET & COMPETITION:
Offers the ultimate in accuracy and consistent performance — ideal for both training and competitive shooting.
The ProShot ID System by no means indicates that a particular gun can't be used for one of the other applications; it is a recommendation to help the consumer decide which gun is right for them. And, since the GAMO pellets are also color-banded, we no longer have to guess which pellet is best for our shooting. We just look for the appropriate color marking on the package and pay the clerk at checkout.
About the only thing that GAMO can't do for you is shoot the gun.
About Jim and Mary Clary:
Jim and Mary Clary have co-authored over three hundred and fifty articles, (and counting) on shooting and hunting. You can read many of them on AmmoLand News.