U.S.A. –-(Ammoland.com)-  Tualatin, Oregon based Kershaw Knives has been producing blades for 45 years now.  Kershaw has an expansive catalog of knives, adding new models every year at a rate nearly unparalleled in the industry.  Kershaw recently sent out a few new items for test and review, which were shown off at last January's SHOT Show.  One such item is Kershaw's XCOM.
If the XCOM looks a little familiar to you, there's a reason.  Kershaw (and knifemaker Les George) took inspiration from the Fairbairn-Sykes fighting dagger, made famous in WWII (above).  One distinctive difference the XCOM has from the original is a single-edged blade, as a double edge runs into legal problems in some parts of the US.  Lets take a look at the tech specs, as provided by Kershaw.
Manual opening
Thumb disk
Inset liner lock
Reversible deep-carry pocketclip (right/left, tip-up)
Steel: 8Cr13MoV, black-oxide coating
Handle: Glass-filled nylon
Blade Length: 3.6 in. (9.2 cm)
Closed Length: 4.4 in. (11.4 cm)
Overall Length: 8 in. (20.2 cm)
Weight: 4.2 oz. (120 g)
On initial inspection, a number things stood out.  First, the nylon handle is really light.  Not light as in "cheap" or "flimsy", the handle is very sturdy, just svelte.  Second, the texture of said handle is very nice.  A little aggressive, I don't foresee any problems with losing my grip here.  Third, while the blade itself swings out easily (and locks firmly), the thumbdisc is a little small.  It's actually smaller in diameter than the width of the handle, meaning you have to squish your thumb down in the gap between the frame and stud to get ahold of it.  A small matter, but noticeable and easily remedied with a disc of wider diameter.
The edge of the blade comes as any factory knife should: very sharp.  Not just "I can cut cake without sawing sharp", more like "this easily slices through the jugular of a downed buck" sharp.  Passes the arm shaving check with ease, so now i have a huge bald spot on my forearm.  Thanks Kershaw!
The specific steel used (8Cr13MoV) is one of my favorites for regular use knives.  It can be honed to a very fine edge, and sharpens easily.  It ranks "good" for edge retention and corrosion resistance.  While other steels can outperform in those areas, 8Cr13MoV also is at the front of the pack for affordability.  This is one reason Kershaw employs 8Cr13MoV in so many of their budget lines: it's a solid performer  that's easy on the wallet.  If you only employ one knife, you'll likely opt for a different grade of steel.  If you have a couple extra folders stashed in your backpack and camping supplies that will see less TLC, this is one capable metal.
The liner lock needs little fanfare or attention.  It's perfectly capable at locking the blade out, and requires only a modest flip of the thumb disc to get engaged.  It unlocks easily enough, though not so easily as to be a hazard.  The pocket clip is similarly evaluated, though I'm lucky that Kershaw almost always sends out their knives in my preferred carry (right handed, tip up).  For those who want a different carry style, the XCOM is capable of right/left hand carry, as well as tip up/tip down carry.
I've kept the XCOM in my range bag for a while, which means when it's used, it's abused.  I don't take particularly good care of my range bag stash, an intentional part of the review process.  Wet?  Muddy?  I don't really care, it's part of the use and abuse process.  The XCOM has held up well, with the original edge needing very little attention considering what it's gone through.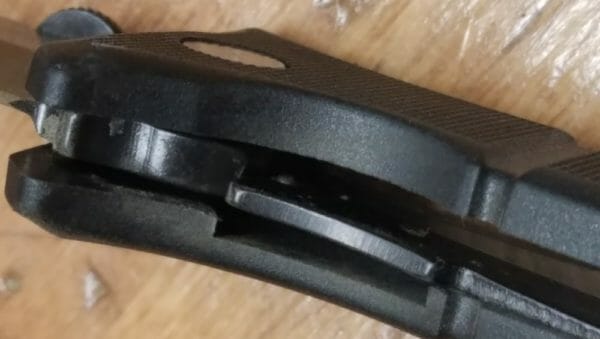 If I have one complaint about the XCOM, it's that thumb disc I mentioned above.  It's a little small and not quite centered on the frame cutout.  It's not so small that I miss it and flip my thumb out to nowhere, just small enough that you'll likely have to reposition your thumb to make sure you've got ample traction on it.  That's it.  That right there is my only beef with the XCOM.  As far as faults go, it's a pretty minor one.
Kershaw has been on a roll lately.  The last few knives of theirs I've checked out have been solid performers.  They aren't reinventing the wheel, nor are they trying to.  They're bringing a wide variety of blades to the market, with value that's above their price.  The trend continues with the XCOM, which is a sleek pocket folder that delivers the goods.  The Kershaw XCOM retails for $44.99.
---
About Rex Nanorum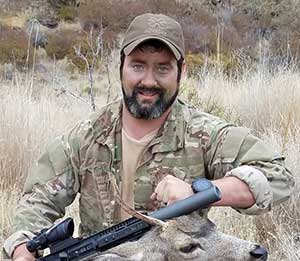 Rex Nanorum is an Alaskan Expatriate living in Oregon with his wife and kids. Growing up on commercial fishing vessels, he found his next adventure with the 2nd Bn, 75th Ranger Regt. After 5 tours to Afghanistan and Iraq, he adventured about the west coast becoming a commercial fisheries and salvage SCUBA diver, rated helicopter pilot instructor (CFII) and personal trainer, before becoming a gear reviewer and writer."